Alumnus Marletta to receive SUNY Honorary Doctor of Science degree at Fredonia Commencement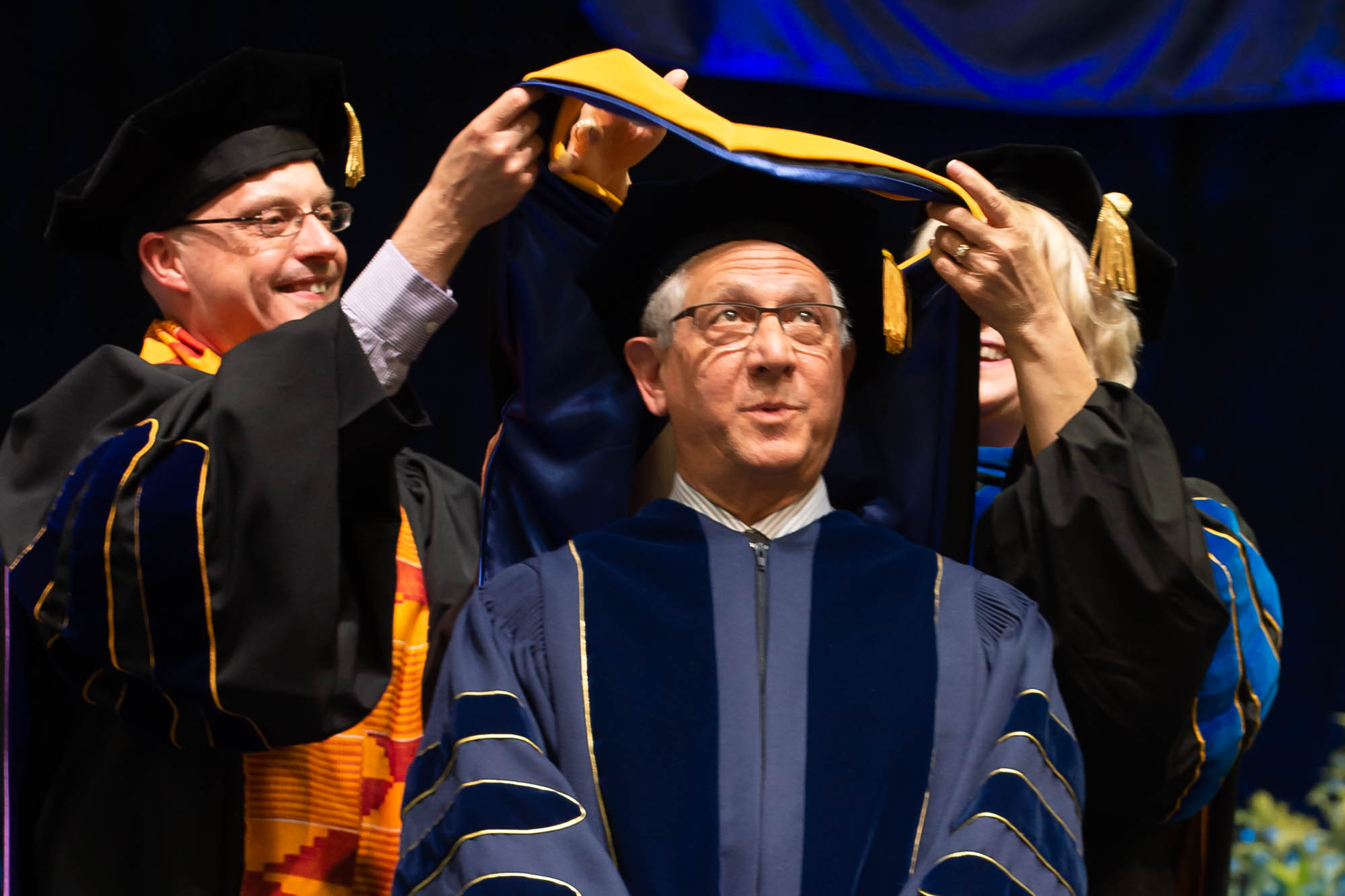 By Lisa Eikenburg
Dr. Michael A. Marletta, a member of the Class of 1973, will receive an Honorary Doctor of Science degree from the State University of New York at Fredonia's Commencement on Saturday, May 19.
Dr. Marletta will also serve as the keynote speaker at the 10 a.m. and 3 p.m. ceremonies at Steele Hall.
Marletta earned a Bachelor of Science degree in Chemistry from Fredonia in 1973, with a second major in Biology. Following his Fredonia years, Marletta earned his Ph.D. in 1978 from the University of California-San Francisco in Pharmaceutical Chemistry. His research focus is at the intersection of chemistry and biology, and his work on the role of nitric oxide function in biology has been recognized as pioneering.
President Virginia Horvath, reflecting on the honor, noted, "Dr. Michael Marletta exemplifies what we hope a Fredonia education can do. After he graduated from Fredonia, his curiosity and his hard work never stopped, leading him to a career as a distinguished scientist. His research affects the lives of many people, and he has achieved fame in scientific and academic circles. Yet he makes the time to visit this campus, to meet with students, and to encourage others. I am proud and excited to have him now recognized by SUNY with an honorary doctorate."
Marletta was a National Institutes of Health Postdoctoral Fellow in the Department of Chemistry at the Massachusetts Institute of Technology from 1978-80, and an assistant/associate professor of toxicology at M.I.T. from 1980-87. Marletta joined the University of Michigan faculty in 1987 as an associate professor, and in 1991 was named its John Gideon Searle Professor of Medicinal Chemistry in the College of Pharmacy and Professor of Biological Chemistry in the Medical School. From 1997-2001 he was an Investigator for the Howard Hughes Medical Institute. In 2001, Marletta joined the faculty at the University of California at Berkeley, serving until 2012, and was chair of the Department of Chemistry and co-director of the Chemical Biology Graduate Program, Aldo DeBenedictis Distinguished Professor of Chemistry and Professor of Biochemistry in the Department of Molecular and Cell Biology. In 2012, Marletta was named President and CEO of The Scripps Research Institute in La Jolla, Calif. During that time, he also held the Cecil H. and Ida M. Green Chair in Chemistry. In 2015, Marletta returned to UC Berkeley and was appointed Professor of Chemistry and Molecular and Cell Biology, holding the CH and Annie Li Chair in the Molecular Biology of Diseases.
Marletta has been recognized with many awards and honors for his scientific and career achievements. In 1996, he was awarded a MacArthur Fellowship, presented by the John D. and Catherine T. MacArthur Foundation. In 1999 he was elected to the National Academy of Medicine and then in 2006, to the National Academy of Sciences, both in recognition of his distinguished achievements in original research. In 2016, he was elected as a Resident member of the American Philosophical Society, the oldest learned society in the U.S. He has published over 200 research papers and he is the holder of many U.S. patents. In 2006, Marletta co-founded Omniox, a biotechnology company commercializing oxygen delivery technology for a broad range of clinical indications including cancer.
In addition, Marletta also received the Distinguished Alumnus Award from the American Association of State Colleges and Universities in 2014, and in 1993, the Fredonia Alumni Association presented Marletta with its Outstanding Achievement Award. In 2015, Marletta received the Distinguished Service Award from the Fredonia College Foundation Board of Directors.
Marletta has served the State University of New York at Fredonia in many ways. He is a member of the Natural Science Advisory Council, and contributed greatly to the planning of Fredonia's new Science Center. He and his wife, Margaret Gutowski, endowed The Marletta Conference Room in the Science Center. They also established the Mary J. Marletta Scholarship endowment through the Fredonia College Foundation. In areas of curriculum, Marletta helped design the university's Biochemistry major. A popular guest speaker, Marletta has returned to campus on many occasions.
Marletta has also served several terms as a member of the Fredonia College Foundation Board of Directors, from 2002-2010, and since 2012, and is its current chair through 2019. Interim Vice President for University Advancement and Executive Director of the Fredonia College Foundation Betty Gossett noted, "Michael's dedication and devotion as an alumnus knows no bounds. The university is fortunate to have his support on so many levels. Michael's energy for his work as a member of the Fredonia College Foundation for many years is surpassed only by his passion for the students of Fredonia. I am personally grateful to have Michael as a trusted advisor. His guidance is far reaching, forward thinking and always has the best interests of his alma mater in mind."
Dr. Marletta served as Fredonia's Commencement speaker in 1996 and his remarks were warmly received by the faculty, staff, graduates, and their families.