Student entrepreneurs win 'Best All Around Pitch' at WNY Student 2 Biz competition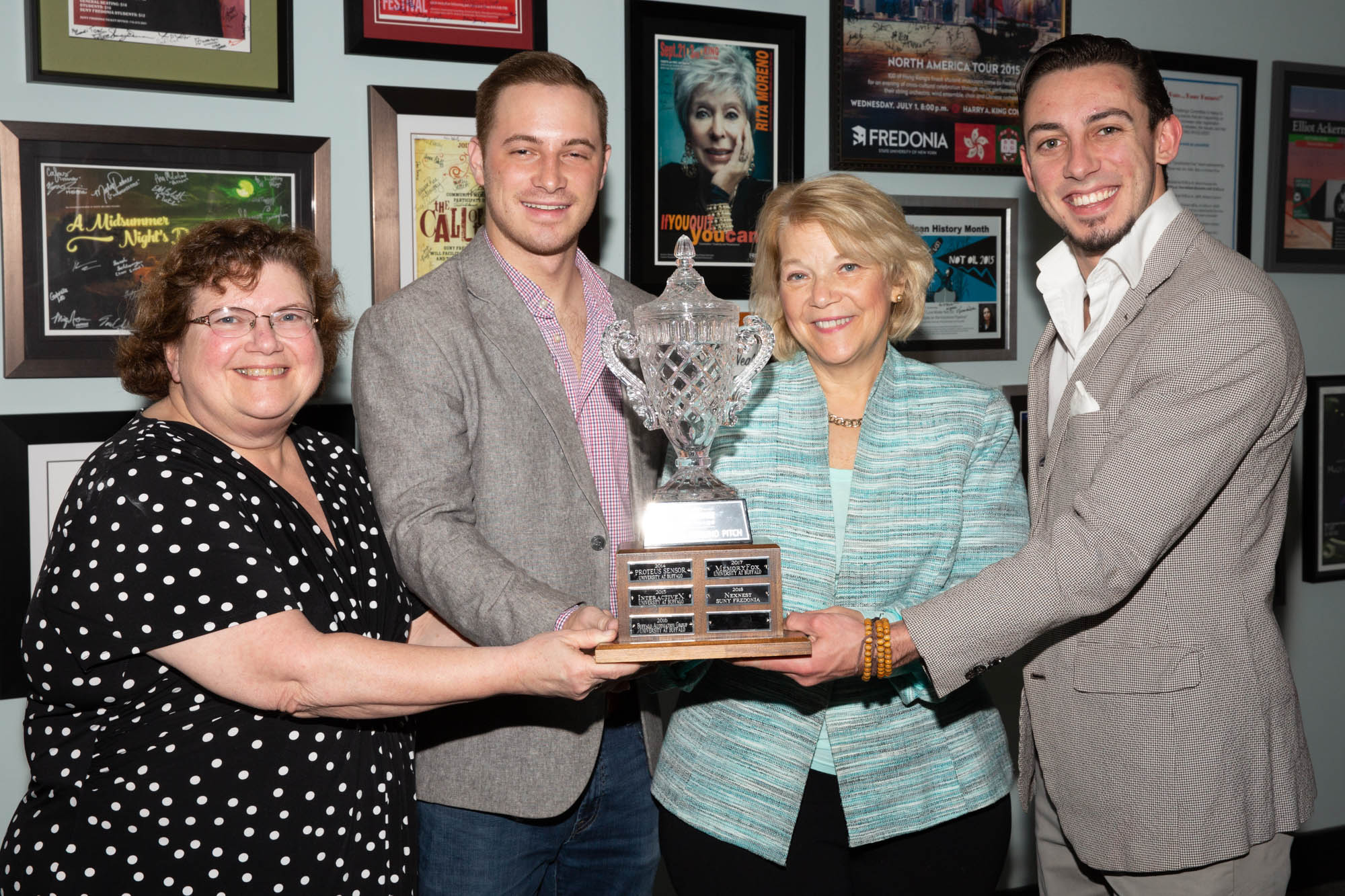 By Lisa Eikenburg
Alex Czechowski and Nate Winn won "Best All Around Pitch" honors for NexNest – a web application they developed that connects students with local landlords and offers other services to help make student renting a positive experience – in a student business plan competition at the WNY Student 2 Biz Challenge held April 20 at Hilbert College.
Included with their win was $1,500 to invest in their company, along with the honor of having the traveling WNY Student 2 Biz Challenge trophy live at Fredonia for a year.
WNY Student 2 Biz Challenge pitted over 20 student teams from seven Western New York colleges and universities who each pitched their business start-up to panels of investors and business leaders. Mr. Czechowski (senior, Computer and Information Sciences, from Fredonia) and Mr. Winn (senior, Business Administration: Marketing, from Patchogue) won the technology category earlier in the day which entitled them to advance to state finals in Albany on April 27.
"Alex and Nate have inspired other students to create, plan and execute on their dreams to start up their own business," said Management professor Susan McNamara, who serves as the chair of the steering committee of Student 2 Biz and coaches student teams from Fredonia. "They live the motto that business can be fun!"
NexNest has been operating for over one year, having established a firm footing in Fredonia, and there are plans to expand to the University at Buffalo, SUNY Buffalo State and Oswego. The Fredonia duo also won the Fredonia Student Entrepreneurship contest last year at the Fredonia Technology Incubator with prizes including a year of assistance at the incubator which enabled the company to grow through learning business skills and gaining access to legal and accounting assistance.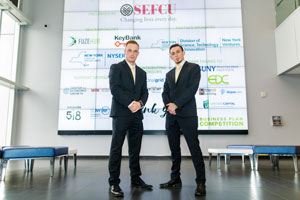 Alex Czechowski (left) and Nate Winn, in front of a wall-size
banner at the New York Business Plan Competition, presented
by the State Employees Federal Credit Union (SEFCU) at SUNY
Polytechnic Institute.
NexNest has innovated during its first year of operation by creating a campus ambassador program and pivoting its business model. Czechowski and Winn brought Chantel Perez and Joey Conti with them to the competition as they represented the team that has been built by NexNest.
Since day one, NexNest has allowed Czechowski and his team to have a great learning experience and has brought them closer to the community they serve," Czechowski said. "It has personally taught me (the) importance of having our stakeholders' interests in mind, which has lent itself to a network of support from our university, village officials and our customers – both landlords and students alike.
"I have been able to get hands-on experience in developing a business, a product, managing a team and manage growth using a lean strategy. These professional and personal experiences I've gained through NexNest have set me up for great future opportunities, particularly with potential employers. I certainly would not be where I am today without the countless lessons I've learned from becoming a small business owner and being my own 'boss.'"
Student 2 Biz is a program of the Western New York Consortium for Higher Education. Fredonia President Virginia Horvath serves on the executive committee which oversees over 25 Communities of Practice across the 21 participating colleges and universities. For more information about student entrepreneurship contact Dr. McNamara via email and for more information about NexNest email.