The State University of New York at Fredonia

Job & Internship Expo

and

Summer Job Expo

Wednesday, March 7, 2018
1:00 p.m. - 4:00 p.m.
Williams Center

The annual Job & Internship Expo and the second annual Summer Job Expo are held concurrently and in the same building. Employers who are primarily hiring summer staff should register for the Summer Job Expo; employers whose focus is on full or part time or internship candidates should register for the Job & Internship Expo. Employers who wish to attend both should plan to send enough representatives to staff the event in both rooms. Space is limited and registration will close when each event's capacity is reached.
Employer registration for the Job & Internship Expo and the Summer Job Expo is now closed!

Please email lagrow@fredonia.edu if you would like to be added to the mailing list for either event.
Thank you for your interest!
Did you know...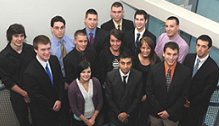 Fredonia has over 4,600 undergraduate and graduate students in more than 100 academic majors including business, communication, humanities, science, education, and fine arts.
Approximately half of our students are from Western New York.
Fredonia was ranked 16th among top public universities in the North by U.S. News & World Report in its 2017 edition of "America's Best Colleges." Fredonia has been ranked as a best university by U.S. News & World Report since 1989.
Questions? Please contact us at (716) 673-3327 or via email at careers@fredonia.edu.
Sponsored by the Career Development Office
Career Development Office
State University of New York at Fredonia
(716) 673-3327
(716) 673-3593 fax