Getting Started with e-Services
Welcome to The State University of New York at Fredonia! If you are an incoming Freshman, Transfer or even a Returning student this is the place to find everything you need to know about Fredonia Information Technology Services before and during your arrival on campus.
Log In to Your Connection
Your Connection stores your confidential student information such as:
View and Reset eServices ID and Password
Register for Class
View Grades / Request Transcript
Accept Financial Aid Awards
Download Anti-Virus Software
Make Payments / View Account Holds
Complete Housing Application and Other Required Surveys
To Access Your Connection
Go to the Fredonia homepage found at www.fredonia.edu. At the bottom of the page click Your Connection.
Use your FID as your User ID
Initially, the PIN is set to your date of birth using this format: mmddyy (2-digit month, 2-digit date, 2-digit year)
Once you have successfully logged in, you will be prompted to change your PIN and select three security questions.
Unable To Log In To Your Connection?
There are three ways to regain access
Send an email message from your FREDmail account to ITSservicecenter@fredonia.edu or resnet@fredonia.edu
Go to the ITS Service Center or ResNet Offices
Locating Your e-Services ID and Password
Once you have successfully logged in, select "View Your User IDs and Passwords" as shown below

Listed under Student ID's and Passwords, will be your e-Services ID and default password.
Note: The listed default password will never update even if you change your password. It is for reference only.
What are e-Services:
FREDMail
OnCourse
Network / Lab Access
Wireless & FREDSecure
Tracker
Library Databases
Registering Your Password
This process only has to be done once but is required to access your FREDMail on mobile devices. When registering your password for use with mobile devices, you are not required to change your password. (Your existing password can be entered into all 3 fields.) Register your password.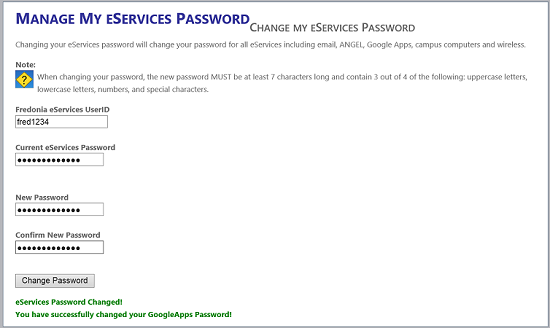 Upon successful registration you will see the green success text shown above.
Accessing Your FREDmail (E-mail)
You can access FREDmail at http://mail.fredonia.edu. To log in, use your current eServices username and password. If this is the first time you are logging in you will be presented with the terms of use for Google Apps. After reading these terms, scroll down to bottom of the screen and enter the special text (CAPTCHA text) into the provided field and click on I Accept.
To configure your mobile device to receive FREDmail, please see our instruction page.
OnCourse
OnCourse is Fredonia's online learning platform. You are automatically added to classes in OnCourse based on your course registration. Per class, professors are given the option to use or not use the OnCourse features.
OnCourse Features Include: Handouts, PowerPoint Presentations, Online Quizzes, Paper Submissions, Checking Grades, Online Discussion Activities and Library Reserve Information.
To login into OnCourse use your eServices username and password. To start using OnCourse, go to the Fredonia homepage found at www.fredonia.edu. At the bottom of the page click the OnCourse button.
Preparing for Campus Arrival with the Fredonia eServices Critical Checklist
Complete the following critical checklist before you come to campus! By doing this you will be ready to access Fredonia online resources and use your devices when you get to campus. Print this checklist.
Know your Your Connection User ID and PIN
Your Connection gives you access to your classes, grades, financial aid and eServices ID and password. To access Your Connection go to https://connect.fredonia.edu/yourconnection. Need help logging in to Your Connection? Contact the ITS Service Center at 716-673-3407 or by email to ITSservicecenter@fredonia.edu.
Know your eServices ID and password
This username and password is used for logging in to the majority of Fredonia services such as e-mail, wireless, and OnCourse. To find your eServices ID and Password, log in to Your Connection and click on the View Your User IDs and Passwords link. Log in to FREDmail at mail.fredonia.edu.
Register your eServices Password to access FREDmail on your Mobile Devices
Before you can access your FREDmail on any mobile device (ie: smartphone, iPad) you need to register your password. Help for setting up FREDmail on mobile devices can be found at /its/gmail-mobile
Like ResNet Office on Facebook
For important advisories and updates about new services at Fredonia ResNet
Update your anti-virus software installed on your personal computer
Updated anti-virus software is required to access the Internet on a personal computer.
Install all computer operating system critical security updates
For example, Microsoft Windows or Macintosh OS X. This is required to access the Internet on a personal computer. Having this done before you come to campus will help you get connected faster!
Remove all illegally downloaded copyrighted files from your personal computer
For more information about Fredonia's policies and the Digital Millennium Copyright Act go to /its/dmca.
Make sure all of your classes appear on OnCourse
Login to OnCourse at https://oncourse.fredonia.eduusing your eServices User ID and password. Locate courses and compare your course list in OnCourse to your course list on Your Connection. If a course is missing in OnCourse put in a Tracker ticket at http://tracker.fredonia.edu.
If you find you need to purchase a computer or software Fredonia participates in several purchasing programs. For more information go to http://www.fredonia.edu/its/computer
Move-In Weekend
Connecting to Wireless Networks (SSIDs):
Click the Links below to learn more about wireless connection options.
FREDsecure is the secure wireless network which utilizes 802.1X to provision WPA2-Enterprise to a diverse array of network devices campus-wide. It is highly recommended that all campus wireless network users utilize the FREDsecure service if you are accessing online financial services, online shopping and any official campus eService (OnCourse, FREDMail, YourConnection etc.). FREDsecure users need to utilize their eServices I.D. and password for access.
FREDmedia is the open and clear (unsecured) wireless network exclusively designed for supported gaming and multi-media devices. Only supported devices will be permitted to connect to the FREDmedia wireless network. FREDmedia wireless network users need to utilize their eServices account to register their devices before being permitted to join the wireless network.
Connecting Gaming devices:
To connect your gaming device to the Fredonia network, please see the instructions found on the ResNet website
Dorm Access Using Your FREDCard

24/7 access only to your own residence hall through the front door only
9pm to 7am: all residence hall doors with the exception of the front door have the alarms activated (all guests must sign in).
Handicapped accessible doors are available in most residence halls.
If you experience problems with your FREDcard's electronic door access, visit the ResNet Office in 154 McGinnies Hall.
If your card is physically damaged visit FSA, located on the first floor of Gregory Hall, for a replacement card.
Meal plan and additional information regarding FREDcard features can be found on the FSA website, fsa.fredonia.edu
ResNet SWAT
ResNet SWAT - Teams of ResNet technicians will be available to assist you in your residence hall lobbies during move-in weekend. Hours will be posted on our website (www.fredonia.edu/resnet), Facebook (Fredonia ResNet) and throughout the residence halls prior to move-in weekend.
Campus Network and Copyright Protection Policies
Network Polices:
If you are caught using P2P file-sharing programs you will immediately lose your personal device network access privileges for 30 days and you will be referred to Student Conduct.
Copyright infringement enforcement agencies such as the RIAA (Recording Industry Association of America) regularly audit colleges for DMCA (Digital Millennium Copyright Act) compliance, therefore:

You CAN NOT use peer-2-peer programs to download and share copyrighted information. (i.e. utorrent, BitTorrent etc).
You MUST remove ALL copyrighted information from your computer that you do not legally own BEFORE you come to campus.
You CAN use legal, fee based programs for legally purchasing copyrighted materials (i.e. iTunes).

You can not extend in anyway the campus network infrastructure.(i.e. personal routers, wireless access points, etc.)
You can not run a business using the Fredonia Network.
You must keep your anti-virus up-to-date. Any computer identified as infected will be quarantined.
eServices & YOUR Academic Integrity
Making deceptive claims about electronic systems or computer equipment needed to complete coursework will not be tolerated
These include but are not limited to:
The electronic receipt or distribution of course assignments
Email or communication delivery problems,
System availability
The operability or availability of printers, computers or other hardware devices
Actions will be taken to track fraudulent activities, the University Police will be involved and the person or persons will be punished to the fullest extent allowed.