How to Connect a Laptop to a Projector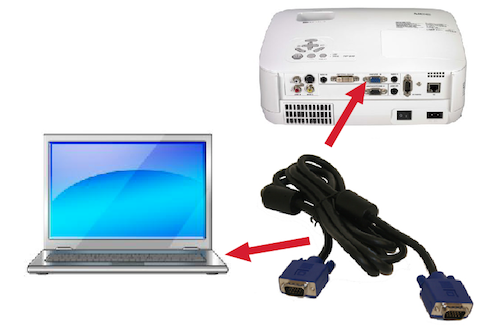 Follow these instructions for connecting your laptop to an LCD projector.
Setup the projector facing the screen, and plug in the power cord. Set your laptop next to the projector.
Plug one end of VGA cable (shown above) into the COMPUTER 1 IN port on the projector.
Plug the other end of the VGA cable into your laptop's monitor port. If you have a display adapter for your laptop, connect that to the VGA cable before connecting it to your laptop.
Turn on your laptop first. Then turn on the projector by first turning power button to | and then push the top power button.
The lamp will take a minute to warm up and display.
If there is a display problem, continue to step 5.
Switch your monitor (click on your laptop type below for details):
Windows Instructions Macintosh Instructions

Windows Instructions

On your laptop, hold down the FN key and press the display key (the F key with the monitor icon) to change your display.

You may be presented with the option to choose what you want to do:


After you have set the display mode, you may need to adjust the your laptop's resolution to 1024x768.

Right-click on your desktop background and choose Properties or Graphic Properties
. -or-
Click on the Settings tab or

General Settings

and make sure the screen resolution is set to 1024x768.
-or-
Click on Apply and then OK.
Continue with #6 below.

Macintosh Instructions

Go to Apple menu>System preferences.
Select

Displays

preference, then go to

Arrangement

tab.

Click on

Detect Displays

button.
Check the

Mirror Displays

checkbox if you want the same display to appear on the projector.
Check

Show displays in menu bar

, then select 1024x768 under

LCD Projector

on the menu bar pulldown:


If 1024x768 is not an option, you will need to choose Display Preferences… There will be a pane on your MacBook and a pane on the Projector. Pick the projector pane and set to 1024x768 using the lowest frequency.

If you still do not see a display after following these instructions, check the source on the projector. Below are two different projector button arrangements:



Select COMPUTER 1 input button

OR

Select SOURCE button, use the arrow keys to select COMPUTER 1, then push the ENTER button.
After you are finished with the projector, please push the top power button twice to allow the fan to turn on and cool down before unplugging the power cord.
TROUBLESHOOTING
If the projector is still not projecting your laptop after following the instructions above, check to be sure all connections are plugged in all the way, and then try switching the display once again. If you are still unable to connect, please call x3407 for assistance.