Virginia Schaefer Horvath, Ph.D.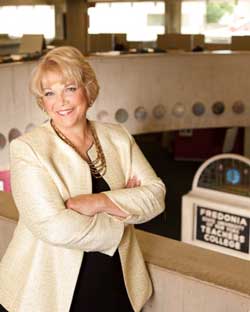 Dr. Virginia "Ginny" Horvath became the 13th President of the State University of New York at Fredonia on July 1, 2012. She was the Vice President for Academic Affairs at Fredonia for seven years, overseeing academic programs, Rockefeller Arts Center, Reed Library, information technology, graduate studies and research, Extended Learning, and a range of academic support services.
President Horvath, who also holds rank as a Professor of English, has academic specialties in Medieval literature, British literature, children's/young adult literature, English pedagogy, and poetry. Previously at Kent State University where she was a recipient of the Distinguished Teaching Award, President Horvath was Dean of Academic and Student Services for the Kent State University (Ohio) Regional Campuses, and Assistant to the President for Strategic Planning.
She has published, presented, and served as a consultant on a range of subjects, such as documenting faculty work, promotion and tenure policies, peer review, strategic planning, global education, service-learning, scholarship of engagement, leadership development, and syllabus/course design. She served on the AASCU Provosts Steering Committee, a national initiative for re-imagining undergraduate education in the United States.
Originally from Amherst, N.Y., President Horvath is a graduate of the Buffalo Seminary and now serves on its Board of Trustees. She also serves on the Board of Trustees of the Lake Erie Regional Health System of New York.
She earned a B.A. in English from the State University of New York at Buffalo and an M.A. and Ph.D. in English from Kent State University.
She is married to Dr. Brooke K. Horvath, a professor of English at Kent State University. They have four grown daughters: Emily Davey, Caitlin Carroll, Susan Horvath, and Jordan Horvath.
About President Horvath
News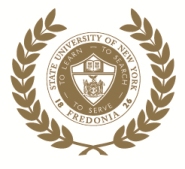 Inauguration of President Horvath: Sept. 21, 2012>>
About Fredonia
History: