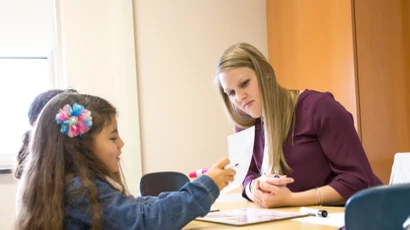 Education Professionals - Assessment System
Instructor Dispositions Report GRE Waiver Request Form
UG Entrance Exam Waiver Form Fingerprinting Information
The College of Education-Professional Education Unit (COE-PEU) recently received accreditation, through fall 2022, through the Council for the Accreditation of Educator Preparation (CAEP), the single specialized accreditor for educator preparation in the United States.
The CAEP Standards, adopted in 2013, reflect the voice of the education field on what makes a quality teacher. CAEP accreditation ensures that (1) there is solid evidence that a provider's graduates are competent and caring, and (2) that there is solid evidence a provider's staff have the capacity to create a culture of evidence to be used for continuous improvement.
As part of this accreditation, the COE-PEU developed a Quality Assurance system. This system is used to collect and analyze data on teacher candidate performance and professional education unit operations with the goal of ongoing improvement of the COE-PEU and individual education programs.
See a graphical representation of the system.
For candidates in the programs, it is about describing what we want them to learn, and how we know whether they learned it. These include measures of performance that are part of individual programs (what is required of candidates within programs) and well as measures of performance that are part of the unit (what is required of candidates within the whole professional education unit). Measures of performance that are part of individual programs are aligned with that programs Specialty Professional Association (or SPA) standards, or with National Board for Professional Teaching Standards (NBPTS). Measures of performance that are part of the unit are aligned with CAEP standards. In some cases, both the individual program and the unit may use the same measure of performance.
The individual program SPA expects measures of candidates'
Knowledge of Content as measured by performance on state examinations. For our candidates this is their performance on the New York State Teacher Certification Exams (NYSTCE). See official NYS performance data.
Knowledge of Content as measured by some other instrument some programs use grade point average in select courses, others use program specific content assignments .
Ability to plan for instruction (as measured by the teacher work samples that candidates provide during field experiences. See the description).
Ability to student teach (as measured by a performance evaluation of student teaching)
Ability to affect student learning (as measured, in part, by the teacher work samples that candidates provide during field experiences. See the description.).
Some other assessments of candidates' abilities to meet specific program SPA standards
CAEP expects the unit to measure candidates' content and pedagogical knowledge and skills, and professional responsibility through evidence of candidate demonstration of understanding of the InTASC Standards. Moreover, CAEP looks for evidence of the impact that program completers have on P-12 student learning.
Professional Dispositions, as well as Academic Concerns, are monitored by the Academic and Dispositions Concerns Review Board (ADCRB). See a description of this body.
In addition, CAEP expects candidates to develop knowledge and skills related to supporting diverse learners and using and promoting technology in their profession.
The Fredonia COE-PEU conceptual framework contains measurable expectations that are also aligned with the CAEP expectations of candidate performance. These include
Candidates demonstrate a thorough understanding of Instructional Practices embodied by the core processes comprising responsive education - Planning, Instructing, Reflecting and Responding – and the ability to effectively use assessment to inform practice and engage learners in their own growth adapting instruction in response to various indicators of student performance.
Candidates possess a thorough understanding of content, context, and human development (i.e., Discipline - Specific Content Knowledge, Pedagogical Content Knowledge, General Knowledge, Pedagogical Knowledge, Common Core State Standards, and Human Learning and Development) and apply these knowledge bases to improve student learning.
Candidates possess both a theoretical and empirical grounding in pedagogy and are well versed in a variety of instructional strategies to make learning accessible for all learners (procedural knowledge). Candidates also know when, where and why to apply these specific strategies (conditional knowledge).
Candidates demonstrate an understanding of how learners grow and develop (cognitively, linguistically, socially, emotionally, and physically) and apply this understanding in conjunction with explicit strategies to minimize bias and advance equity and intercultural understanding in designing developmentally appropriate and challenging inclusive learning experiences promoting high standards for each learner.
Candidates demonstrate Professional Responsibility by modeling positive professional characteristics that foster growth and learning in the classroom. They are ethical practitioners who are life-long learners, child advocates, collaborators and well - behaved professionals at all times.
Candidates use research and evidence, as well as technology tools, to develop an understanding of teaching and infuse these into their daily instructional practice to measure P‐12 student progress and adapt their instruction in response to student performance to improve learning.
As candidates progress through their programs, their progress is monitored through various transition points (critical points in the program for which quality of performance is checked for continuation in the program).