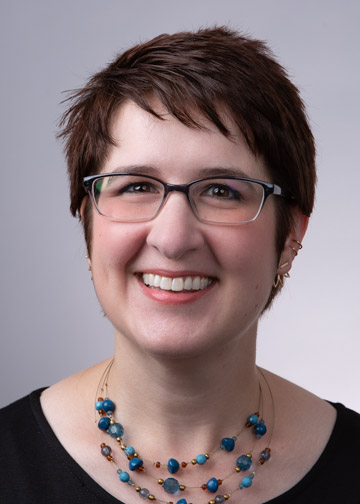 Dr. Amanda Lohiser
Assistant Professor
McEwen Hall 314 McEwen Hall
(716) 673-3633
Ph.D., SUNY Buffalo
Dr. Amanda Lohiser joined the communication department in 2016 following four years teaching communication courses at the Singapore Institute of Management through their Global Education Initiative. She received her doctorate in communication from SUNY Buffalo in 2012 with a focus on socio-emotional intelligence – how understanding your own emotions and the emotions of others can help you be a better communicator. She specializes in nonverbal communication, and is certified in Paul Ekman's Facial Action Coding System through SUNY Buffalo's Communication Science Center, as well as the Micro Expressions Applied Training Program and Certificate Series. She also has a background in public relations, having earned a Master of Science in Public Relations Management from SUNY Buffalo State while working for a Buffalo-based public relations and marketing firm. She recently returned to graduate school to work on a second Master's degree in Creativity and Change Leadership at the International Center for Studies in Creativity at SUNY Buffalo State and has been published in the field of pedagogy.
Office Hours
Monday: 9-9:45am; 2-3pm
Wednesday: 9-9:45am; 2-3pm
Friday: 9-9:45am
9a-7p via phone
Teaching Interests
Interpersonal communication, nonverbal communication, organizational communication, small group communication, writing, public speaking, interviewing, communication theory, emotional intelligence, mass media history and application, new media development, public relations, mass communication, business communication.
Research Interests
Socio-emotional intelligence in organizational settings, nonverbal immediacy, pedagogy, facial expressions of emotion, use of new media in the classroom, effects of new media on communication, effects of social networking websites on communication, expression of self through new media.
License/Certification
Creativity and Change Leadership
Micro Expression Applied Training Program: Responding Effectively Training TOol (RETT) Certificate Series
Facial Action Coding System
Intellectual Contributions
"Harnessing the power of three online learning tools: Best practices for student engagement in distance learning courses," COVID and Higher Education: Teaching and Learning (2022).
"Progressing Through Tuckman's Phases in a Virtual College Classroom: Using Online Tools to Support Student Group Development," Post-pandemic pedagogy: Predicting the change to come (2021).
"N/A," N/A (2020).
"N/A," N/A (2017).
"N/A," N/A (2017).
"Maximizing Concept Application with Hands-on Team Projects in a Concentrated Public Relations Course," Journal of Applied Learning in Higher Education (2017).
"Voiceless in Lecture: A Lesson in Vocal Difficulties and Student-Led Classes," College Teaching (2017).
Media Contributions
Presentations
"Facilitating Peer and Instructor Interaction While Promoting Student Engagement," Conference on Instruction & Technology (2021).