Alumni Spotlight
Michelle Whittaker
English Alumna, Class of 2001
Poet, Pianist, Professor

By English Department Intern Tyler Wood
In the wake of her debut poetry collection — Surge, published in 2017 by Great Weather for Media — Michelle Whittaker (English, '01) is taking time to reflect. She's upfront about her uncertainties towards her craft ("I haven't quite figured that part out," she says of what draws her to poetry), which would come as a shock to anybody who has encountered her work. She's had poetry published in the Southhampton Review, Narrative Magazine, the New York Times, and The New Yorker. She's worked with writers such as Derek Walcott and Star Black. She allows herself the kind of vulnerability that is simply not accessible to an amateur, shaping her sentences in a way that straddles the line between conversation and narrative.
Whittaker did not just come out of the blue, however. She has a wealth of experience on the topic of poetry, academic as well as artistic, stretching from her time as an undergraduate at the State University of New York at Fredonia to her current position as professor at Stony Brook University (her graduate alma mater). Whittaker will be the first to admit that her experiences in academia are difficult to categorize, but doesn't find this an obstacle in praising those institutions. She recognizes "an openness" at Fredonia, a freedom that allowed her to contextualize the artists that she was studying from many different angles: "I got to play, you know? And then contextualize it later, in real life." She learned about artists as separate as Octavio Paz and Chopin, and allowed her pool of influences to grow even larger.
Her time at Stony Brook was also instrumental to her work as an artist, even if it was not as open as Fredonia. She was given the opportunity to refine her craft, working under professors who "weren't interested in changing [her] voice," but instead helped her to hone the unique voice that she already possessed, "giving [her] more tools to work with."
Whittaker may be so protective of that voice because of the myriad sources of inspiration that she draws from in her art. She grew up the daughter of Jamaican parents, a first generation daughter in the United States, and spoke of having to understand "the patois, and the Queen's English, and the standard Long Island American English." She recalls a funny comment that her mother used to share about her time in Jamaica while pregnant: "at the time that there were two basic radio stations. One that played reggae music, and one that played classical music." This dialogue, between the Jamaican folklorists that she grew up experiencing and the work of musicians like Chopin or Tori Amos, can be seen throughout Whittaker's work.
Her music was also inspired by these sources, and is perhaps her largest vector for expression outside of her poetry. Whittaker has poems set entirely to classical music, influenced by her years as a classical pianist and her studies of music at Fredonia. While she admits that composition did not come as easy to her as poetry ("I just never felt like I was creating a piece that said what I wanted it to"), she is clear that her experience as a musician is inextricable from her artistic work as a whole.
Fredonia has been honored and thrilled to welcome Whittaker back for the Mary Louise White Visiting Writers Series from April 9-10, 2019. Students and alumni alike can find more information on her visit on the Fredonia English department's social media pages (on Twitter, Tumblr, and Facebook)! Click here for her #FeatureFriday interview!
Sean Kirst
English Alumnus, Class of 1981
Author, Journalist, and Professional Writer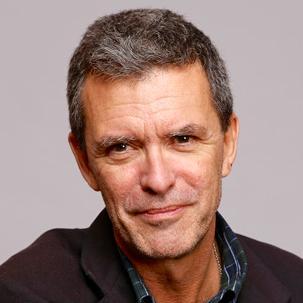 According to Sean Kirst (English, '81), "writing isn't just a professional tool. It's a life tool that helps you in business and relationships." A public speaker, author, and award-winning journalist, Sean uses the power of strong writing to make transformative contributions in his community. In fact, you can see how he has used storytelling to transform Upstate New York landscapes by watching his TedX talk, "At the lighthouse: why I tell stories." But before launching his successful and poignant career, Sean cultivated his journalist talents writing for Fredonia's own campus newspaper, The Leader, as well as The Observer in Dunkirk.
Though Sean began his Fredonia journey as "a teenager scared to leave home," he found that his real-world experiences while he was here combined with his English coursework helped him "develop a crisp and distinctive [writing] style." In fact, Sean believes Fredonia "elevated [his] whole notion of writing" and "help[ed] him find strength" to go out into the world. "My life changed at Fredonia," he says. The English department gave him confidence in his writing, helping him to find his voice and realize he could use it to change lives. Indeed, after graduation he wrote for The Niagara Gazette in Niagara Falls and Rochester's City Newspaper. Then, in 1991, he wrote his first sports column for The Post-Standard. Five years later he transitioned to working in news, at both a regional and national level. Through all these roles, Sean's work has always been guided by the firm belief that "writing opens doors that would otherwise be shut. It's life changing."
This real possibility for change has also fueled his career as a columnist; Sean has dedicated much of his career to passionately advocating for positive change in Upstate New York. Just one example includes his writings about the trash problem along Syracuse's interstates. "Every gateway to the city was coated with trash," he notes. "I started writing about it, asking why...and there was a flood of reaction." Today, thanks largely to Sean's columns, the pollution receives high-profile civic attention. He's often a first-hand witness to how "writing, at its best...captures something in the air and gives it substance."
After a twenty-seven year long career at The Post-Standard, Sean is currently pursuing independent writing opportunities. To date he has published a collection of baseball essays and co-authored Moonfixer: The Basketball Journey of Earl Lloyd. Throughout his career as a columnist, he won numerous awards including a U.S. Department of Justice Award for sensitivity to victims of violent crime (1998), the Ernie Pyle Award for human interest writing (2009), and the New York State Associated Press Association first place award for column writing (2014).
It's also worth noting that not only did Fredonia influence Sean's professional life, but also his personal one. He still values the interpersonal relationships developed both in and out of the classroom. His professors, whom he calls "extraordinary" and "just eye-opening," became mentors and even friends. He reflects that "Fenton Hall didn't feel like going to class; it felt like going home." Additionally, Sean met his wife Nora (Sociology and Social Work, '82) at Fredonia. Throughout their academic careers—and beyond—Sean and Nora have spurred each other on to personal and professional happiness.
We're honored and thrilled to welcome Sean back to Fredonia from April 7–9, 2016, as our second alumni writer-in-residence. Check the Writers @ Work website for more details and a schedule of events.
---
Read previous Alumni Spotlights below!