Students in Action

Check out what our students are doing in and out of the classroom!
Visit our department social media pages for recent news about our amazing students!
ENGL 333:
The Fall 2017 International Coastal Cleanup was the largest ever at Point Gratiot in Dunkirk, NY!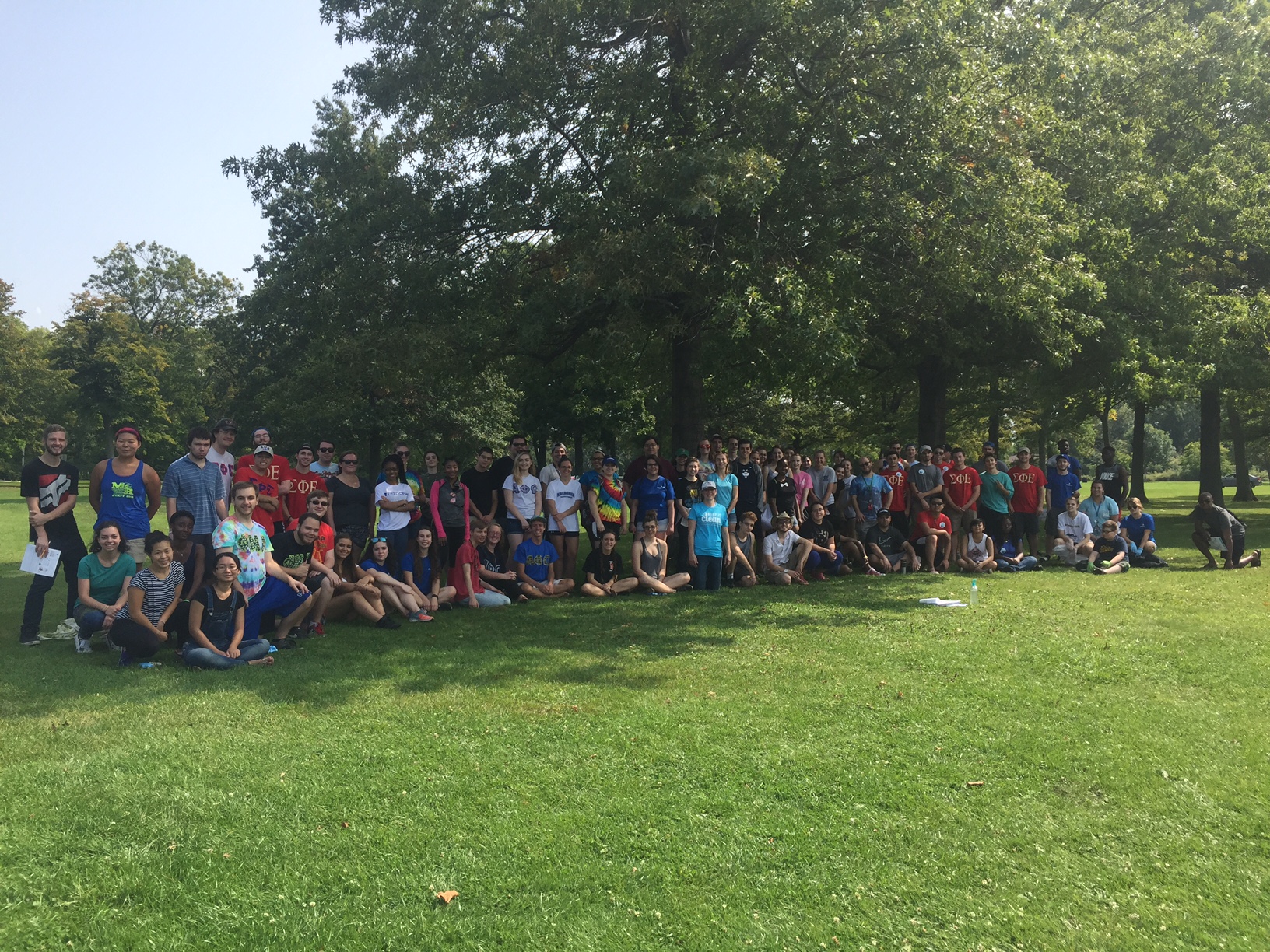 ENGL/WGST 314: 
Dr. Susan McGee and the students in her class ENGL /WGST 314 have a brief presentation on the history of the Grimke sisters, leaders in the abolitionists and suffragette movements. The students then read passages from the "The Invention of Wings" by Sue Monk Kidd, a fictional account of Sarah Grimke and lead a discussion of models for becoming effective leaders and agents of change.
---
ENGL 400:

In addition to their advanced academic research, students in this section of English Senior Seminar ("Voices of the Voiceless": The Literary Legacy of Animal Advocacy in the United States) develop community-based projects, connecting their research and intellectual ideas to public settings. Working with local community partners, students are taking on a range of exciting projects, from the writing of animal rescue narratives for the humane society to guided tours of nature preserves.
---
English students in ENGL 427: Major Authors - Kurt Vonnegut have spent the semester pondering the big questions posed by Vonnegut's literature. These discussions and the students' advanced academic research are being showcased in a public presentation of their poster projects, "'What Are People For?' Kurt Vonnegut, Technology, and Humanism."
Join us in the Japanese Garden Area of Reed Library on November 18 from 4:00 p.m. to 6:00 p.m.
Make sure to check out their Letters to Kurt on the Kurt Vonnegut Memorial Library website as well! http://www.vonnegutlibrary.org/thanks-kurt/
---
Extra Curricular Activities
English Major Students
Take a look at what some of our English Major students are participating in outside of the classroom! This poster shows a broad range of organizations and athletics students are involved in as well as their volunteer experiences.
| | |
| --- | --- |
| | |
2015 Big Read

Featuring F. Scott Fitzgerald's

The Great Gatsby

 

The Spring 2015 English Senior Seminar students are pleased to invite you to join them, along with community readers throughout the region, for an engaging series of events surrounding a celebrated American novel. The following events are coordinated by our senior English majors as a part of their capstone projects.

The programs draw on a range of exciting resources from 1920s-era local and national archives, as well as research in literary criticism and cultural history, and they will include fun activities from Charleston dance lessons and jazz recitals to advertisement design workshops. All events are free and open to the public. Join the party!

Poster designed by: English senior Sarah Rocco

SUNYSURC Conference

Woolf, Stein and Winterson

 

 On April 10th, 2015 Kelsey Radomski presented a paper at the first SUNY undergrad conference, the SUNYSURC's. This was a paper she had written in her fall 2014 Women Writers class.

The Dunkirk Observer

ENED 101

April 5th

 

On Sunday, April 5, the Opinion page of The Dunkirk Observer featured letters to the editor written by three of Fredonia's English Education students: Sophomores Emily Chaffee, J. Stefan Uveges, and Katelyn White. The letters addressed the new teacher evaluation plan approved last week by NYS legislators, as well as the increased emphasis on standardized testing in US schools more broadly. The students wrote these letters as part of an assignment for Dr. Heather McEntarfer's ENED 101: Introduction to English Education course. The assignment required students to write about any of a range of issues they had discussed related to educational equity and policy.

"Coping with Trauma"

Graduate Symposium

February 26th

 

On Feb 26 2015, English graduate students Naomi Coufal, Leslie Cairns, Jill Durland, Abigail Griffin, and Ellen Scherer shared their ongoing research projects involving trauma at the symposium "Coping with Trauma." Buffalo State English professor Dr. Barish Ali served as the respondent at the event, which covered a wide variety of subjects from antiquity to World War I poetry and contemporary young adult literature.

A Sequel to The New Weird

Co-edited by Adam Glasier and Richard Schumacher

 

 "My accomplice Richard Schumacher and I were in Dr. Simon's Senior Seminar when we read The New Weird, a genre incorporating fantastic elements set in an otherwise realistic world with no explanation. We agreed this anthology was ground-breaking, utterly mind-bending, a real page-turner, but that it was in dire need of a sequel. So Richard and I set out into the darkest corners of the Earth (and the internet) for new stories even weirder than those of The New Weird.

Boy, did we find strange stories: a journey to the moon, a barbarian's epic quest for revenge, feral environmentalists, man-eating porn stars, this book has it all! This anthology, the product of our toil and tears, The New New Ultra Weird has moved on to bigger and better things: strange and fantastic stories that defy the conventions of "proper" English grammar and scoff at the very idea of a narrative. We've featured some pretty big names in the publishing world, including: Dale M. Courtney, Jim Theis, Amanda McKrittick Ros, Ron Miller, as well as a whole host of writers who are fresh on the publishing scene. There's also a ton of debate surrounding the genre—does it exist? Is it worth reading? How did it even start?—which we've included in its own section at the end of the book.

Let's just say, when Gary Busey reviewed The New New Ultra Weird, he sent us thirty pages of dashes and asterisks, it was just that good. Now I am brainwashing you to read this book. Once you've read it from one cover to the other, all of your literary perceptions will be changed. Do it. Hypno-Toad bids you." Buy it here!

 

Progressive Era & Fredonia & Chautauqua County History

Prof. McRae's Honor Seminar -- English Senior Capstone

Reed Library Display

Prof. McRae's Honors Seminar (HONR 225.1) will have a display on the Progressive Era (1865-1915). This will include archival images and artifacts from that period such as patent medicine ads, freak show cabinet cards, minutes from town hall meetings, images from Lily Dale and other Spiritualist and Second Great Awakening religious communities, information about labor strikes, and institutions such as the Perrysburg Sanitarium.

Prof. McRae's English Senior Capstone class (ENGL 400) will have informational posters on display about various intriguing moments in Fredonia and Chautauqua County history, contextualized within larger American historical trends. Some of these include: "BJs--An American Dive," "The Dewittville Poorhouse," "Enoch Curtis--the Architect of Fredonia," "The Students Awaken: SUNY Fredonia and Vietnam War Protests," "Welch's Grapes in 1910," "The Fredonia Women's Temperace Union," "Everything you Always Wanted to Know about Club 35," "When they Changed the Drinking Age," "Lucille Clifton and Racism in Fredonia in the 1950s," "The Abortion Underground Railroad in the 1970s," and "Fredonia Implements the 504 Plan."

Congratulations!

to the six  English major students who were inducted as Golden Key Members!

Randee Greco

Alana Hazard

Courtney Loiacono

Antonio Regulier

Lacey Wolfer

Claire Woodstock

Article for the Observer

by Matt Pisarski

Matt Pisarski a candidate for an English M.A., wrote an article for the Dunkirk Observer about Stefan Zweig. Check out his article here.

Article for the Observer

Professor Christina Jarvis takes Environmental Literature Students to Greystone Nature Preserve to plant spruce trees. Check out the link about the event in the Dunkirk Observer.

Article for the Observer

by Rebekah Calhoun

English Major Rebekah Calhoun wrote an article for the Dunkirk Observer about Stefan Zweig. Check out her article here.
The Big Read
To bring their passion for and knowledge about literature into the public sphere, graduating English majors contributed to the Big Read, a program sponsored by the National Endowment for the Arts with the goal of bringing
literature back into the lives of Americans. Led by Reed Library, the local 2013 Big Read featured Jack London's beloved novel The Call of the Wild. Students enrolled in both sections of Senior Seminar teamed up to lead fourteen discussions in diverse settings throughout Chautauqua County, including libraries, bookstores, cafes, and
even humane society animal shelters. More than 240 people attended these community book discussions, and the feedback from attendees was enormously positive. Rounding out their public engagement experience, the students all contributed to a blog that captured the range of lively and enriching literary events throughout the region.
Contemporary Literary Theory
Collaborative Project
The course theme explored the connection between subjectivity, risk-taking and ethics, using a wide array of essays by contemporary philosophers and critical theorists, and two literary texts: Lewis Carroll's Alice in Wonderland (annotated version) and Donald Barthelme's Snow White. The final project was designed to be a collaborative group effort; students were free to choose the format as long as they contributed equally to the research and writing. After mulling several possibilities, the students -- many of whom were also writing minors -- decided to compose a collaborative story, with each of them writing an individual chapter. They collectively drew a story-board and mapped out the details of the main character, setting and plot; two students worked as editors to insure smooth chapter transitions. The result was "Alex in Fredtown." Students in the course included: Eric Ellison, Matthew Pisarski, Joshua Jerome, Christina Stock, Erin Goldberg, Jordan Horvath, Derek Herzog and Jeannette Chin, all English majors or minors. Instructor: Jeanette McVicker
Download the full story
here
.
Presentation at Conference in Washington D.C.

Jacqueline Hebert, candidate for the M.A. in English this spring, presented at the Popular Culture Association / American Culture Association National Conference in Washington, D.C. from March 27-30, 2013. Her presentation, "Reading Beyond the Blood: A Post-Colonial Reading of Agatha Christie's Works," was part of a panel titled Mystery and Detective Fiction: Reading the Classics.

Rosa Parks Scholarship

Courtney Loiacono was awarded a Rosa Parks Scholarship for her project:  "Media Literacy in the Classroom: A Gender Focus."

Presentation at SUNY Conference

Benjamin Blood presented "Re-Conceptualizing College Composition: Preparing First-Year Writers for Future Academic, Professional, and Personal Writing through the Use of Metacognition" at the Annual SUNY Conference on Writing held at UB on March 29-30, 2013. Benjamin is a candidate for the M.A. in English this spring.
ENED 250

Literacy and Technology

Students in Professor Heather McEntarfer's ENED 250, Literacy and Technology, interpreted poems using digital video. This example was created by Hannah Mulliagn.

ENED 250

Literacy and Technology

Students in Professor Heather McEntarfer's ENED 250, Literacy and Technology, interpreted poems using digital video. This example was created by Giacomo Tucker.