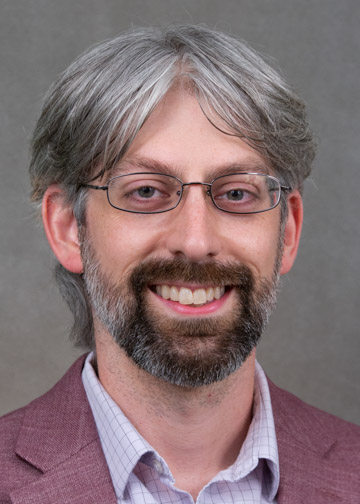 Dr. Joe McFall, Ph.D.
Associate Professor
Thompson Hall E356
716-673-3891
joseph.mcfall@fredonia.edu
Ph.D., West Virginia University
Dr. McFall is a Life-Span Developmental Psychologist specializing in everyday cognition (problem solving, decision making, cognitive impairment) across adulthood as well as research design and analysis. He is a native of Olean, NY.
Office Hours
Monday: 9:30-11:50am
Wednesday: 9:30-11:50am
Friday: by appt.
by appt.
Teaching Interests
Dr. McFall's teaching interests align with his scholarly interests. As a life-span developmental psychologist by training (concentrating in research design and analysis) and a researcher in everyday cognition, Dr. McFall enjoys teaching Cognitive Development, Child Psychology, Psychology of Adulthood, and Research Methods. He also teaches Perception and Life-Span Developmental Psychology, as needed. Dr. McFall maintains an active research lab through which he collaborates and supervises several independent study students each semester with research projects. He views this as vital mentoring experience for students seeking professional careers or graduate education. He is considering developing a special topics course in decision-making biases and fallacies and senior-level decision-making theories course. Dr. McFall has also enjoyed teaching Social Psychology and Introduction to Psychology in the Past.
Research Interests
Dr. McFall's scholarly interests center on typical and atypical everyday cognition. He is currently developing a conceptual cognitive process model of everyday decision making to identify basic underlying components of the decision-making process and unify existing theoretical approaches to understanding the decision-making process. He is also creating a connective framework for predicting how and when errors/biases results from the normative decision making process. Throughout this process, Dr. McFall discovered a new decision-making bias—the Value Misattribution Fallacy—and has begun a meta-analysis on age differences in decision-making biases to better understand the strength of the effect and the factors/processes that moderate age differences in decision making errors. Recently, Dr. McFall conducted cross-cultural research to assess differences in decision-making biases in India and the USA, improving the external validity of decision-making research. Additionally, Dr. McFall and his team are assessing the rate of decline in cognitive status in individuals with and without mild cognitive impairment and dementia. They created an adult temperament rubric to better operationally define personality changes associated with dementia and have successfully found the temperament dimensions to correlate with cognitive impairment severity. They plan to further examine this relation by assessing change in underlying executive functioning abilities with onset of cognitive impairment. Furthermore, Dr. McFall is interested in using the temperament findings to aid caregivers in identifying early predictors of impaired cognition so that loved ones can obtain early interventions that may slow the progression of certain dementia-producing diseases.
Current Research
Implicit Theories, culture, personality, and sexual behavior
Awards and Honors
Intellectual Contributions
"Do Institutional Characteristics Predict Markers of Adulthood? A Close Replication of Fosse and Toyokawa (2016)," Emerging Adulthood/Sage Publications (2018).
"Emerging Adulthood MoA/IDEA-8 Scale Characteristics from Multiple Institutions," Emerging Adulthood/Sage Publications (2018).
"Emerging Adulthood Measured at Multiple Institutions 2: The Data," Journal of Open Psychology Data/Ubiquity PRess (2018).
"Directions toward a meta-process model of decision making: Cognitive and behavioral models of change," Behavioral Development Bulletin/American Psychological Association (2015).
"Rational, normative, descriptive, prescriptive, or choice behavior? The search for integrative meta-theory of decision making," Behavioral Development Bulletin/American Psychological Association (2015).
Presentations
"Authentic research project-based learning in the Introductory Psychology classroom," Fifth Annual Applied Learning Conference (2018).
"Understanding indirect effects of interpersonal transgressions on health and well-being in emerging adults: A comparison of stress process and discrimination models," 8th Biennial Society for the Study of Emerging Adulthood (2017).
"Between general education programs: Leading transition," 2017 Association for General and Liberal Studies Annual Conference (2017).
""Linking Cognitive Impairment to Human Temperament across Adulthood: Biological Bases of Executive Functioning"," State Society on Aging of New York's 44th Annual Conference (2016).
"There's no time like the present: "Presentism" outweighs "future anhedonia" in explaining affective forecasting errors," 28th Annual Convention of the Association for Psychological Science (2016).
"Cultural differences in reasoning errors: Comparison of United States and India," 27th Annual Convention of the Association for Psychological Science (2015).
"Processing Speed and Age Differences in Sunk Cost Health Decisions," 25th Annual Conference of the Association for Psychological Science (2013).