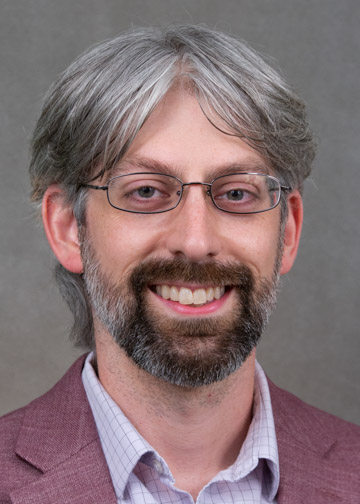 Dr. Joe McFall
Associate Professor
Thompson Hall E356
716-673-3891
Joseph.Mcfall@fredonia.edu
Ph.D., West Virginia University
Dr. McFall is a Life-Span Developmental Psychologist specializing in everyday cognition (problem-solving effectiveness, decision making theory, cognitive impairment) across adulthood, defining age and adulthood and understanding effects of ageism, as well as complex research design and multivariate data modeling and analysis. He is a native of Olean, NY and alum of Fredonia.
Office Hours
Monday: 9:30-11:00am
Wednesday: 9:30-11:00am
Friday: by appt.

Teaching Interests
Dr. McFall's teaching interests align with his scholarly interests. As a life-span developmental psychologist by training (concentrating in research design and data analysis) and a researcher in everyday cognition, Dr. McFall enjoys teaching Cognitive Development, Child Psychology, Psychology of Adulthood, and Advanced Research Methods. He also coordinates the department internship program periodically, teaches Foundations of Psychology, and offers elective courses such as Senior Honors Seminar in Judgment an Decision Making Theories, Honors course in Decision Making and Reasoning, and special topics courses in the Psychology of the Awkward and Uncomfortable.Dr. McFall maintains an active research lab through which he collaborates and supervises several independent study students each semester on their original investigations. He views this as vital mentoring experience for students seeking professional careers or graduate education.Dr. McFall also works with academic advisees seeking entry to graduate school to assist with application material development.
Research Interests
Dr. McFall's overarching program of research involves factors predicting adults' everyday life success, such as problem-solving effectiveness, decision-making outcomes, and the relation of attitudes about adulthood identity to health and well being. His research typically focuses on normative development processes related to applied cognition, but occasionally examines atypical or non-normative cognition, such as early temperamental predictors of mild cognitive impairment.The bulk of Dr. McFall's research, including collaborative work with his research students and national collaborators, falls within three primary lines: (1) meta-theory of everyday decision making, including experimental manipulation of cognitive biases and reasoning errors across adulthood, (2) defining age and understanding the effects of ageism and interpersonal transgressions on adults' health and well-being, and (3) effectiveness of everyday problem-solving strategies across early and alter adulthood.Dr. McFall and his team are currently developing a conceptual cognitive process model of everyday decision making and are conducting experiments to assess whether its predictions based on hypothetical research match behavioral data from the lab. The goal is to unify existing theoretical approaches to understanding decision-making processes while providing ecological validity of the model. This model also provides a connective framework for predicting how and when reasoning errors and cognitive biases result from the normative decision making process. Some projects within this line have involved multicultural analyses of decision making and reasoning and have included both quantitative and qualitative data analysis.Dr. McFall's interest in defining age and adulthood has resulted in his participation in a national collaborative to define "emerging adulthood." Emerging adulthood is a tendency for young adults to delay traditional activities that serve as societal markers of adulthood (e.g., marriage, living independently from parents, raising children, starting a career) in pursuit of other goals or activities (e.g., education, career exploration, identity exploration). Researchers suspect that increases in life expectancy and cultural changes, especially in developed nations, drive this lengthening of the time between adolescence and traditional adulthood. In two recent papers based on data from 33 colleges and universities located primarily in the United States, Dr. McFall conducted multilevel analyses to test the psychometric properties (reliability and validity) of some of the scales that are used to assess emerging adulthood, as well as perform a replication study to test whether previous research about individual differences in young adults' personality and values vary across regions. The data is also published online for open public use (see Journal of Open Psychology Data).