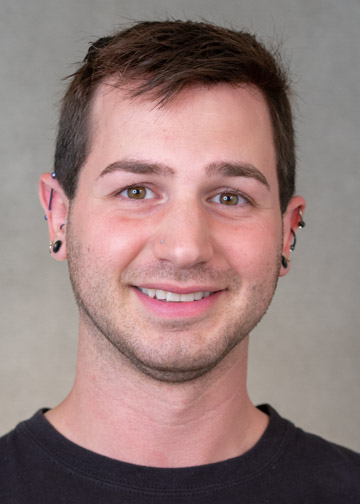 Anthony Alterio, M.F.A.
Assistant Professor
RAC 250 RAC
(716) 673-3494
M.F.A., University of Michigan
Anthony Alterio
Excessive Realness
Anthony Alterio is currently on faculty in the Theatre & Dance Department as Assistant Professor of Dance at State University of New York (SUNY)at Fredonia. He explores representations of effeminate gay men in pop culture as part of a larger interest in how dancers present themselves. Anthony is a native of Pittsburgh, and he began his professional dance training at The University of Colorado-Boulder, where he received a BA double-majoring in Dance and Psychology and went on to attain an MFA in Dance from the University of Michigan. Upon graduation, he won the Maggie Allesee Choreography award and since has been showing work across the US. When teaching, Anthony creates a sense of community and challenges his students to move with intention and passion. Alterio is a member of Interweave Dance Theatre, the resident company of the Boulder Jazz Dance Workshop as well as Co-Director of a summer dance intensive geared toward the LGBTQIA+ community called Excessive Realness.
Teaching Interests
Choreography
Contemporary/Lyrical Modern
Jazz - Contemporary and Commercial
Hip Hop - House, Waacking, Breaking, and Commercial
Site Specific Dance
Improvisation
Queer Dance
Research Interests
Queer Theory
Pedagogy
Dance and Technology
Marketing for The Arts
License/Certification
Dance Studio Management Certificate
Contracts, Grants and Sponsored Programs
"#BlackQueerMagic," N/A (N/A).
Performances/Exhibits
Test 1. (2020).
Test 2. (2020).