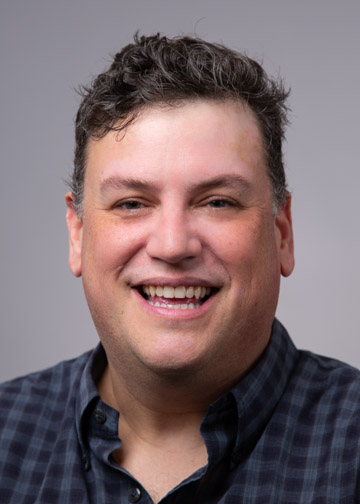 Dixon Reynolds III
Professor
242 RAC
(716) 673-4840
M.F.A., Indiana University
Dixon Reynolds joined the Department of Theatre and Dance in 2008 and is the Associate Professor of Costume Design. Dixon received his B.F.A in Costume Design from the University of North Carolina School of the Arts, where he also received his High School Diploma in Acting, and he received his M.F.A. in Costume Design from Indiana University. Prior to joining his colleagues at Fredonia he taught Costume Design at Georgia College and State University. His designs are seen in a broad range of styles from Theatre, Dance, Opera, TV, Film and his favorite, new and experimental theatrical works. He is a two-time recipient of the Kennedy Center/ACTF Meritorious Achievement in Costume Design and Artie Award winner(Buffalo, NY). He regularly takes his students on shopping adventures in the garment districts of Toronto and New York and has taught study abroad courses in Greece and England.

Dixon's professional designs have been seen at Pittsburg Civic Light Opera, Lexington Theatre Company, Music Theatre Wichita, Summer Repertory Theatre, Shakespeare in Delaware Park, Irish Classical Theatre, Kavinoky Theatre, The Hartt School of Music, ArtPark, American Dance Festival and Triad Stage. In addition he has designed costumes for Hobart and William Smith College, Wake Forest University and several independent films. He served as Wardrobe Supervisor for Playmakers Repertory Company and has worked with the Colorado Shakespeare Festival, HBO Productions and CBS Productions.
Teaching Interests
Costume Design, Costume History, Textile Manipulation, Flat Patterning
Research Interests
Costume History, Design for Theatre, Opera, and Dance.
Awards and Honors
Artie Award Nominee, Best Costume Design, Buffalo Theatre Alliance (2019).
Best Costume Design, Broadway.com (2017).
Performances/Exhibits
Once: The Musical. Pittsburgh Civic Light Opera, Pittsburgh Civic Light Opera, Benedum Center (2019).
A Midsummer Night's Dream. Chatauqua Theatre Company, The Chatauqua Institute, Chatauqua Theatre Company (2019).
The Three Musketeers. All For One Productions, Road Less Traveled, Irish Classical, Theatre of Youth, Musicalfare and SHEA'S, SHEA'S 710 MAIN (2018).
Xanadu. The Hangar Theatre, , The Hangar Theatre (2018).
FREAKY FRIDAY. Music Theatre Wichita, , Century II Performing Arts Center (2018).
The Foreigner. The Hangar Theatre, , The Hangar Theatre (2017).
Newsies. Music Theatre Wichita, , Pittsburgh Civic Light Opera (2017).