Alpha Psi Omega
Alpha Psi Omega is the honorary dramatic fraternity designed as a reward, honor and privilege for students who excel in the study of theatre arts. Entrance is determined by performance in the classroom as well as in production and on stage. Fredonia is home to the Theta Omega Cast
The Performing Arts Company
The Performing Arts Company is a student organization constituted by the Fredonia Student Association. PAC was formed with the objective of stimulating an interest and development in the performing arts and in the presentation of theatrical productions or related events. PAC is for all students. PAC provides an excellent opportunity for creative and interested students to learn and produce innovative theatre productions under their own initiative.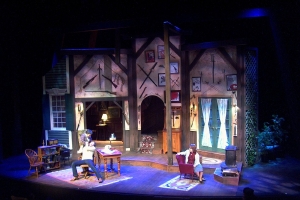 Membership is open to all students and fee-paying faculty. However, in order to become a voting member of PAC, a person must have participated in one production by PAC. (Participation means being cast or working on a crew).
PAC has produced plays by a wide variety of contemporary playwrights. The organization also produces small ensemble productions,original student written scripts and workshop events.
PAC Experimental Theatre: The experimental theatre allows any students to present almost anything in the realm of the performing arts. In order to receive financial support from PAC, a proposal must be presented at any regularly scheduled executive board meeting.
Orchesis
Orchesis is a student organization constituted by the Fredonia Student Association. It is dedicated to the appreciation of dance as an art form, open to all students, faculty and staff at the college. Classes are held daily in the late afternoon. Three concerts are presented annually; an informal fall and spring concert featuring choreographed work of participating students, and a formal concert in the spring semester presenting dances choreographed by faculty and students. In addition, the club sponsors various master classes and performances by guest artists throughout the year
The Production Program
The Department of Theatre and Dance produces a season of full-length major productions that are audience oriented. In addition to class and workshop experiences, a primary purpose of these productions is to provide the opportunity to learn the arts and crafts of quality theatre as a profession. Other objectives are to preserve, in living form, the great heritage of dramatic literature of the past and to provide quality theatrical entertainment for the academic and metropolitan community. The department also hopes to raise the general public's level of taste, appreciation and standards for the theatre arts, and to provide opportunities for Fredonia students to participate in an artistic endeavor.
Departmental Activities and Non-Departmental Activities
The theatre major's first obligation is to the departmental production program. No first year BFA students may participate in production activities outside the Department of Theatre and Dance. No exceptions to this rule will be made. Departmental production activities include the following: All five (5) Mainstage productions, the Hillman Opera, the PAC Fall show, Orchesis major concert, and the Directing class projects (one-acts/scenes). First year BFA and BA students may engage in these activities without seeking permission.
Any upper class BFA students with a cumulative Grade Point Average of less than 3.25 must obtain permission from the department chair to participate in activities outside the prescribed departmental production program.
This policy does not apply to upper class BA General Theatre students or BFA students with a GPA of 3.25 but it should be emphasized that if there is a conflict between a departmental assignment and any outside commitments, the departmental assignment will take priority in all instances. Theatre Practice assignments always take precedence over non-departmental activities.
Auditions and Casting Procedures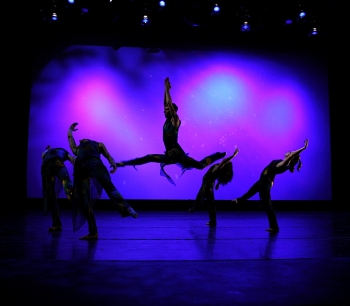 Any Fredonia student (regardless of major) currently enrolled and of acceptable academic standing may audition for departmental productions. Auditioning constitutes a commitment to the production. Among other things, it means that the student is willing to undertake any role assigned by the director. Announcements of auditions will be posted on the Department of Theatre and Dance bulletin board.
All BFA-Acting and BFA-Musical Theatre (Theatre track) majors are required to audition for all Departmental Mainstage Series productions. Failure to audition will result in disciplinary action and possible dismissal from the program.
On occasion a director, with the permission of the departmental chair, may elect to use Fredonia theatre faculty, alumni or professional guest artists when a given role requires maturity, knowledge and life experience that normally is not found in the undergraduate actor.
The chair of the department approves final cast lists before they are announced publicly.
Rehearsals
Cast and crew are required to be on time for rehearsals. Cast members who are absent without permission from rehearsals may, at the discretion of the director, be dismissed from the production. On class days, major production rehearsals will normally take place in the evening. Evening rehearsals may begin any time after 6 p.m. Rehearsals may be called at any time during the day on free days. Consideration will be given to the individual student's schedule but the final scheduling will be left to the discretion of the director.
Stage Combat
Each year students in the BFA program have the opportunity to train in unarmed as well as in armed stage combat under a Certified Teacher with the Society of American Fight Directors (SAFD). At the end of their training, the students are then able to test in these weapon styles and be professionally adjudicated by an SAFD Fight Master.