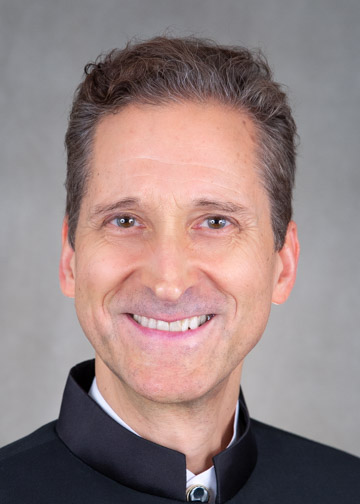 Dr. David Rudge
Associate Professor
Area: Major Ensemble Directors, Music Performance
Mason Hall 1044
716-673-4644
David.Rudge@fredonia.edu
Dr. David Rudge, Director of Orchestras and Opera at the State University of New York at Fredonia, and Music Director of the Rock Hill Symphony Orchestra, has conducted orchestras on five continents to critical acclaim. As Director of the Orquesta Sinfónica Nacional de Guatemala he was credited with the dramatic rebirth of that orchestra. Described as "dynamic" and "electric," Guatemala's Prensa Libre wrote "it has been many years since we have heard a symphony orchestra play with such inspiration."
Dr. Rudge founded the Eastminster Chamber Orchestra and was Assistant Conductor of the University of South Carolina Symphony Orchestra, the Columbia Lyric Opera and Ballet, and the South Carolina Philharmonic. During that time he was noted for his "Bernstein-like intensity" The State, Columbia, SC. He was chosen several times to prepare the Beethoven Chamber Orchestra for the International Workshop for Conductors in ZlÌn, Czech Republic. He has guest conducted the West Bohemian Symphony Orchestra in Mariánské Lázne, CR, and, as a two-time winner of the International Opera Conductors' Competition, he was invited to conduct a complete production at the Silesian State Opera in the Czech Republic, and to lead the Vratza Philharmonic in Bulgaria. In 1996, as an Artistic Ambassador for the State Department, he spent two months in Damascus, Syria conducting the National Symphony and Chamber Orchestra. He has conducted the Opera and Orchestra at the Rome Festival, Italy, and has guest conducted the Dialecto Urbano Chorus, Caracas, Venezuela, the Giurgiu Philharmonic (Romania), the Oklahoma City Philharmonic, the Western New York Chamber Orchestra, the Woodstock Chamber Orchestra, the Orchestra Society of Philadelphia, the North Carolina Governor's School Orchestra, the Poughkeepsie Chamber Orchestra, and the Southern Tier Symphony. Dr. Rudge has worked with some of today's finest soloists, including Jeremy Denk, David Kim, Larry Combs, Carol Wincenc, Jeffrey Khaner, Gail Williams, Elizabeth Hainen, Jean-Luc Ponty, Mark O'Connor and Yo Yo Ma. Dr. Rudge was awarded a Fulbright Teaching Fellowship to conduct in the Middle East. As a Senior Fellow, he spent many months in Egypt conducting the Amadeus Chamber Orchestra, the Cairo Opera Orchestra, Opera Chorus, and teaching at the National Conservatoire of Music. He recently returned to conduct the Cairo Symphony Orchestra. The Cairo press has called him "a proper maestro. . . grandly expressive."
Dr. Rudge, whose wide repertoire includes over 20 operas, has studied conducting at the Dartington School, England, the Mozarteum in Salzburg, the Pierre Monteux School, the Aspen Music School, the National Conservatory of Romania, and the Conductors Institute with Donald Portnoy and Harold Farberman. He also worked with such notables as Charles Bruck, Max Rudolf, Gunther Schuller, and Maurice Abravanel. He has played as both a violinist and violist with a number of orchestras and chamber ensembles both at home and abroad. He has also pursued baroque performance practice, as both a violinist and conductor, with the directors and members of the Tafelmusik Baroque Orchestra.
Dr. Rudge has given numerous classes in conducting and violin internationally and has been coach and guest conductor of the Boston, Columbia, Houston and Costa Rican Youth Symphonies, as well as many student honor-orchestras, such as the New York, Pennsylvania and Illinois All-State Orchestras. He was a faculty member at the Conductor's Institute at Bard, and at the National ASTA Conference. He is the Co-Director of the Training Program for Music for People and teaches Free-Improvisation at the School of Music in Fredonia, where he founded the Improv. Collective, a unique performing group dedicated to free improvisation for self-expression. His other interests are and travel, photography, ceramics and tai chi.
Teaching Interests
Conducting, Improvisation
Research Interests
Orchestra and Opera Conducting, Improvisation, Violin, and Baroque performance practice.