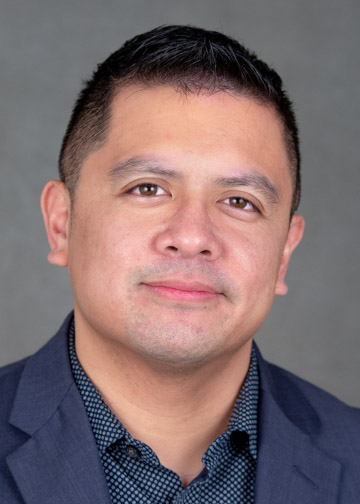 Dr. Leonidas Lagrimas
Assistant Professor
Class Piano, Music Education - Secondary Instruments
Mason Hall 2164
716-673-3160
Leonidas.Lagrimas@fredonia.edu
Ph.D., Florida State University
Pianist and music educator Leonidas Lagrimas serves as Assistant Professor of Piano in the Fredonia School of Music. He is coordinator of the secondary piano program and teaches courses in Piano Pedagogy, applied skills for piano majors, and applied piano for non-majors. Dr. Lagrimas formerly served as Assistant Professor of Piano and Theory at Abraham Baldwin Agricultural College in Tifton, GA and holds a Ph.D. in Piano Pedagogy/Music Education from Florida State University. Prior to his doctoral studies, he was a public school music teacher in the New York City Department of Education for ten years.

A passionate educator and leader in the field of piano pedagogy, Dr. Lagrimas has presented his research at local, state, and national conferences. Recent clinician and masterclass appearances include serving as guest workshop clinician at the Eastman School of Music, Bethune-Cookman University's annual Music Education symposium, a piano masterclass at the MTNA National Collegiate Symposium and music education/piano pedagogy workshops at Livingston College, Reinhardt University, and Florida State University. He serves as an state Executive Board members and District chair for the New York state chapter of Music Teachers National Association and has presented at MTNA's National Conference, the MTNA Collegiate Piano Pedagogy Symposium, the College Music Society's national conference, and the GP3 National Conference.

Dr. Lagrimas has performed as a solo and collaborative pianist throughout the East Coast, including New York appearances at Carnegie Hall and St. Patrick's Cathedral and Visiting Guest Artist recitals at University of North Florida, Wesleyan College, Martin Methodist College, Livingston College, Florida College, and Valdosta State University. Other recent appearances include serving as accompanist for the Buffalo Gay Men's Chorus, accompanist for Grammy-winning soprano Hila Plitmann, and a Walt Disney World performance with the Abraham Baldwin Chamber Choir. He has served as accompanist for the Valdosta Choral Guild, the Capital Children's Choir of Tallahassee, and numerous church, school, and university choirs throughout Georgia, Florida, and New York.

In addition to teaching and performing, Dr. Lagrimas is active as a musical theatre director and accompanist, and his prior regional credits include Green Day's American Idiot, I Do! I Do! I Do! I Do!, In the Heights, 9 to 5: The Musical, Rock of Ages, The Last Five Years, and Chicago.
Research Interests
College piano pedagogy, the piano repertoire selection process, recreational piano and lifelong learning, the music of Claude Debussy
Professional Memberships
College Music Society
Music Teachers National Association/New York State Music Teachers Association
Performances/Exhibits
Musical Journeys: A Piano Duo Recital. Dr. Leonidas Lagrimas and Dr. Brendan Jacklin-piano duo, SUNY Fredonia School of Music, Rosch Recital Hall-SUNY Fredonia School of Music (2019).
Nazareth College Piano Competition . Leonidas Lagrimas-Judge, Young Pianist Division, Nazareth College, Wilmot Hall of Music, Nazareth College Arts Center (2019).
Guest Artist Recital-Soprano Hila Plitmann. Hila Plitmann, soprano, Student Opera Association, Fredonia Composition Studio, and Ethos New Music Society, Rosch Recital Hall (2019).
Musical Journeys: A Violin and Piano Duo Recital. Dr. Jared Starr, violin and Dr. Leonidas Lagrimas, piano, University of North Florida School of Music, UNF School of Music Recital Hall (2019).
Presentations
"Why MTNA? Three Perspectives," MTNA Mini-Pedagogy Symposium (2019).
"Bridging the Gap-Roundtable Discussion," National Conference for Keyboard Pedagogy (2019).
"Piano Pedagogy Approaches for the Older Adult Student," Guest Workshop/Lecture-Eastman School of Music (2019).
"Beyond the canon: Rethinking the piano recital in the 21st century," Central Florida Music Teachers Association Workshop (2019).