Hillman Memorial Music Association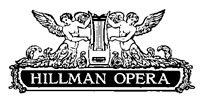 The annual Hillman Opera boasts an almost 60-year tradition and provides one of the only full opera opportunities for undergraduate singers in the country. The annual musical production is a highlight of each academic year, and the professional caliber of both productions attracts a large and enthusiastic audience from surrounding cities.
History of the Hillman Opera

Miss Jessie Hillman (1884 - 1923)
Miss Jessie Hillman was a graduate of the Brockport Normal School and joined the faculty at the Fredonia Normal School in 1884. She is credited with being "Fredonia's Musical Leader" and with having established a music major program which had its first graduates in 1889. Jessie Hillman became the principal piano teacher at the school and continued her teaching, with two "sabbatical" breaks, until her retirement in 1923. For 20 more years, until her death in 1943, Jessie continued to teach private piano students and to be a significant force for musical culture in the Fredonia community.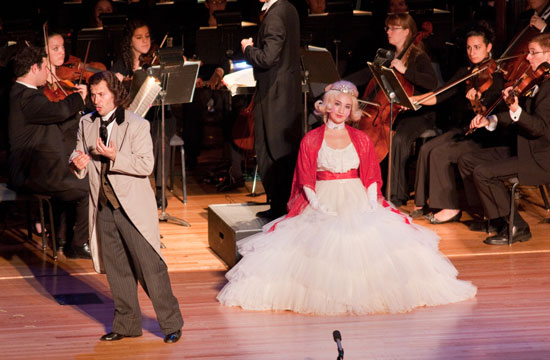 2010 Hillman Opera: Les contes d'Hoffmann (The Tales of Hoffmann)

View video excerpt from Act I.

View video excerpt from Act II.
Hillman Memorial Music Association History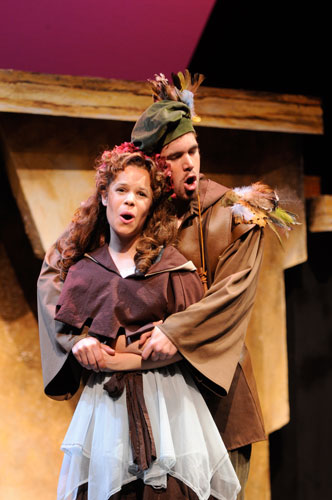 During the fall of 1953, a group calling themselves the "Friends of Jessie Hillman Committee" organized what became the Hillman Memorial Music Association The first Hillman Benefit Recital was held on February 10, 1954 and by 1959 the Association filed incorporation papers and adopted by-laws.
Music Department faculty performed at the Benefit Recital initiating a scholarship fund in memory of Miss Jessie Hillman who taught piano at the Fredonia for over 40 years.
Thus began the association between the faculty and students of Fredonia and the local community, joined in service and support in the name of a dedicated and respected teacher and a community force in the advancement and appreciation of music. Every year since 1956, the Hillman Memorial Music Association has cooperated with the SOM in presenting the annual Hillman Opera. The Theatre and Dance Department has joined in the rich tradition of the annual Hillman Opera production by providing students with experience in stage design, lighting and direction.
The purpose of the Hillman Memorial Music Association is to promote and stimulate community appreciation of music, to lend encouragement and support to talented and academically qualified music students at Fredonia and to encourage and promote recitals, concerts, opera or other musical entertainment.
Jessie Hillman Award for Excellence
In November 2010, The Hillman Memorial Music Association honored Helen Tinch Williams, '60, with the Jessie Hillman Award for Excellence at the opening performance of Les contes d'Hoffmann (The Tales of Hoffmann). Helen, who is retired from a career as a music teacher, has been the inspiration to many through her long-standing passion for education and music making. She was accompanied by her daughter Vanessa and son Christopher, (both of whom are enjoying remarkable careers of their own) and niece Iris for the momentous occasion. Read more >>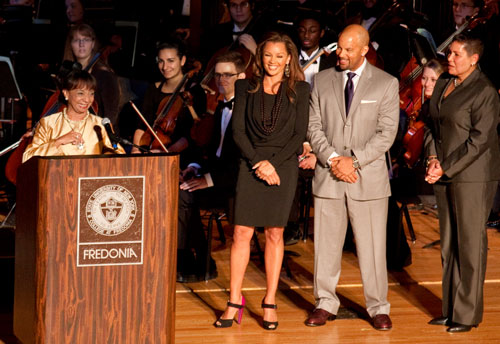 Support
The Hillman Memorial Music Association has provided funds for opera production, sets, costumes, as well as numerous music student scholarships. The organization and board members have been supporters of the School of Music and opera for many decades. To make a contribution and join in support, contact our giving liaison, June Miller-Spann of the Fredonia College Foundation. She has helped many donors make a unique difference to the Fredonia School of Music. Contact June by email or phone at 716-673-3321.

Make a gift online