Financial Assistance
All students enrolled in the Educational Development Program are eligible for up to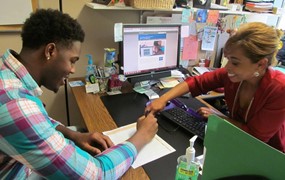 five years of financial assistance. The financial aid process begins with the Free Application for Federal Student Aid (
FAFSA
). The FAFSA or a renewal application must be filed each year to determine eligibility.
Financial Aid cannot be awarded or distributed to eligible students without completion of the FAFSA.
Detailed instructions on how to apply are available from Fredonia's
Office of Financial Aid - 209 Maytum Hall - 716-673-3253
. Follow the instructions listed under the heading
"How to Apply."
Students may be eligible for the following programs:
Award Notice
When you receive your AWARD NOTICE on-line from Fredonia's Financial Aid Office, remember to "accept" your financial aid awards as instructed. NOTE : If this is the first time you are receiving either a Stafford or Perkins loan , you will need to complete a Master Promissory Note and Entrance Interview for each loan in addition to generally accepting the entire award. All of this is done online. See your EDP counselor for assistance.
Verification
A student may be selected for verification. A verification worksheet will be sent and you must respond immediately and submit all requested documentation to the Financial Aid Office. Verification worksheets can also be downloaded from the Financial Aid website fredonia.edu/finaid/apply.
EDP Financial Awards/Stipends
The amount of EDP financial awards vary with each student and is determined by a student's need. Direct awards (cash stipends) are issued twice each semester to eligible students and are distributed at EDP General Meetings or can be obtained after the meetings in the EDP office.
All or part of a student's EDP award may be used toward the payment of college charges. These deferred payments, the amount of which is determined after reviewing each student's bill, are forwarded directly to the college's Student Accounts Office. Any student who is not eligible for a cash stipend must purchase books and supplies from his or her personal funds. In extenuating circumstances or when a cash flow problem exists, the student should contact the program director for assistance. Ineligibility for financial assistance from the Education Development Program does not preclude a student from taking advantage of program services or adhering to program rules, regulations and procedures. Some checks may be cashed at FSA - check here for clarification.
Hold on EDP stipends
Any student who does not adhere to program policies and guidelines will have a hold placed on his or her EDP stipend. Holds are released at the discretion of the EDP director on the recommendation of the student's counselor.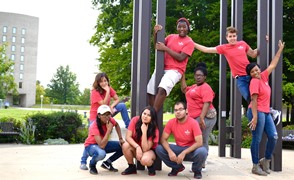 Housing Deposit Waivers
If the student is enrolled in EDP, the student is eligible for a housing deposit waiver. During room selection, the housing form should be submitted to the Office of Residence Life, Gregory Hall. Tell the Residence Life staff that you are an EDP student. They have a roster to check off and then they will stamp your form. YOU DO NOT PAY THIS DEPOSIT.
Registration, Billing, and Payment
On line course registration is conducted each semester prior to leaving for summer and winter recess. Students must meet with their faculty advisor (if you have a declared major) or their EDP counselor (if you are a Liberal Arts student) to obtain their registration PIN and to be advised regarding course selection.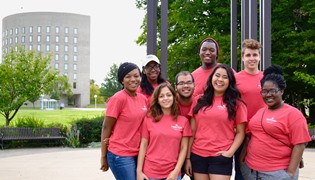 Courses (and grades) are available via the Internet at fredonia.edu by clicking on Your Connection. Follow the instructions for web registration and for payment of college charges. The Office of Student Accounts will bill you for the courses selected.
Although payment will be expected by the deadline date, courses WILL NOT be dropped for non-payment. The student will be billed again. Only non-returning students, academic dismissals, and students remaining on the college HOLD list will have their courses dropped. Students must contact the Enrollment and Student Services Office (673-3271) if they are not returning.
Satisfactory Academic Progress and Program Pursuit
Federal and state regulations require that all financial aid recipients maintain program pursuit and make satisfactory academic progress. These standards can be obtained at the Office of Financial Aid. In order to receive any financial aid you must meet the established criteria as stated in the online college catalog. If you do not maintain these standards in one semester, you will lose all financial aid for the next semester.
Your academic records will be reviewed at the end of each semester. If you do not meet the standards, your aid will be canceled for the next semester; therefore, when dropping or withdrawing from a course or withdrawing from school, you should examine this chart to determine if such action will result in the loss of aid and consult with your EDP counselor. To be eligible for full financial aid, students must be registered for 12 or more credit hours of new course work.
At Fredonia, the first step in applying for a Stafford loan is completion of the Free Application for Federal Student Aid (FAFSA) with Fredonia listed in the school release section. The Financial Aid Office will determine your eligibility for a Stafford Loan based on the information supplied on your FAFSA/RENEWAL FAFSA, the cost of attending Fredonia, at least half time enrollment status, and other aid awarded. Your Financial Aid Award will serve as your guide for the maximum amount of Federal Stafford Loan that you are eligible to borrow for the academic year. You are required, however, to go to fredonia.edu via Your Connection and use the Fredonia PIN listed on your Financial Aid Award to accept/decline/accept partial amounts of your federal Stafford Loan prior to your loan being certified. Your EDP counselor or a financial aid advisor can assist you in deciding the amount of the loan you need to request.
Fredonia participates in the Federal Direct Stafford and Plus Loan Programs. The Financial Aid Office processes all Stafford and Parent loans directly through the U.S. Department of Education, not through individual banks. This eliminates much of the difficulty and misunderstanding in securing and eventually repaying loan funds. New, first time borrowers are required to sign a Master Promissory Note (MPN).
For more about the Direct Loan Program, please go to fredonia.edu/finaid/stafford. Use your Federal Aid PIN for the electronic signature.
First Time Stafford Loan Borrowers
The Federal Stafford Loan Electronic Master Promissory Note (e-MPN) will be available on-line from New York State Higher Education Services Corporation (NYSHESC). The Master Promissory Note is the only loan application you will need to complete for your Federal Subsidized/Unsubsidized Stafford Loan while you are enrolled at Fredonia. Expect to receive an insert with instructions to complete your e-MPN in June for the academic year. Your Federal PIN will serve as your electronic signature for your eMPN. If you don't have a Federal PIN go to StudentLoans.gov to apply.
Returning Stafford Loan Borrowers
You will NOT receive a Federal Stafford Master Promissory Note request!!! It is very important for you to remember that the Stafford Loan estimated amounts shown on your Financial Aid Award Letter indicate your maximum Stafford Loan eligibility.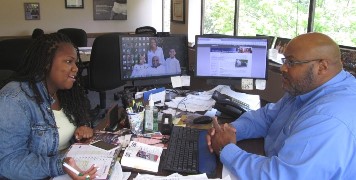 IMPORTANT REMINDER: From Fredonia's homepage, you must: go to Your Connection; log in using your Fredonia ID and password; click on Student Services, Financial Aid, Residence Life; click on Financial Aid; click on My Award Information; click on Accept Award Offered by Aid Year; from the pull down menu select aid year and click submit. Options about the award are offered. You should accept/decline/accept partial amounts of your Federal Stafford Loan by the end of May prior to the fall semester.
Student Accounts
If you do not pay your college bill, you will, as a result, have a delinquent account with the college's Student Accounts Office . EDP students are responsible for paying their accounts and should contact the EDP director when extenuating circumstances prevail and/or additional financial support is needed. Students with delinquent accounts will not be allowed to register for succeeding semesters and will be unable to obtain future financial aid and academic transcripts.
Here's a list of the services EDP has to offer. Click on the link for details.