Commencement for Graduate Students
Arrival Instructions
---
Report to Dods Hall gymnasium no later than 9 a.m. for the morning ceremony and no later than 2 p.m. for the afternoon ceremony. Pick up your name card at the appropriate table, according to the first initial of your last name. The card is used to announce your name, and you cannot cross the platform without it. If your name is difficult to pronounce, write it phonetically on the card. A card will only be available to you for your assigned ceremony (see list on the commencement website).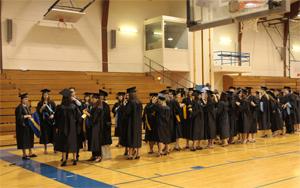 After you have received your card, line up in the gymnasium behind the name card tables. Graduate students will be in front of the undergraduate students. Hoods are to be carried on your right arm as you proceed into Steele Hall. Advanced certificate candidates should wear their academic hoods. Someone will be on hand to demonstrate how to properly fold the hood.
Line up in two single lines that will divide into separate rows of seats. Note: If you wish to sit next to someone, make sure they are directly ahead or behind you, not next to you, in the procession. Please follow the usher's instructions and fill in all seats in each row.
Procession
---
The order of procession begins with the Mace Bearer, Platform Party, Student Marshals, Master's/Advanced Certificate Candidates, Bachelor's Candidates, Faculty Marshals, and concludes with Faculty/Staff. The Student Marshals will lead you out of the gymnasium and into the arena.
When you reach your seat, please remain standing for the invocation and national anthem. Men remove caps. After the invocation and anthem, please be seated. Men put caps back on.
Conferring of Degrees
---
Master's Candidates will be the first to receive their degrees. Candidates will be instructed by commencement volunteers to line up to the right of the stage. Once your name is called, you will hand over your hood to the Associate Vice President of Graduate Studies and stand on the star looking forward as the hood is placed over your head.