The Course Shell
This pathway provides an introduction to the course shell and taking a look at content segmentation and sequencing. 
Introduction to the Course Shell
By breaking down, or segmenting your course into learning topics and sub-topics and arranging them in the sequence to be taught, you create the course shell around which you can build learning materials and activities.
To start, create a list of the concepts or skills embedded within your course learning goals and objectives. In other words, think what component knowledge (facts, concepts, and principles) and skills (processes, procedures, and strategies) would help your learners attain the overall goal.
Next, place your content segments (learning topics and sub-topics) in sequence. What should be taught first? What should be taught immediately after that? And so on. To help you think through the sequence, it can be helpful to create a visual representation such as the one below. You can certainly create your content sequence as a bullet point list if you prefer. The image below was created with a free mind-mapping tool called Bubbl.us.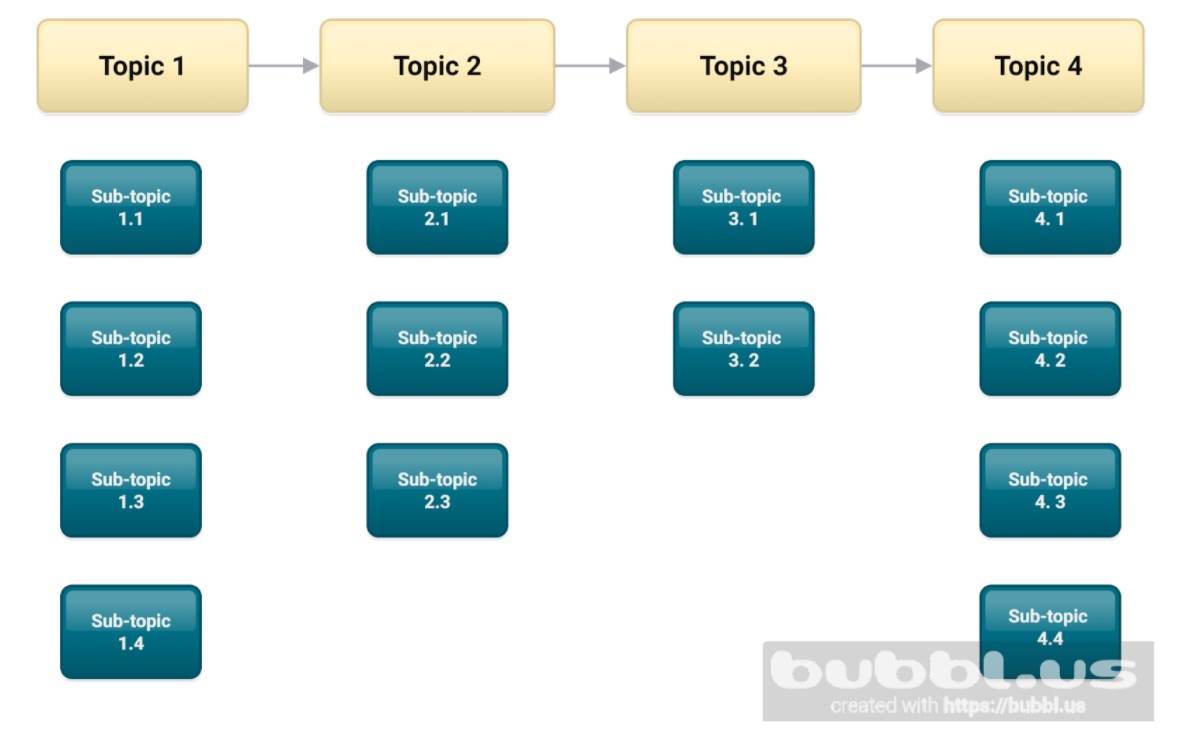 Prefer paper? Good 'ol index cards will do the trick -- anything you can move around would be most helpful.
Here is another example of a course segment sequence using a bullet point list. 
Once you have "chunked" your course content in this way you can begin to transfer your topics and sub-topics to labels in your OnCourse course shell.
Want to explore further? Transfer your Topics to the OnCourse Course Shell 
Self-paced Modules:
Course modules have been set up OnCourse with self-paced activities where we will look at the various tools available to you in OnCourse and some ways that you may want to use them in your own courses. By the end of Course Shell module you will be able to:
Navigate in OnCourse using the common toolbars;
Locate, understand, and edit the items added to the course templates;
Find the activities and resources available and be able add these to OnCourse for use in your courses
Create module overviews for each section of your courses
Accessing the Remote Learning Roadmap Modules in OnCourse
The Fredonia eServices login screen will appear.
Login using your eServices username and password.
Press the orange "Enroll Me" button.
The course will be added to your Course block on the Dashboard page in the Groups category.
Visit the next topic: The Seven Principles of Effective Teaching