Germany - Liszt School of Music
Due to travel restrictions, programs are suspended through Spring 2021. Please consider your application for Fall 2021 or later.
The Liszt School of Music - Weimar Conservatory
At the Liszt School of Music - Weimar Conservatory students can study all orchestral instruments, piano, guitar, accordion, voice, theatre, organ, early music, composition, conducting, school music and music pedagogy. In addition, jazz and music theory, musicology and arts management are offered. The most important goal of the Liszt School is to prepare its students for their future careers as comprehensively as possible. This means that the classical orchestral instrumentalists are not only offered private lessons and a committed orchestral school but also gain an insight into special branches such as baroque and contemporary music. Well known guest professors are frequently invited in order to conduct concerts, to hold lectures and give lessons. Singers in the opera studio have the possibility of appearing in co-productions with other regional theatres. Thereby valuable practical experience can be gained, which makes the entrance into the music profession substantially easier.
Program Type: Study Abroad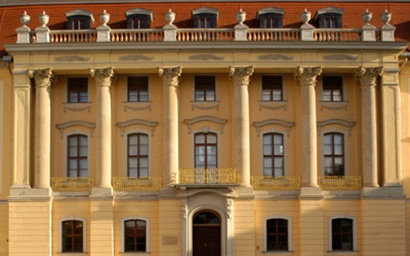 Language of Instruction: German
Housing: Off Campus Apartments
Dates: Fall, Spring, Academic Year
Eligible Participants: Students must have completed at least one full year at their home campus and be in good academic standing.
Application Deadlines:      
Academic Year and Fall: March 1
Spring: October 15
Estimated Cost: 2019 - 2020 Student Budget
(New budgets are generally made available the summer prior to the program running.)
Website: www.hfm-weimar.de
Application: Submit an application and a copy of your transcripts to the Office of International Education.