Page & Stage: Stratford, Ontario
Page & Stage: Stratford, Ontario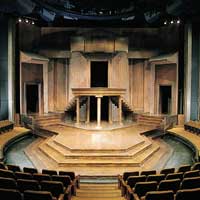 Course Description: Experience professional theatre by studying and seeing six plays at one of North America's most acclaimed venues! This team-taught course will meet T/Th, 5:00—6:20 PM, until the class travels together to Stratford, Ontario, on Fall Break (October 9-12) for performances and study. After the trip, students will complete independent projects.
This course for students in all majors will focus on the texts, history,
and productions of six plays: King Lear, A Midsummer Night's Dream,
Man of LaMancha, Crazy for You, The Beaux' Stratagem, & Hay Fever.
We will travel together to Stratford and stay at bed-and-breakfast inns.
In addition to tours and exhibits, we'll have our own sessions with actors or designers in the Festival Company.
Course fee includes six performances, bed and breakfast lodging, entrance to exhibitions, sessions with Festival Company members, round trip coach transportation from Fredonia and Medex insurance. Breakfast is included, students are responsible for other meals and personal spending. A valid passport and proof of international medical insurance is required.
This course is also available for auditing. If you are interested in the experience but do not need the credits, you can participate as an Auditor. All students, faculty, staff and community members are welcome to join President Horvath and Professor Loughlin for this unique experience. Auditors pay a $50 fee in addition to the course fee for the same travel experience.
Instructors: Tom Loughlin, Virginia Horvath
Housing: Bed-and-Breakfast, double occupancy
Course Dates: August 26- October 23, 2014
Travel Dates: October 9 - 12, 2014
Course Registration: ENGL 405/590 or THEA 338