Puerto Rico - Spanish for Non-Native Speakers and Puerto Rican Culture Program
Course Number/Name: INED 415- Study Abroad- Puerto Rico UPRRP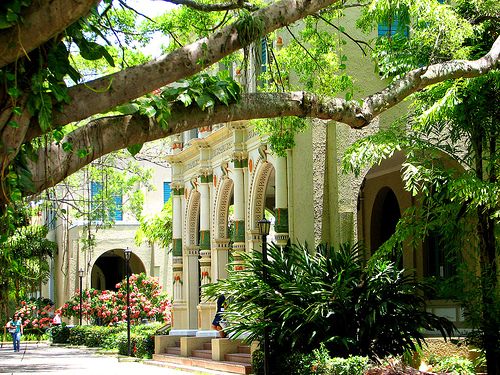 Course Description: This program is designed to increase participants' ability to communicate in all aspects of the Spanish language, as well as to enhance their understanding of Puerto Rican cultural patterns. Students will take two courses at the University of Puerto Rico- Rio Piedras campus (UPRRP).
Spanish for Non-Native Speakers at the Intermediate or Advanced level (3 credits)
Society and Culture in Puerto Rico (3 credits)- An overview of island culture that explores its history, arts, folklore, ecology, economics, geography and politics. The course is designed as a series of lectures and workshops given by experts in each field and integrated with field trips and cultural activities.
In addition to traditional classroom instruction, weekly field trips, workshops and cultural activities are built into the program to enhance learning and to allow students to become better acquainted with some of the most important features of Puerto Rican culture and landscape. The program also includes the opportunity to participate in additional field trips and social and cultural activities.
Program Type: Faculty-Led
Credits: 6 undergraduate credits
Course Dates: approx. December 27, 2019 - January 20, 2020
Language of Instruction: English and Spanish
Housing: Residence Halls
Eligible Participants:
Sophomores, Juniors and Seniors in good academic standing
Students must have taken the equivalent of SPAN 110 or 116 or be at the intermediate level
Application Deadline: October prior to the program running
$150 Deposit Due: October prior to the program running
Course Fee Deadline: November prior to the program running
Cost: Please contact the Office of International Education.
(New budgets are generally available in the summer prior to the prorgam running.)
Apply Now: Submit an application, one faculty reference (included in application) and a copy of your transcripts to the Office of International Education.