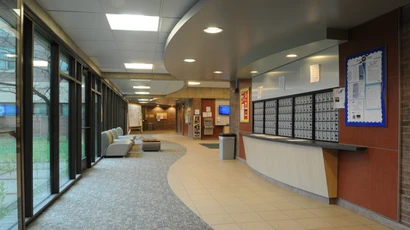 Housing Deposit
March 6, 2023 - April 3, 2023. Pay your $50 housing deposit via YourConnection or go to Student Accounts in Maytum Hall.  The $50 deposit will be applied toward the room rate in the fall.  You can fill out the application without paying the deposit first, however, the deposit MUST be paid in order to go through Room Selection.  
Instructions for Paying Your Housing Deposit Online
The Student Accounts Office is pleased to offer the ability to pay your Housing Deposit electronically; just follow the steps below.
1. Log on to Your Connection.
2. Select "Pay Deposit…" under the Student Services, Financial Aid, Residence Life title.
3.  Select from drop down and submit:
     "Returning Student Townhouse - $100" OR "Returning Student Housing-$50" 
4.  Select "Proceed to Payment"
5.  With the drop down box, choose your method of payment.
6.  Enter the requested information and continue.
7.  Submit Payment.
8.  Next you will see a Payment Confirmation Page and an e-mail will be generated to your Fredonia e-mail account.