Fredonia adds a new outdoor sculpture to campus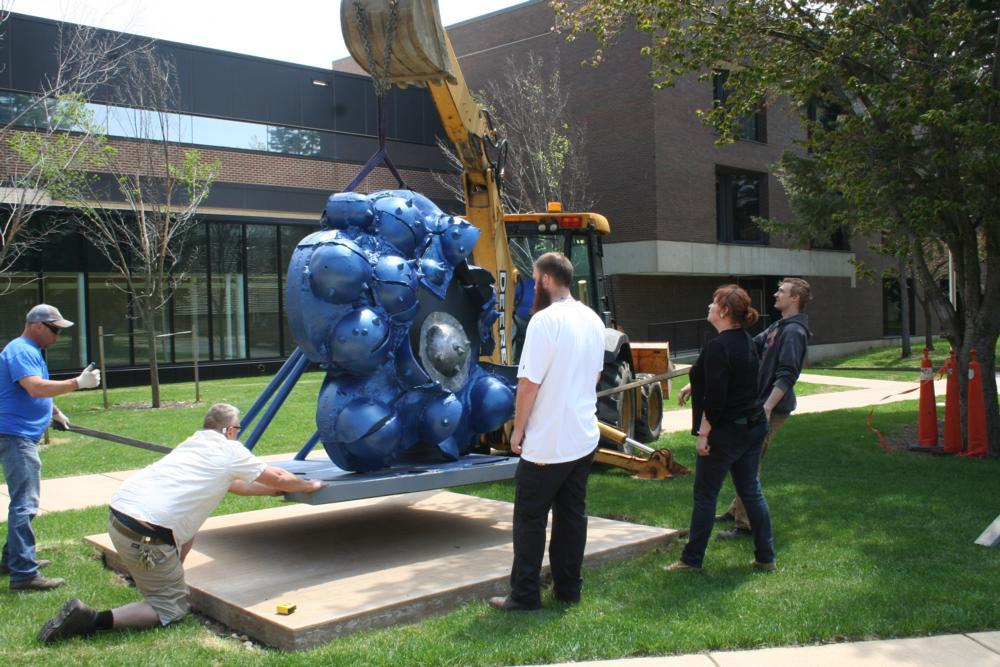 By Lisa Eikenburg
"Thunder Cloud," a 1,500-pound cast iron sculpture by Coral Lambert, was installed in the Dennis R., '72 and Kathryn L. Costello South Plaza, adjacent to the Rockefeller Arts Center Studio Complex.
The 8-by-9-by-6-foot sculpture, installed by Facilities Services crew on May 10, is part of the In Sight/On Site outdoor sculpture program initiated by the Department of Visual Arts and New Media. The program is currently coordinated by Cathy and Jesse Marion Art Gallery Director Barbara Räcker, in collaboration with the student art club Art Forum and the Student Association. Art Forum students Collin Hassler, Max Lee, and Alex Viola were integral to the project.
In "Thunder Cloud" Lambert has tried to capture the transience and awe of nature: "Responding directly to metal's transitional fluid state, I engage and treat it as a living material; it flows, breathes, and emerges from the mold raw and elemental. I allow traces of the process to remain as if raised from the earth's depths or fallen from the deepest darkest skies where something mysterious and magical has the potential to be evidenced."
Lambert studied sculpture in the late 1980s in England under the influence of formal steel sculptors such as Sir Anthony Caro. She successfully exhibited and taught in England as a young female contemporary artist then immigrated to America in 1995. From 1995 to 1998 she held the position of International Research Fellow in Foundry Arts at the University of Minnesota, Minn.
After successfully receiving the O1 Visa (Artist of Extraordinary Ability) in 2000, she co-founded New Orleans Sculpture Lab in Louisiana, where she set up a personal foundry and sculpture studio, only to have everything destroyed in Hurricane Katrina. She received an emergency assistance grant from the Gottlieb Foundation to retrieve and renovate sculptures. For two years she used her homelessness and continued to pursue her artistic career by undertaking several residencies including the Pollock Krasner-funded Emergency Residency at Santa Fe Art Institute in New Mexico. Shortly thereafter, Lambert was successful in obtaining her current teaching position at Alfred University where she also directs the National Casting Center Foundry. This is her 10th year living in New York State.
During Lambert's 25-year career her work has been exhibited at the Barbican Center, London; Museum of Steel Sculpture in Ironbridge, United Kingdom; Franconia Sculpture Park, in Minnesota; Salem Art Works in New York State; Pirrkala Sculpture Park in Finland; HuiAn in China; National Metals Museum in Memphis, Tenn.; Governors Island in Manhattan; Carrie Furnaces in Pittsburgh, Pa.; and Salem Castle, Germany. Her most recent Fire + Iron Earthworks "Volcano Furnace" are sited at Pedvale Sculpture Park in Lativa and Il Giardino di Daniel Spoerri in Italy.
In Sight/On Site exists to expose the campus and community to developments and directions within contemporary sculpture, and to foster an appreciation for art as an integrated concern within public space.