Fredonia-TimberFish agreement forging new ecotechnology to raise seafood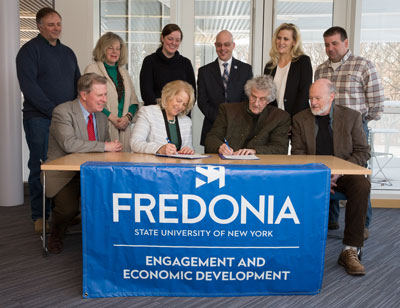 By Lisa Eikenburg
Fredonia has established a comprehensive affiliation with TimberFish Technologies, a startup pioneering an ecotechnology to produce seafood from plant materials and nutrients that has the potential to alleviate severe problems that threaten the global seafood industry.
Under a memorandum of understanding, developed with Fredonia's Engagement and Economic Development division, the university has been designated as a primary academic affiliate for TimberFish Technologies. That agreement facilitates alignment of university laboratories and educational resources to enhance TimberFish research, provides research and local employment opportunities for Fredonia students and encourages students to pursue advanced education and careers in related science fields.
Kevin Kearns, vice president for Engagement and Economic Development, considers TimberFish Technologies to be one of the most exciting new companies to come to Western New York, and Fredonia fortunate to be positioned to work closely with TimberFish Technologies on research, internships and sharing of expertise.
TimberFish believes its ecotechnology has the potential to resolve major problems impacting the $250 billion global seafood industry that's in crisis – increasingly threatened by declining supply, health issues, pollution and limited growth, Dr. Kearns explained. Further development of this technology also presents significant opportunities for research and employment in Western New York, he added.
The land-based aquaculture system developed by TimberFish founder Dr. Jere Northrop combines all the wastewater generated during distillery and brewery production at a pilot test site, located at Five and 20 Spirits and Brewing, Westfield, with locally produced wood chips, a renewable resource, to create nutrient-rich food for farm-raised fish.
Fish, housed in a one-of-a-kind production facility at the site, receive excellent nutrition void of toxic elements. The fish food being created are living organisms that comprise the natural food that these fish eat in the wild, Dr. Northrop explained.
Wastewater generated at the facility is not discharged into local streams, so pollution is reduced. What treated effluent there is adheres to TimberFish's New York State Department of Environmental Conservation (DEC) State Pollutant Discharge Elimination System (SPDES) permit.
"Environmental pollution and rising populations threaten our future food supply and safety. TimberFish solves this problem by ecologically and sustainably producing seafood from non-agricultural land in a manner that is economically competitive in today's marketplace," said Northrop, one of three TimberFish partners.
Kearns said Fredonia has developed an important and comprehensive affiliation with a business that has important regional, national and even international potential.
TimberFish opened the waste treatment facility last fall to generate fish meal at Five and 20 Spirits and Brewing, the state's first combination winery, distillery and brewery, utilizing a $100,000 Empire State Development incentive grant to cover part of the project cost.
Mario Mazza, general manager and enologist at the family-owned Mazza Vineyards and Five & 20 Spirits and Brewing, lauded TimberFish for creating a novel way to generate a value added product from what would otherwise be a significant waste stream from brewing and distilling operations.
The Westfield site is serving as a test facility to demonstrate the feasibility of the patented ecotechnology by raising fish at the site. Development of a large-scale facility in Western New York, as well as elsewhere in the state, would then follow.
Fredonia academic degree programs and research experiences in the sciences, business and other disciplines are relevant to current and future TimberFish activities, according to Kearns. Moreover, further development of this technology by TimberFish represents a significant opportunity for research and local employment in Western New York, he added.
Two Fredonia students – Jennifer Able (junior, East Concord) and Jeremy Smith (junior, Grand Island) – served spring semester internships at TimberFish. Both were chosen based on their interests in ecological research, motivation and enthusiasm for environmental issues, as well as strong academic credentials.
The TimberFish project is delivering exceptional internship opportunities for students, said Tracy Collingwood, director of Engagement and Career Development at Fredonia.

"This type of internship at TimberFish is a great fit for both of them to gain additional experience in aquatic research as well as seeing a more applied aspect of science in a business setting," added Courtney Wigdahl-Perry, assistant professor of Biology and faculty supervisor of TimberFish internships.
The collaboration between Fredonia and TimberFish provides exciting opportunities for research programs and hands-on experiences for students.
Initial intern assignments involved assisting with general operation and monitoring of the system, as well as laying the groundwork for prospective research projects the students have designed for the summer months. Newly added tasks include assessing invertebrates that serve as fish food within the TimberFish system and collecting preliminary information on snails and possible traces of plastic in the system.
"This internship not only serves as an immediate learning opportunity for two students this semester, but also develops a strong capstone project this summer, as well as future internship opportunities for junior-level students exploring careers in Biology/Chemistry and more specifically aquaculture," said Jennifer Wilkins, internship coordinator in the Office of Career Development.
Fredonia interns have brought a different and welcome perspective to the project, according to Northrop. "They are both concerned about environmental issues and are dedicated to doing what they can to help resolve the major problems that these issues pose for the future. We are pleased that their concern translates to a willingness to support the TimberFish mission by working with us as an integral part of their education," he added.
Student research experience with TimberFish, Kearns noted, may lead to professional publications that support pursuit of advanced degrees and careers in science and technology. "This will not only bring untold opportunities to our current academic programs but position us well for being at the forefront of new academic offerings," Kearns explained.
Approximately 20,000 pounds of high quality fish, such as Speckled Trout, Arctic Char and Atlantic Salmon, are expected to be produced each year at the site. Harvesting of a limited number of fish will begin in the spring. Sales of the fish are expected in 2019. Already, local supermarkets and restaurants are supportive of TimberFish's efforts and are eager to sell TimberFish seafood once it becomes commercially available, Northrop noted.
TimberFish Technologies has far reaching potential to solve pressing environmental problems while supplying an abundance of uncontaminated seafood for our region and the country. Our students and faculty are indeed fortunate to be an important part of this potentially transformative venture," Kearns said.
Early discussions between the Fredonia Division of Engagement and Economic Development and TimberFish that were focused on creating joint research and student internships and developing an academic relationship involved Andy Karafa, dean of the College of Liberal Arts and Sciences; Matthew Fountain, chair, Department of Chemistry and Biochemistry; Pat Astry, chair, Department of Biology, and Dr. Wigdahl-Perry.
In the press release that announced the treatment plant's opening last September, Governor Andrew Cuomo said TimberFish Technologies is another example of many innovative and groundbreaking companies that have chosen to grow and nurture their business in Western New York. "The company's decision to plant their roots in this region will spur the local economy while creating jobs, adding more momentum to Western New York's revitalization," the statement said.
The TimberFish project was featured on a recent edition of "The Allegheny Front," an award-winning public radio program that reports on environmental issues in Western Pennsylvania.