New Program Evaluation Center to partner with Chautauqua County Mental Health Services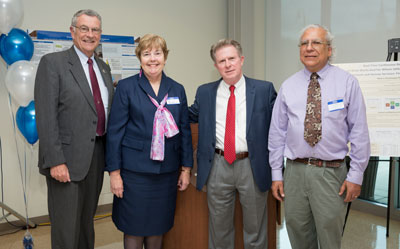 By Lisa Eikenburg
Sunday September 17, 2017
The opening of the Fredonia Program Evaluation Center (F-PEC) was celebrated at a reception held on Sept. 6, at the Fredonia Technology Incubator. Approximately 50 representatives from local and county government, Chautauqua County Mental Health Services, Chautauqua Tapestry, the university and the community attended the event to support the exciting collaboration between Fredonia and Chautauqua Tapestry.
Dr. Mansoor Kazi, an internationally recognized expert in realist evaluation techniques, will serve as the director for the center. Patricia Brinkman, director of Community Mental Health Services for Chautauqua County, will serve as co-director.
Chautauqua Tapestry is a federally supported program that has developed a novel and highly regarded System of Care for intervention services provided to severely behaviorally and emotionally challenged children and youth, and their families. The Fredonia Program Evaluation Center has evolved as an extension of the sophisticated evaluation work undertaken in support of Chautauqua Tapestry.
Chautauqua Tapestry is the largest project supported by the Substance Abuse and Mental Health Services Administration (SAMHSA). It has been funded since 2008 and the current System of Care Expansion Grant runs through 2019. Tapestry includes partnerships with most human services and many school districts within the county. The Chautauqua Tapestry team received SAMHSA's Gold Award for Outstanding Local Evaluation in 2010.
Vice President for Engagement and Economic Development Kevin Kearns stated, "The center provides an exciting way to serve our community and to disseminate 'big data' analytic techniques that can be used to determine the effectiveness of mental health and educational services. As the center expands it will also support student training, faculty research, grants and our academic programs."
The center will use and develop sophisticated data evaluation strategies to investigate the effectiveness of interventions used in mental health centers and educational settings. In addition, the center will facilitate the integration of evaluation strategies into everyday clinical and educational practice, and assess which types of interventions work best under what circumstances. The evaluation strategies employed in the F-PEC are currently being used in human service organizations in the United States, United Kingdom and Finland where the center has ongoing evaluation projects.
Chautauqua County Executive Vince Horrigan was enthusiastic about the new opportunities for collaboration presented by the F-PEC. He said, "The center represents a new chapter in the long-standing and fruitful collaboration between Fredonia and Chautauqua County. The Tapestry System of Care for county-wide mental health services has been recognized as a national model of excellence. The center will undoubtedly expand and disseminate new approaches to evaluating the effectiveness of mental health services and bring further recognition for the leading edge interventions provided right here in our county."
Specific objectives of the center are to:
• Build and strengthen collaborative relationships between practitioners, academics, students, non-profit organizations, and other providers of human services, including school districts and colleges;
• To investigate the effectiveness of human services interventions for children and their families;
• Improve evaluation practices and methods within human service agencies and school districts;
• Provide information, education, and research regarding strategies for using existing data sets for continuous quality improvement of interventions for children and youth
• Develop opportunities for Fredonia students and faculty to learn and implement sophisticated data evaluation measures that can be applied to a variety of populations and settings
The Fredonia Program Evaluation Center will be housed within the Division of Engagement and Economic Development at 703 Maytum Hall on the Fredonia campus. For additional information please contact the division at (716) 673-3758 or contact the office via email.