Highlights
Incubator Director earns management certificate
Fredonia Presents Economic Impact Study
Incubator receives Oishei Foundation Grant
---
Resources
WNY Regional Economic Development Council Progress Report
START-UP NY SUNY Progress Report
A New Paradigm for Economic Development
---
Affiliations
The University Economic Development Association (UEDA)
NYS Economic Development Council
American Association of State Colleges and Universities (AASCU)
WNY Regional Economic Development Council (WNYREDC)
National Business Incubation Association (NBIA)
Business Incubator Association of New York State, Inc. (BIA/NYS)
Fredonia-TimberFish Agreement Forging New Ecotechnology to Raise Seafood
www.fredonia.edu/news/fredonia-timberfish-agreement-forging-new-ecotechn...
---
Original Crunch Roll Factory Becomes SUNY Fredonia's First StartUp NY Partner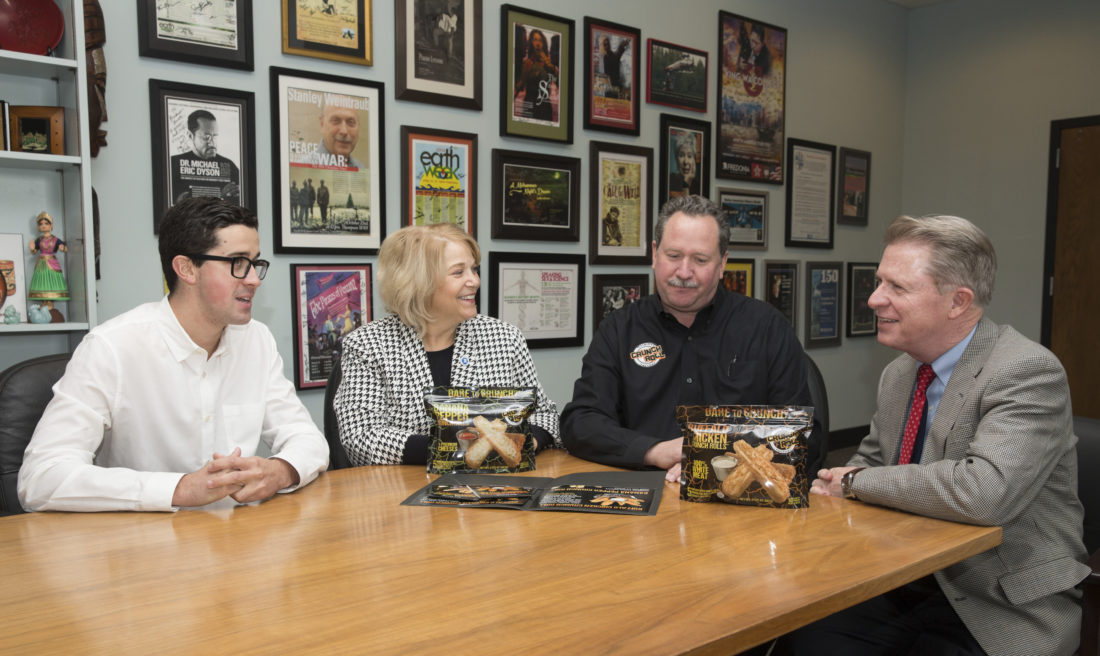 Fredonia President Virginia Horvath and Dr. Kevin Kearns, Vice President for Fredonia's Division of Engagement and Economic Development(right), discuss benefits of the university's new partnership with The Original Crunch Roll Factory officials Zachary Bohn, President (left) and Mark Bohn, director.
Fredonia is one of three public universities partnering with businesses that are projected to generate 200 new jobs and investments of approximately $5.5 million over the next five years in Western New York. StartUP NY creates tax-free zones on or near colleges and universities that provide significant tax incentives to businesses committed to starting up, expanding or relocating in the state. There are 16 businesses are committed to opening, expanding or locating in Western New York through StartUP NY partnerships with three universities.
To be eligible for StartUP NY incentives, a business must locate or relocate to an approved "tax-free" zone on or near a university, be approved that sponsoring university and not be in direct competition with existing businesses. Kearns underscored the significance of the three-way agreement between Fredonia, Crunch Roll and the county IDA to attract the new operation, and also lauded the IDA for providing pivotal support of the company's startup business needs.
The first company to begin operations in Chautauqua County through the State University of New York at Fredonia's StartUp NY program has helped to write a "blueprint" for creating new jobs through public-private partnerships. Crunch Roll opened in 2017 and currently employs 18 people. Additional jobs are to be created within the next six months. They are working closely with our academic programs and students to provide real world experience and job skills training
Crunch roll is also creating internship opportunities for Fredonia students and they are very excited to develop relationships with the students of Fredonia. They are also currently working with students in the Department of Visual Arts and New Media who are helping to develop marketing materials and also with School of Business students to craft a marketing strategy to promote Crunch Rolls on other campuses.
---
Student Business Competition Winners at Incubator
Sunday, April 22, 2018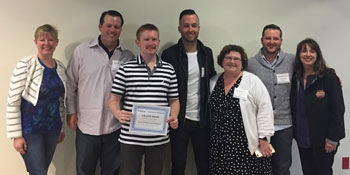 Participants and judges included (left to right) Jennifer Koss, co-founder, designer, and head of operations, Rosie Furniture; Kevin Sylvester, manager and co-owner, Sylvester & Peck Media LLC; John McIvor, grand prize winner; Rob Hopkins, founder and designer, Stronghold Studio; Susan McNamara, assistant professor and Fredonia School of Business internship coordinator; Nicholas Haas, partner and creative director, [Re]noun Creative; and Gina Kron, owner of Tim Horton's local franchises.
The Fredonia Technology Incubator recently conducted the final pitches for its Third Student Business Competition for Fredonia students.
After deliberation, a panel of independent judges announced the winners shortly after the conclusion of the presentations.
The top prize went to John McIvor and his startup WEIRDNESS. WEIRDNESS is an alternative comics and illustration venture, putting out small-run, collectible physical releases from commissioned artists. Runners-up included Makunema Productions, a multimedia company, with team leader Madison Breslin and team members Noah Schoelermann, Evan Frew, Matthew Turner and Kyle Licht. Makunema creates original films and assists other artists' projects. The second runner-up was Jiggy By Nature (JBN), with team members Lloyd Ansah, Andre Cowan, Mamadou Diallo and Abdullah Yusuf. JBN is a startup that sells different branded clothing to college students. All of the participants are students at Fredonia.
"Again this year, our competition featured talented and creative entrepreneurs pitching their unique startups," said Chuck Cornell, incubator director. "I am encouraged by the quality of these proposals and look forward to working with these entrepreneurs as they develop as clients of our incubator."
Judges of the competition included Buffalo area Fredonia alumni and regional leaders including Nicholas Haas, partner and creative director, [Re]noun Creative; Rob Hopkins, founder and designer, Stronghold Studio; Gina Kron, owner of Tim Horton's local franchises; Jennifer Koss, co-founder, designer, and head of operations, Rosie Furniture; Susan McNamara, assistant professor and internship coordinator, Fredonia School of Business; and Kevin Sylvester, manager and co-owner, Sylvester & Peck Media LLC.
The top prize earned a $1,200 paid entrepreneurial internship and all client services provided by FTI. Runners-up receive all services and access to shared space at the incubator.
The Fredonia Technology Incubator promotes economic growth in Western New York by supporting entrepreneurship and the development of new, innovative companies into successful business ventures. The incubator is housed within Fredonia's Division of Engagement and Economic Development (EED).
---
Giovanina Vancheri Receives Fredonia's First-Ever GEICO Achievement Award
Thursday, April 12, 2018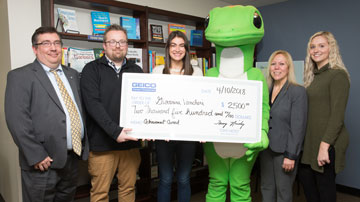 Giovanina Vancheri (third from left), Randall Filighera, GEICO college recruiter (third from right), and the GEICO mascot Gecko (Michaela Lee) display a symbolic $2,500 check that Ms. Vancheri has received for being named a 2018 Achievement Award recipient. Joining them are Christopher LaGrow, associate director of Career Development (left), Tracy Collingwood, director of Engagement and Career Development (second from right) and Brianne Corbelli of GEICO.
Giovanina Vancheri, a junior majoring in Business Administration: Marketing from Rochester, N.Y., has become Fredonia's first recipient of the GEICO Achievement Award.
Only 34 students from across the country are receiving the 2018 Achievement Award. The honor, which includes a $2,500 cash award, recognizes students for hard work, leadership and dedication to their communities. The award was presented to Ms. Vancheri by 2006 Fredonia graduate Randall Filighera, a GEICO college recruiter based in Getzville, N.Y., who works closely with Fredonia's Career Development Office, along with 2017 Fredonia graduates Michaela Lee and Brianne Corbelli, GEICO management development associates.
Vancheri, daughter of Nino Vancheri and Sarah Taffner, graduated Magna Cum Laude from Our Lady of Mercy School for Young Women. She is enrolled in the Honors Program at Fredonia and a member of the women's tennis team.
Established 25 years ago, the GEICO accolade is intended to benefit students while they are in college, as well as to introduce them to GEICO as a potential employer.
To be considered for the award, students must be enrolled full-time as a sophomore or junior at an accredited four-year college or university and have a GPA of 3.0 or better and a major in Business, Mathematics or Computer Science or in a discipline related to Business such as Economics, Finance, Marketing, Management, Information Systems, Computer Engineering, Statistics or Actuarial Science.
---
Students Help in Hurricane Relief Center on Campus
As a result of the collaboration between the EED office and the City of Dunkirk, the Puerto Rican Hurricane Relief Effort, housed in Erie Dining Hall, continues to aid displaced Puerto Rican families who have moved into the area to escape the hurricane devastation . The volunteers working in this effort have commented on the true appreciation these families have for this outpouring of generosity and compassion. Below are two of the student volunteers, Kyle Licht and Justyce Ramsey (from the Alpha Phi Omega service fraternity) who donate as much time as they can to this effort.
---
Realist Evaluation Colloquium - November 13, 2017
The Division of Engagement and Economic Development, the Fredonia Program Evaluation Center, and Chautauqua Tapestry co-sponsored a colloquium on November 13, 2017 entitled, "Realist Evaluation of Manchester Youth Justice Service in England: Reducing Recidivism." Guest speaker, Marie McLaughlin, Head of Youth Justice, Children's Services Directorate, Manchester City Council (UK) has conducted extensive research on youth offenders in the UK. Attendees included Fredonia faculty and students, County agency staff, the Superintendent of the Dunkirk Schools, and County Legislators.
Left to right: Patricia Brinkman, Director of Chautauqua County Mental Hygiene; Marie McLaughlin, Head of Youth Justice, Children's Services Directorate for Mancheser City Council, Dr. Kevin Kearns, Fredonia VP for Engagement & Economic Development, and Dr. Mansoor Kazi, Director of the Fredonia Program Evaluation Center.
---
Examination of President Trump's actions, open dialogues highlight Constitution Day
Constitution Day at Fredonia will be observed with a series of events, including a guest speaker who will address whether President Donald Trump's actions are permitted under the Constitution; open dialogues for students and faculty to discuss what the Constitution means to them, and an exercise in "handwriting" the Constitution, all during the third week of September.
---
New Program Evaluation Center to partner with Chautauqua County Mental Health Services
The opening of the Fredonia Program Evaluation Center (F-PEC) was celebrated at a reception held on Sept. 6, at the Fredonia Technology Incubator. Approximately 50 representatives from local and county government, Chautauqua County Mental Health Services, Chautauqua Tapestry, the university and the community attended the event to support the exciting collaboration between the State University of New York at Fredonia and Chautauqua Tapestry.
---
Fredonia StartUp New York Plan
Revision Approved!
Based on new activity, Fredonia's StartUp New York Plan was revised and approved! View our plan HERE!
For a brief overview, please click here.
---
Click here to watch the Fredonia "ALL IN" video!

"Your Vote ... Your Future!"
---
Collaboration...The Future of Northern Chautauqua County
The NCCF Local Economic Development Committee (LED) presented Chautauqua County: On the Move! on Thursday, May 19, 2016, at the State University of New York at Fredonia Science Center. Over 80 community members turned out for an update on the exciting opportunities coming to Northern Chautauqua County.

Dr. Kevin Kearns, VP for Engagement & Economic Development at State University of New York at Fredonia and Diane E. Hannum, Executive Director for the Northern Chautauqua Community Foundation welcomed attendees. Rich Alexander, the LED Chair, provided the background and goals of the LED as it engages education, business, and private sector leaders in moving Northern Chautauqua County forward.

Chautauqua County Executive Vince Horrigan brought excitement to the room as he talked about the "New Wave of Economic Development in Chautauqua County." This "new wave" of a countywide economic boost includes a cross section of industry, manufacturing, tourism, agriculture and small business.

The Athenex project was the focus for the two keynote speakers. Michael Fancher, VP for Business Development & Economic Outreach at SUNY Polytechnic Institute and Teresa Bair, Athenex Senior VP of Corporate Development & Legal Affairs brought the audience up-to-date on the business end of Athenex. Fancher focused on how the Dunkirk facility is an extension of the existing nanotechnology corridor that runs along the NYS Thruway between Albany and Dunkirk.

Teresa Bair brought good news with her presentation that included the employment opportunities that Athenex brings to the area. These jobs include technical and nontechnical employment for area residents. She also stressed "We look forward to opportunities to get to know one another better. We want to engage with the community, learn what is already here, and figure out how we can help one another moving forward."
Advancement, Engagement, and Economic Development
Dr. Kevin Kearns, Vice President for Advancement, Engagement, and Economic Development
State University of New York at Fredonia