Internships
Have you earned at least 30 credit hours and have a GPA of 2.0 or higher? If so, you're eligible to receive credit for an internship!
Internships are a fantastic way to gain real world experience while in college! The benefits include:
an opportunity to develop and learn new skills
job experience for a resume
experience in a career field to help students decide whether they have made the right choice
a possible job upon graduation
contacts and networking possibilities
a chance to earn college credit or sometimes a salary
confidence in applied skills
BASIC INFORMATION ON INTERNSHIPS
Tips for Finding Internships:
Information on Credit Hours:
Students must work 40 hours per the number of credits that they take. So if students register for a 2-credit internship, they must complete 80 hours of work over the duration of the semester-long internship.
Even though journalism is the only major in the department that requires an internship, all students can elect to take an internship for credit. Internship cedits count toward a student's overall 120 credits and the 45 upper level credits that are required to graduate. Students can choose to do internships during the academic year or summer.
The maximum number of internship credit hours allowed toward students' 120 hour degree should not exceed 24.
Registering for COMM 480:
It's up to the students to locate an internship that's related to the field of communication. Once students find an internship, they should email the department's internship director, Dr. McGowan-Kirsch, the job description so that she can confirm that the job is related to the field of communication. Then, students should apply for the internship. Once they learn that they have in fact gotten the internship, they should meet with Dr. McGowan-Kirsch to discuss the learning contract. Visit Internship Forms to learn more about the Learning Contract.
Earning a Letter Grade for COMM 480:
Internships are evaluated based on the learning objectives that students establish with the faculty sponsor, Dr. McGowan-Kirsch, and the job requirements established with the organization that is offering the internship. In addition to attending the internship and completing the tasks and hours required, students complete written assignments for the course. This includes bi-weekly journals, a mid-term and final self-evaluation, and a final reflection essay. Everything is submitted electronically via OnCourse. In addition, the sponsoring organization's site supervisor will email Dr. McGowan-Kirsch mid-term and final evaluations of the students' performance.
Department of Communication Interim Internship Director/Faculty Sponsor Contact Information:
Dr. Angela McGowan-Kirsch
McEwen 304A
mcgowan@fredonia.edu
Want to learn more about internships? Visit the Career Development Office's internship program web page:
www.fredonia.edu/student-life/career-development-office/x-main.
---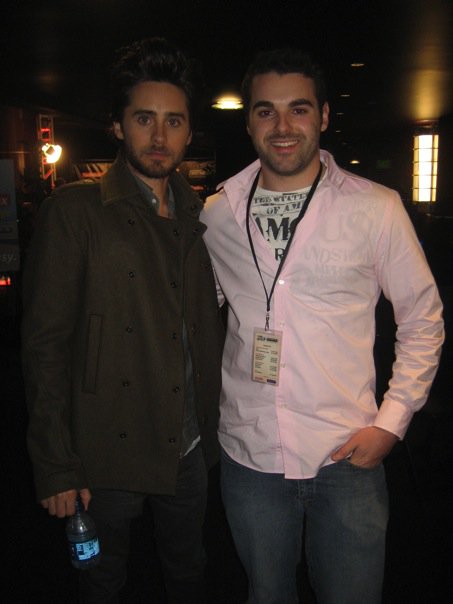 Communincation major Brent McConnell (right) with musician and actor Jared Leto at the GRAMMYs during McConnell's internship. Read his story in this excerpt from The Channel department newsletter written by fellow student Kelley Smith ('10) . .
---
My name is Avril King, and I am a communication major. Below is a link to a site about living at Fredonia, written by Fredonia students. This is a blog I have been working on for the last few semesters.