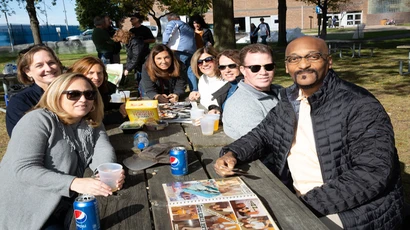 Alumni & Friends
Stay involved with the Big Blue Family
Keep in touch by updating your email and physical addresses, phone number, etc.
Find out about upcoming alumni events near you.
Send us life news and updates including marriages, births, awards, accomplishments, and job announcements, and tell us how your Fredonia experience helped you fulfill your dreams.
Wherever your adventures have taken you, you can stay connected with the Big Blue Family in many ways. Whether you connect with current students, come back to campus to reminisce, or stay up-to-date on campus through the virtual tour and regular news updates, you can keep in touch with Fredonia!
Stay connected
Give back
Come back home
Read the Fall 2023 edition of The Statement
Published in spring and fall by the Office of Marketing and Communications, The Statement is mailed to alumni, parents, graduate students and friends. Articles may be reprinted without permission.
Stories include the cover feature:
Fredonia welcomes new SUNY Chancellor - Campus strikes high notes during visit by Dr. John B. King Jr.
Key administrative appointments made following national searches.
Sharing a love for music across the Pond.
Math department's new Fishbowl a big hit with students, faculty.
Read the Fall 2023 edition of The Statement