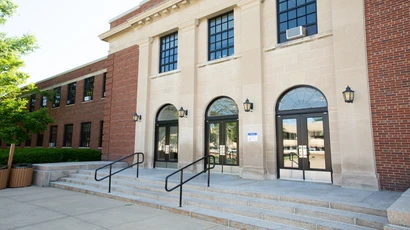 Contact Fredonia
Who to contact
State University of New York at Fredonia
280 Central Ave.

State University of New York at Fredonia

Fredonia, NY 14063
Directions and Visiting:
---
Find People and Departments:
---
Undergraduate Admissions: 
---
Graduate Admissions: 
---
Ticket Office:
---
Marketing and Communications:
---
University Police:
---
Website:
Freedom of Information (FOIL) Requests:
All requests for Fredonia records under FOIL should be made in writing and delivered in person, through campus mail, or via U.S. Postal Service to:

Mrs. Amy Beers
Director of Internal Control
State University of New York at Fredonia
407 Maytum Hall
Fredonia, NY 14063
 
Records may also be submitted via e-mail to: Amy.Beers@fredonia.edu
Freedom of Information Law - Public Officers Law, Article 6
Fredonia ensures that the public's access to information is protected according to the law and the policies of the State University of New York.
Fredonia may charge applicable fees for this service as outlined in Public Officers Law, Article 6.
Who do I call for ... ?
This chart should help put you in touch with the right office.
To search for a student, faculty, staff, office, or department, please visit the PeopleFinder directory.
Request 
Office 
Phone 
Absence from Class
Your individual instructor
--
Add/Drop Classes
Registrar's Office, Reed Library
716-673-3171
Adding a major/minor
Registrar's Office, Reed Library
716-673-3171
Address Change
Registrar's Office, Reed Library
716-673-3171
Adult Education
Office of Extended Learning, Fenton Hall
716-673-3177
Academic Advising
Advising Services, 4th floor, Reed Library
716-673-3188
Appealing a Grade
Instructor, then Dean's office
--
Athletics
Athletics & Recreation, Dods Hall
716-673-3101
Audio/Visual Materials
ITS Service Center, Thompson Hall
716-673-3407
Bill Payment
Student Accounts, Maytum Hall
716-673-3236
Books and Supplies
Bookstore, University Commons
716-680-6295
Career Planning
Career Development Office, Gregory Hall
716-673-3327
Change of Major
Registrar's Office, Reed Library
716-673-3171
Child Care
Campus and Community Children's Center
716-673-4662
Class Schedule
Your Connection
--
Clubs and Organizations
Campus Life, Williams Center
716-673-3143
Commencement
Campus Life, Williams Center
716-673-3143
Computer Help (General)
ResNet, Thompson Hall
716-673-3668
Concern for a Student / Helping a Student in Distress
Students of Concern, 2121 Fenton Hall
716-673-3271
Continuing Education
Extended Learning, Fenton Hall
716-673-3177
Counseling, Personal
Counseling Services, Igoe Hall
716-673-3424
Curriculum Advising
Your Academic Advisor
--
Destination to a Dream
New Student & Transition Services, Maytum Hall
716-673-4969
Disabled Student Concerns
Disability Support Services, Reed Library
716-673-3270
Discrimination
Office of Diversity, Equity, and Inclusion, Fenton Hall
716-673-3358
Disturbances
University Police, Gregory Hall
716-673-3333
Dropping a Course
Registrar's Office, Reed Library
716-673-3171
Educational Development Program
EDP Office, Thompson Hall
716-673-3318
Emergencies
University Police, Gregory Hall
716-673-3333
Escort Bus
University Police, Gregory Hall
716-673-5276
Graduation Application
Registrar's Office, Reed Library
716-673-3171
Health Concerns
Health Center, Jewett Hall
716-673-3131
Housing
Residence Life, Gregory Hall
716-673-3341
ID Cards
FSA, Gregory Hall
716-680-6223
Immunization Status
Health Center, Jewett Hall
716-673-3131
International Students
Intercultural Center, Thompson Hall
716-673-3398
Internships
Career Development Office, Gregory Hall
 
Intramurals
Athletics, Dods Hall
716-673-3101
Jobs On Campus
Payroll Services, Maytum Hall
716-673-3775
Loans
Financial Aid, Maytum Hall
716-673-3253
Lost and Found
University Police, Gregory Hall
716-673-3333
Meal Plans
FSA, Gregory Hall
716-680-6223
Medical Assistance
Health Center, Jewett Hall
716-673-3131
Name Change
Registrar's Office, Reed Library
716-673-3171
Non-Credit
Extended Learning, Fenton Hall
716-673-3177
Notary Public
Student Association, Williams Center
716-673-3381
Orientation
New Student & Transition Services, Maytum Hall
716-673-4969
Parking Fines, Payment of
Student Accounts, Maytum Hall
716-673-3236
Parking Sticker
Student Accounts, Maytum Hall
716-673-3236
Photocopy
Reed Library (or go to www.fredonia.edu/library)
 
Probation (academic)
Academic Advising Services, Reed Library, 4th floor
716-673-3188
Publicity Request
Marketing and Communications
716-673-3323
Registration
Registrar's Office, Reed Library
716-673-3171
Research materials
Reed Library (or go to www.fredonia.edu/library)
716-673-3181
Safety
University Police, Gregory Hall
716-673-3333
Schedule Changes
Registrar's Office, Reed Library
716-673-3171
Scholarships
Financial Aid, Maytum Hall
716-673-3253
Sexual Assault
Counseling Services, Igoe Hall  
University Police, Gregory Hall
716-673-3424
716-673-3333
Sexual Harassment
Office of Diversity, Equity, and Inclusion, Fenton Hall
716-673-3358
Sexual Health
Health Center, Jewett Hall
716-673-3131
Student Financial Services
Financial Aid, Maytum Hall
716-673-3253
Student Newspaper
Leader Offices (Williams Center), fredonialeader.org
--
Student Radio Stations
WDVL & WCVF, McEwen Hall, fredoniaradio.com
--
Student Television Station
WNYF, Hendrix Hall
716-673-3571
Substance Abuse
Prevention, Advocacy, and Wellness Services, Igoe Hall
716-673-3424
Transcript Request
Registrar's Office, Reed Library
716-673-3171
Transfer Information
New Student & Transition Services, Maytum Hall
716-673-4969
Transportation (bus)
Ticket Office, Williams Center
716-673-3501
Tutoring
Tutoring Services, Reed Library
716-673-3550
Veterans
Veterans Affairs, Nixon Hall
716-673-3423
Visitors
Admissions, Maytum Hall
716-673-3251
Volunteering
Campus Life, Williams Center
716-673-3143
Withdrawal from College
Academic Advising Services, Reed Library, 4th floor
716-673-3188
Withdrawal from Courses
Academic Advising Services, Reed Library, 4th floor
716-673-3188