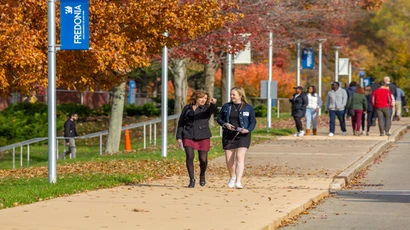 Information for Fredonia Family Members
From move-in guides to event information, this page is designed to give parents the information they need to keep in touch with Fredonia.
Welcome to the Big Blue family!
You are an important part of Fredonia's family. College is a significant investment and milestone for your student. We know you may have questions and we want to provide you with answers. Our goal is to help you and your student transition to Fredonia as smoothly as possible and have a successful first semester.  
1. Join the Parent/Guardian Email List
You are encouraged to register the names and emails of up to 2 individuals per student who may want to receive important updates and information from Fredonia.
Complete parent/guardian email form
2. Review the New Student Enrollment Guide & Checklist 
We have created an interactive New Student Enrollment Guide that will help you and your student complete a series of next steps to finalize their enrollment and registration. This guide provides "how to" like instructions as well as links to campus resources available to answer questions you may have.
---
Parent & Student Q&A Sessions:
These sessions offer topic-specific information to assist new students and their families to complete enrollment requirements and learn how to have a successful start to their Fredonia journey. Campus experts and leaders will be available to answer questions and provide helpful "how-to" information.
We hope you join us for these evening online open sessions from 6:30 p.m.-7:30 p.m.  Just click on the link below the topic to register for the session you are interested in participating in.
January 18 - Next Steps to Enrolling
January 25 - Financial Aid
February 1 - Residence Life 
February 8 - Health & Safety 
February 15 - Office of Diversity Equity & Inclusion
February 22 - Full Opportunity Program (FOP)
March 1 - Athletics 
August 1- Move In and New Student Orientation
 New Student Enrollment Timeline
Log into "Your Connection" to find e-Services username and password day after deposit
Check FREDmail using e-Services username and password days after deposit
Complete online "Jump Start Mini-Course" and enrollment requirements in July or December
Participate in academic advisement and finalize a course schedule in July or December
Upload photo for FREDCard in July or early January
Review e-Bill by mid July or mid January 
Arrival and move-in instructions are sent to a student's FREDMail by August 1 or January 5
New Student Orientation schedule is sent to a student's FREDMail by August 1 or January 5
Housing assignments sent to a student's FREDMail
Immunization records due August 1, 2023 or January 18, 2023 to the Student Health Center
Semester bill is due August 15, 2023 or February 15, 2023 
Purchase/Order textbooks
New Student Orientation takes place the weekend before classes begin
First day of class is Monday, August 21, 2023 or Monday, January 23, 2023

New Student Enrollment Guide - Fall 2022/Spring 2023
Student Move-in Guide