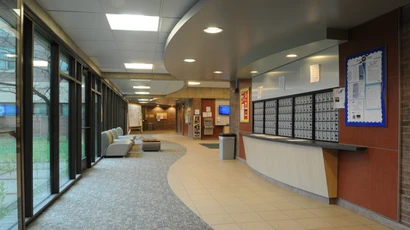 New Student Information: Fall 2023
Welcome to Fredonia!
If you have been accepted for the Spring 2024 semester, housing applications will be available on October 17, 2023! If you are having trouble accessing the application, please e-mail Residence Life.
Please follow these instructions very carefully as you complete the online application for housing. Your housing assignment will be based on this information, the date of receipt of your housing deposit and the date of submission of online application. You MUST complete the application if you are requesting on-campus housing.
Applications are available on October 17th and are available 24 hours after you have paid your deposits. To find your housing application, please follow these steps:
Log into YourConnection
Under the Students tab, please select MyHousing.
Along the left side of the page you will find a link that says Apply Now! Click that link and then complete the application titled Spring 2024 - New Student Application
Please make sure to read each question carefully and answer truthfully.
Please note that we assign based on the date of your application and availability at time of assignment. We cannot guarantee you will get your preferred building. .
Assignments will be sent out via e-mail in early January. If you are unable to access the application, please e-mail RESIDENCE LIFE for assistance.
There is no formal process for Roommate Matching for the Spring 2024 semester. However, if you have a roommate request, you will be able to include their name on your housing application.
Fredonia offers Gender Inclusive Housing areas in suite style buildings (Kasling and Grissom). In these communities, students are welcome to have roommates of different genders in the same room.
In order to be eligible, please complete the Gender Inclusive Agreement Form.
Please note that we have limited space in Gender Inclusive Housing for Spring 2024, but will work with students individually to find them a place that fits their needs.
Resources
What to Bring to Fredonia/What is Included (PDF)