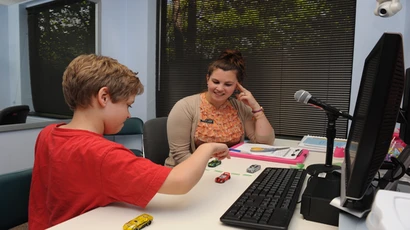 Graduate Degree FAQs for Speech-Language Pathology
Note: The below information pertains to the Fall 2024 application cycle. 
The GRE requirement has been waived for Fall 2024.
The State University of New York (SUNY) at Fredonia has a long-established Speech-Language Pathology (SLP) graduate program (M.S.) that meets the accreditation standards of the Council of Academic Accreditation and the American Speech-Language and Hearing Association (ASHA). The program's curriculum combines theoretical coursework, research involvement, and hands-on clinical experiences on- and off-campus. Graduates of the program leave prepared to meet the requirements for the ASHA Certificate of Clinical Competence, state licensure, and certification for Teachers of Students with Speech and Language Disabilities granted by the New York State Department of Education. Students may apply for a concurrent track in TESOL/Bilingual Certification if they wish to pursue it.
Fredonia is unique in its SLP graduate program in that it admits a relatively small group of students each year, which allows students to form strong connections with their professors, clinical supervisors, and one another, and provides students with a nurturing and inclusive environment that supports their individual path. For more information, please visit our webpage for Communication Disorders and Sciences (CDS).
The Communication Science Disorders department is utilizing the CSDCAS online application for applicants to the M.S. in Speech-Language Pathology degree program. Please fill out the CSDCAS application and follow all instructions on their site. You may contact Graduate.Studies@fredonia.edu with any questions.
Applicants may choose to apply for the Early Decision Option or the Regular Decision Option. Please thoroughly review all the information on this page to decide which option to choose.
EARLY DECISION OPTION: DEADLINE: NOVEMBER 24, 2024
All applicants have an option to apply for early admission into the Speech-Language Pathology Master's program. The application deadline for early admission is 11:59 P.M ET on NOVEMBER 24, 2024. Please apply by the stated deadline. 
Applications can only be verified once all payments, transcripts, and letters of evaluation have been received. To ensure your application is verified on time, try to complete your application at least four weeks before the deadline.
Applicants are not required to apply for early decision. Applicants who apply for early decision and do not receive an admission offer are not precluded from the regular admission process and will automatically be considered for the regular decision option.
REGULAR DECISION OPTION: DEADLINE: February 1, 2024
Applications must be verified by 11:59 PM ET on February 1, 2024. Applications can only be verified once all payments and transcripts have been received. To ensure your application is verified on time, try to complete your application at least four weeks before the deadline.
APPLICATION INSTRUCTIONS
Complete the CSDCAS application
Upload a resume and personal essay in the Documents section of CSDCAS

Personal essay prompt: Describe a challenge you had to overcome in the workplace or in school. Explain how you overcame it and what you have learned from it. Limit: 1 page, 1.5-spaced, 11 pt. font, one-inch margins

Request two letters of recommendation be sent through the CSDCAS recommender portal
U.S. applicants: Request official transcripts from all institutions attended be sent to CSDCAS
International Applicants: Request that official evaluations of transcripts from all foreign institutions be sent to CSDCAS as follows:

Use the World Education Services (WES) link in the Academic History section of the application to order your official WES evaluation or
Use the "Download Evaluation Request Form" in the Academic History section of the application to request an evaluation from another NACES accredited evaluation service.
CHARACTERISTICS OF A SUCCESSFUL CANDIDATE
A communication disorders and sciences bachelor's degree from an accredited institution. Applicants with a bachelor's degree from a non-CDS discipline will be considered if they have earned a minimum of 18 credit hours in communication disorders and sciences courses, to include: at least 9 credit hours related to the normal development of the sciences related to speech, language, and hearing; 6 credit hours in speech-language disorders, and; 3 credit hours in audiology. Our department offers those courses that enable a candidate to become eligible.
A minimum grade point average of 3.0 overall in and within CDS coursework.
Three-credit courses in statistics, psychology, biology, and physics or chemistry.
Submitted a completed graduate application and supporting documents via CSDCAS by the established deadline.
For international students from non-English speaking countries:

We require either:

TOEFL minimum score of 90 (IBT) sent to institution code 2927
IELTS minimum overall band score of 6.5
Either test should have been completed within the past 3 years
GRADUATE ASSISTANTSHIPS
The CDS department offers several graduate assistantships per year.
Apply on our Human Resources website.
Obligations and benefits:

Hours: 10 hours per week
Appointment: One year
Stipend: $3350
Tuition waiver: Nine credit hours at the New York State resident tuition rate
Please contact the Graduate Admissions office (graduate.admissions@fredonia.edu) with any questions.