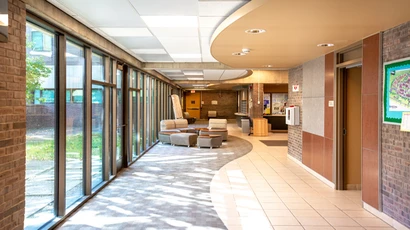 Residence Life
Welcome to the Office of Residence Life!
The Office of Residence Life strives to provide a comprehensive residence life program as an integral part of the educational program and academic support services of the institution. The residence life program is committed to providing opportunities for personal growth and development and supports the educational mission of the college by providing facilities and programs to assist students in developing mutually supportive relationships in order to live, work and learn with people of diverse backgrounds and individual differences.
Please note: Please disregard the checkpoints on page 7. You will check in directly at the residence hall you have been assigned to.
Dates are firm, please plan accordingly!
Fall 2023
August 17, 2023

Move-In Schedule for
First Year and New Transfer Students ONLY

A-F: 9:00 am - 11:00 am
G-K: 11:00 am - 1:00 pm
L-Q: 1:00 pm - 3:00 pm
R-Z: 3:00 pm - 5:00 pm
A-Z: 5:00 pm - 9:00 pm

August 19 - August 20, 2023

Move-In Schedule for
Returning Students

A-F: 9:00 am - 11:00 am
G-K: 11:00 am - 1:00 pm
L-Q: 1:00 pm - 3:00 pm
R-Z: 3:00 pm - 5:00 pm
A-Z: 5:00 pm - 9:00 pm

August 21, 2023
First Day of Classes
September 4, 2023
Labor Day (no classes)
October 5 - October 6, 2023
Fall Break
November 18, 2023
Residence Halls close at 9:00 am, please arrange travel accordingly.
November 20 - November 24, 2023
November Break (residence halls closed)
November 26, 2023
Residence Halls reopen at 9:00 am
December 1, 2023
Study Week begins at 5:00 pm
December 8, 2023
Last day of classes
December 11 - December 15, 2023
Finals Week
December 16, 2023
Residence Hals Close at 9:00 am, please plan your travel accordingly
Spring 2024
January 18, 2024

Move-In Schedule for
First Year and New Transfer Students ONLY

A-F: 9:00 am - 11:00 am
G-K: 11:00 am - 1:00 pm
L-Q: 1:00 pm - 3:00 pm
R-Z: 3:00 pm - 5:00 pm
A-Z: 5:00 pm - 9:00 pm

January 20-21, 2024

Move-In Schedule for
Returning Students

A-F: 9:00 am - 11:00 am
G-K: 11:00 am - 1:00 pm
L-Q: 1:00 pm - 3:00 pm
R-Z: 3:00 pm - 5:00 pm
A-Z: 5:00 pm - 9:00 pm

January 22, 2024
First Day of Classes
February 16, 2024
No Classes
February 26, 2024
Information about Fall 2024 Housing will be available!
March 9, 2024
Residence Halls close at 9:00 am, please arrange travel accordingly.
March 11-15, 2024
Spring Break (residence halls closed)
March 17, 2024
Residence Halls reopen at 9:00 am
April 1, 2024
Travel Day (no classes)
May 3, 2024
Study Week begins at 5:00 pm
May 3-4, 2024
Limited Intervisitation in effect
May 10, 2024
Last day of classes
May 13-17, 2024
Finals Week
May 18, 2024
Residence Hals Close at 9:00 am, please plan your travel accordingly.
May 18, 2024
Commencement