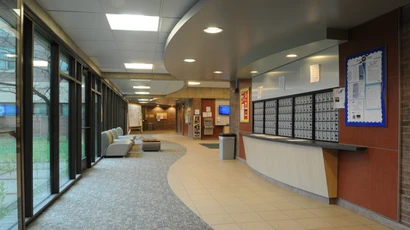 Room Selection
It is almost time to select your residence hall and room for the Fall 2023 semester. Please keep in mind that the Room Selection Process is very fluid. If you are unable to select a room to your liking, there will be opportunities AFTER the process is over to request room changes. Thank you for your patience and understanding!
2023-2024 Room Selection Information
---
---
Waiting Lists (PDF) Available May 5th (8:00 am) until May 19th (11:59 pm)
*Please note that all room change requests must go on the waiting lists. There will be one waiting list for single rooms and one for double rooms. It is your responsibility to make sure you place yourself on this list!
---
Additional Documentation due April 3rd
*notification of assignment, if applicable, will be emailed by April 10th.
Kitchen Suite Proposal Form (full groups of 6)
Complete Suite Proposal Form (full groups of 8)
Gender Inclusive Agreement Form
Important information: Reminder that all students within their first two years post high school are required to live on campus. Students should be aware that the university reserves the right to change lifestyles, change room assignments, consolidate rooms and close halls if it appears occupancy requests fail to fully utilize or exceeds the total number of spaces available. If you are looking for exemption from this policy, please review our procedures.
Students choosing a room without a roommate will be consolidated to our best ability before final room assignments are posted.
If you decide not to return to university housing, you may obtain a refund of your housing deposit. All refunds must be requested in writing to
Residence Life
by July 1st, or within 30 days of acceptance, whichever is later.
Deadlines are at 4:30 pm unless otherwise noted. If you have are unable to access your application or are having issues with roommate matching, please e-mail Residence Life PRIOR TO APRIL 3, 2023. After April 3rd we are unable to give you access to your room selection process until April 21st.