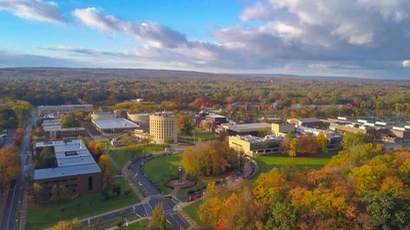 eBill and ePayments
eBill and ePayment Services
In response to the high expectations of consumers today, and increased vulnerability of data and identity theft nationwide, the State University of New York at Fredonia has partnered with TouchNet to provide a secure environment for online services. TouchNet solutions have allowed us to automate our office services and provide a campus-wide eCommerce solution by securing sensitive payment information. By helping us meet our strict data security requirements, TouchNet has enabled us to provide you with several online services. TouchNet Commerce Management System has been certified to be in compliance with the Payment Application - Data Security Standard (PA-DSS).
Access to eBill + ePayment services - Convenient links to secure self-service site: Authorized users (parents/guardians) access the TouchNet site directly and Students access through the eBill link on 'Your Connection'. You will have access 24/7 to the following information and services: eBill On Demand, eBilling statements, email notification, payment reminders, receipts, account activity including updated balance due amounts, secure web-based processing of payments for account balances and advance deposits, FIPP payment plan options, and the ability to provide access to authorized users who may be paying bills on your behalf! See more below.
eBill is the official method of sending student account billing statements to current students. Fredonia does not send out paper billing statements; however, students desiring a paper statement can print their own through the TouchNet eBill system. Students can view their monthly billing statements by logging onto 'Your Connection' and selecting the eBill link. Make sure to have the pop-up blockers turned off so you can view your eBill! It is recommended that students use the 'View eBill On Demand' button to ensure that they see the most up to date information. Students also receive notification to their official Fredonia student email address whenever a new statement is posted or if any account activity takes place after the eBill is posted. Students can opt for text messages as well!
Checking/Savings ACH, MasterCard, Visa, American Express & Discover.
The student or authorized user can have their payment taken directly out of their checking or savings account eliminating the need to write a paper check. You control when you make your payments and can schedule automatic payments as well.
Students can always print a copy of the eBill for sending paper checks via US Mail. Send payments to Fredonia Student Accounts Office, 306 Maytum Hall, Fredonia, NY, 14063.
Fredonia has partnered with Flywire to simplify the payment process for our international students. Flywire offers excellent foreign exchange rates, allowing you to pay in your home currency (in most cases) and save a significant amount of money, compared to traditional banks. You will be able to track the progress of your payment throughout the transfer process via a student dashboard and you will also be notified via email when your payment is received by Fredonia.
FIPP (Fredonia Installment Payment Plans) allow you to divide your payments into 2, 3 or 4 payments per semester. With your first eBill each semester, you may choose to pay your balance due in full by the due date or sign up for one of the payment plans offered. You will see your options on your secure eBill TouchNet site. This may be a convenient option for students who do not have authorized financial aid in place prior to the due date. By selecting a payment plan, once financial aid is approved, the remaining payments are recalculated. This gives students extra time to pay and work out their financial aid issues. There is a small convenience fee charged which is included in your first payment.
We believe that eBill offers many advantages over paper statements:
supports Fredonia's

Go Green

Sustainability efforts - eBills replace their physical equivalent, therefore, saving paper (trees), printing and distribution costs while providing a more secure option for payments

payments made online post to the student account immediately preventing costly delays and late fees

eBills are received immediately after processing with no delays in mailing allowing students and authorized users more time to plan their payment strategy

students and authorized users can view an online history of eBills, account activity and payment history

it's easy and convenient, allowing access 24/7

it's private and secure

saves time and money for both students and the university
Students log in through 'Your Connection' - select the eBill/Payment Online link under the Student Services, Financial Aid, Residence Life menu item.
A new page will open regarding policy and by clicking on "I Have Reviewed and Accept the following terms", you will be directed to your secure online site. You can review your current account summary on the Welcome page or select from several tabs at the top, such as eBill and Authorize Users.
Log on to "Your Connection".

Select "View eBill".

Review the page and accept the terms to access the secure e-Services site.

Click on the "Authorized User" icon on right side.

Follow instructions and click on "Continue".

Your authorized user will now receive an email with their unique link for access and instructions for logging on.
Log on to "Your Connection".

Select "View eBill".

Review the page and accept the terms to access the secure e-Services site.

Click on the "Personal Profile" icon on the right side.

Click the box listed under Mobile Number to receive text messages.

Enter your mobile phone number.

Select your mobile carrier using the drop down box provided.

Save.
1778: Authorization Declined - Call your bank or credit card provider. This code may mean you have a daily limit on how much you charge or that you are over your credit card limit.

1772: Verbal Authorization Required - Call your bank to advise them of the type and amount of your transaction.

1725: Card Expired - Your credit card may be expired or you typed your expiration date incorrectly.

1768: Pick up card and contact issuer - Contact your credit card provider immediately. There has been an error with your card.

Electronic Checks are ACH payments and they require entering the routing and account numbers of either a savings or checking account from US banks. When using E-Check payments, DO NOT USE home equity checks, credit card checks, starter checks, traveler's checks, or money orders, etc, as they will bounce. Payments may also be returned by the bank as bad checks if you typed your numbers incorrectly, if you have insufficient funds, or if your account is closed. There is a $20.00 Bounce Fee added to your student account in addition to what your bank charges you. E-Check payments can only be reversed by calling the Student Accounts Office at 716-673-3236 before 3:30 on the same day that the payment was made.
Our FAQ page offers answers to many common questions and our other pages provide detailed information regarding important policies. If your question is not listed or you would like more information please contact our Student Accounts Office by email or phone. We look forward to hearing from you!
Each student is assigned an official email address and it is your responsibility to access it for time-critical communications from university offices, including your eBill notices.
Use your eServices UserID and Password to log in to your Fredonia email account. You can find your eServices UserID and password by logging into Your Connection. Once logged in, click on the "View Your UserIDs and Passwords" link under "Personal Information" and scroll down to the eServices ID section to view your information. The password that is displayed will always be the original one that was assigned to your account and will not update if you change your password.

If you forget your eServices password and can't sign on to email, please visit

www.fredonia.edu/its/email
The student's personal web interface to registration, financial and personal services, transactions and records
The first time you log in, use your FredoniaID (FID) as the UserID for Your Connection. You received your FID on your acceptance card from Admissions. Initially, the PIN is your Date of Birth in mmddyy format. You will be prompted to change your PIN. Once logged in, you have the opportunity to set up a personal Security Question which will permit you to access your account even if you do not remember your PIN.

If you forget your PIN, just enter your FID and then click on the Forgot PIN? link. Answer your Security Question, and you will gain access to your account.