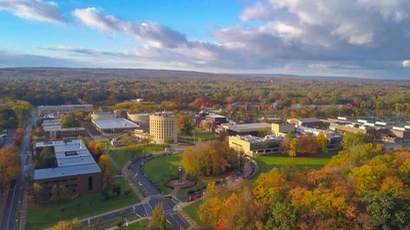 Tuition, Fees and University Charges
Tuition and Fees    Housing    Meal Plans    Debit Account    Other Fees
Tuition and Fee Schedules
Note: Tuition and Fee Schedules are subject to change without notice. Status as a full-time student requires 12 or more semester hours. It is the student's responsibility to be aware of how the student status affects billing and financial aid funding. The tuition charge is based on your residency, level and course selection. The College Fee is a non-refundable SUNY fee and is based on the number of credits you are registered for. The Student Services Fee is a comprehensive fee based on the number of credits you are registered for and supports services, activities and programs. See the Frequently Asked Questions page for more information on the Student Services Fee.
[ Back to Top ]
Rates for Non-Matriculated Graduate Students
Non-matriculated graduate students are charged tuition according to the level of the course. During the Fall and Spring semesters only, students taking 12 or more hours will be charged according to the course level combination with a minimum charge equal to the full-time undergraduate rate and the maximum capped at the full-time graduate rate, determined also by their residency status. During Summer and J-Term sessions, there is no limit or set maximum. Fees are consistent. [ Back to Top ]
---
Military In-State Tuition Information
Please visit the SUNY site for more information on military in-state tuition.
 [ Back to Top ]
---
Fredonia Debit Account
This pre-paid, taxable debit account may be opened with a minimum deposit. This charge will show up as a direct cost on your eBill if you sign up before the end of the first week of classes. Contact the FSA Office at 716-673-3417 ext. 6228 for more information regarding the advantages of opening the Fredonia Debit Account and to find out about the other services they provide. [ Back to Top ]
---
Other Fees
Late Payment/Administrative Fee: 
Required payment must be received prior to the due date printed on the eBill. A late fee is assessed for any account not paid by the due date. See below for the late payment fee structure. An additional fee ($20.00) is charged for 
Returned Checks
and Returned Check transactions. Double check your bank routing and account numbers when paying online!  
Late Payment Fee Structure:
Balance $250 -$999.99          $30
Balance $1,000-1,999.99       $40
Balance $2000 or more          $50
Registration Fees: Students who register on or after the first day of classes may be charged a Late Registration fee in the amount of $40.00. Contact the Registrar's office if you have any questions regarding registration fees that may be charged for add, drop or withdrawal transactions that take place after established deadlines. Please refer to the Registrar's Office Calendar for specific date information. Also review the tuition and fee liability/refund schedule to determine how your choices will affect your financial status.
Orientation Fees: All new students are assessed an orientation fee. Students not attending a summer orientation session will have the opportunity to attend the late orientation session held before classes start and will be assessed an orientation fee on their first eBill. 
Additional fees: Many courses have approved associated fees assessed at the time of registration. Music majors are also assessed a per credit hour fee regardless of courses taken. 
Fines are assessed for parking violations, the late return or loss of library materials, and failure to return equipment. If you are traveling abroad for study or if you are a visiting student from a foreign country, you can find information about additional costs by contacting the International Education Center at 716-673-3451. [ Back to Top ]