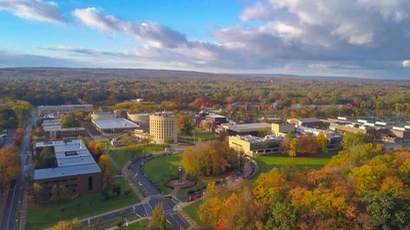 Frequently Asked Questions for Student Accounts
Payment due dates for the Fall and Spring semesters are on the 15th day of the month. If you are an incoming new student and you attended a summer Jumpstart program or you are a returning student early registered for courses before the billing date, your payment will be due approximately two weeks prior to the start of the semester. If you choose to late register, you will be billed the first week of school and payment will be due approximately 14 days later. Payments received after the due date are considered late and will be assessed an additional Late Payment/Administrative Fee of up to $50. You are required to pay for Summer and J-Term at the time you register in order to reserve your courses.
For Fall and Spring semesters, you may choose the from the Fredonia Installment Payment Plans (FIPP) offered online to students through 'Your Connection' and to authorized users through the TouchNet E-Services links. Several payment plans are available. For a minimal processing fee included with your first payment, you may choose from several payment plans with the account paid in full approximately 6 weeks after the start of the semester. If you have any other questions regarding the FIPP options, please call the Student Accounts Office. Another option you have before we post your first eBill is to pre-pay towards a future term.
Fredonia is continually searching for ways to take full advantage of technological resources to communicate with our customers. Using 'Your Connection' to access your e-services, you may view your eBill On Demand, account summary, current activity and payment history. You are not assessed charges until after you have selected courses and prior to the first bill. Once eBills have been posted to your account, you will receive a notice at your email@fredonia.edu address. Additionally, if you have signed up authorized users to pay bills on your behalf, they will also receive email notices when the eBill is posted. Sign up your authorized users by following the online payment eBill links through 'Your Connection'. More information on electronic services can be found by following the eBill and ePayment. If you forget your email or 'your connection' user IDs, PIN or Password, visit the Tracker knowledge base for some frequently asked questions and answers.
Prior to the start of the semester, new students should inform the Admissions Office at 716-673-3251. Returning students should complete the Non-Returning Form and submit it as soon as possible to avoid financial liability. Contact the Academic Advising Services at 716-673-8020 if you have any questions.
After the start of the semester, all students must complete the Withdrawal form. Any delay in completing the proper withdrawal request form may result in additional charges.
Never just walk away. You must officially withdraw.You are financially liable as soon as the semester begins. A Refund Schedule is in effect to reduce tuition if you withdraw during the first four weeks of the Fall & Spring semesters. Summer and J-Term withdrawal calculations correspond to the shorter semesters. Due to strict federal regulations governing the use and distribution of Title-IV financial aid, aid recipients will jeopardize their eligibility if withdrawal from college takes place before completing 60% of the semester. You are advised to consult with the Director of Student Accounts or with a financial aid advisor to discuss your individual case.
Non-residents of NY state and students that have inconsistent resident data, as identified by the Application Services Center, will be charged the out-of-state rate. Basic eligibility for in-state tuition is determined by the student's domicile which must have been in New York State for a period of at least one year immediately preceding the time of registration. Your domicile is the fixed and permanent home to which you intend to return whenever absent. The sole purpose of attending college does not meet your domicile requirement. Review the SUNY Guide to Resident Tuition Policy carefully to determine your eligibility. If you think you are eligible for the change in resident status, you must submit the completed Application for New York State Residency Status for Tuition Billing Purposes prior to the start of the semester. You will also need to attach documentation. Individuals who are financially dependent will be eligible for in-state rates if the custodial parent lives in the State of New York. Refer to the SUNY policy for exceptions to the domicile rule including military personnel and their dependents and in some cases, non-resident students who graduated from a NYS high school within the last 5 years. Please direct all of your questions concerning residency to the Director of Student Accounts prior to the start of the semester.
Financial aid is applied in a first-in, first-applied order and refunds are not generated until your student account is paid in full. Since refunds are not always readily available during the first four weeks, it is advisable to have other personal funds to pay for your indirect expenses, such as your rent if you are living off campus or to pay for your books if you choose not to take advantage of the Debit Account option. Refund checks are made payable to you, the student, with the exception of parent PLUS loans. Instead of a check, you may choose to have your refund direct deposited into your savings or checking account. All refunds not on direct deposit will automatically be mailed to the students permanent address on file. Please note once a refund check is issued, we will not re-issue that refund until at least three weeks have passed.
To signup for Electronic Refunds (Direct Deposit) please follow the below steps:
1. Log on to Your Connection and select "View eBill"
2. Review the page and accept the terms to access the secure e-Services site
3. Select "Electronic Refunds" from the right side menu
4. Click on "Set Up Account"
5. Enter your account and billing information and click continue
6. Read and agree to the Refund Setup Agreement
When you are estimating your cost of attendance, refer to the Cost Fact Sheet from the Financial Aid Office as it will help you to understand the university charges and indirect expenses you may want to consider in your budget.
Until you submit the required paperwork to the Financial Aid Office, your financial aid will not be approved. You may use one of the Fredonia Installment Payment Plans (FIPP) and make your payment by the due date to buy some time. Once the next payment is due, your financial aid may be approved so you could defer your balance at that time. If you choose not to pay your bill by the due date, you will be assessed an additional Late Payment/Administrative Fee of up to $50. Any aid awarded to you after your account is paid in full will be refunded to you once we receive the funds.
Following SUNY policy, a HOLD is placed on a student's records preventing registration for a new term and withholding official transcripts (including diplomas) until all financial obligations have been paid. You can view your hold status via Your Connection. Holds are posted to students' accounts prior to the start of early registration for the next academic period.
This mandatory comprehensive fee is subject to approval by SUNY administration and once approved is charged to every enrolled student based on a per credit hour rate, regardless of residency or level. The funds are used to finance activities and services that benefit the student body and campus. As a student receiving credit from Fredonia, the required payment of the Student Services/Program Charge supports programs and services provided to all registered students, whether or not they choose to take advantage of those opportunities. This fee is charged each semester. The Student Services Fee for a full-time student contains the following components and anticipated amounts: Student Activity Fee $120.00, Technology Fee $227.00, Athletic Fee $210.50, Transportation Fee $55.00, Health Center Fee $185.00 and Enhanced University Services $28.00 including Campus Community Bus, Onsite Medical Care, Prescription Medications, Campus Internet Access, Campus Microcomputer Labs, Discount Coupons at Area Merchants, Intercollegiate Athletic Sports Programs, Homecoming Weekend Events, Parking Shuttle Bus, Student Parking, Transcripts, Blue Devil Fitness Center, Box Office and many other services for all Fredonia students. A more complete list can be found in the College Catalog.
Unfortunately, checks bounce for several reasons: non-sufficient funds, closed accounts and data entry errors you made when typing in your bank and routing numbers are the most common. A $20.00 returned check charge is assessed at the time your payment is removed from your account. You may also be charged a Late Payment/Administrative Fee of up to $50. This is in addition to the fee your bank charges you! A very costly mistake...and you may be restricted to future payments by cashier's check or money order if it occurs more than once. Contact our office with any questions you may have.
Vehicle Registration can now be completed online by going to https://ww2.fredonia.edu/parking/. There is no additional charge to students for parking on campus. All vehicles must be registered and you must follow the parking regulations. Returning students, you will receive an e-mail during the summer notifying you to register your vehicle. New students will have the opportunity to register their vehicle during orientation. During the first week of the FALL semester, you may register your vehicle in the Multipurpose Room in the Williams Center. Any other time, vehicles can be registered in the Student Accounts Office/Parking Unit at 306 Maytum Hall. Make sure you register your vehicle! Students will be put on Hold for unpaid parking fines prior to the start of early registration.
The Fredonia Federal Credit Union has an ATM machine in each of these locations - Steele Hall, Fenton Hall, Williams Center, Thompson Hall and University Commons. Lakeshore Savings and Loan has an ATM machine in the following location - McEwen Hall, Williams Center and Gregory Hall. M&T has an ATM at University Commons. M&T Bank is our official bank and will cash your Fredonia refund checks with proper ID.
Update your permanent address to ensure you receive your diploma, refunds and any other pertinent information.
Clear your records because a HOLD may jeopardize your right to graduation, diplomas and transcripts. Financial obligations including unpaid charges, fines or FSA advances must be cleared. You will see your holds on 'Your Connection'.
If you had a Federal Perkins loan, exit interview information will be sent to you prior to the end of the semester. It must be completed before you graduate.
Know your debt and your debt load as well as what it takes to be an educated consumer with good credit. Visit the Financial Aid site for information regarding Financial Literacy and watch for information on Exit Counseling.
Other things you may want to consider: visit Career Development, join the Alumni Association, visit the Book Store for your Alumni bumper sticker, etc.