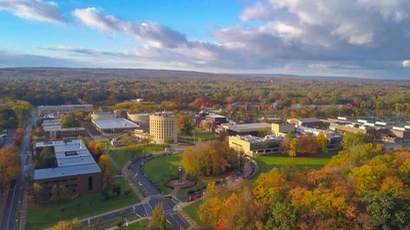 Tuition Rates per Credit Hour
Tuition rates per credit hour, for N.Y. State resident and non-resident students enrolled in undergraduate and graduate degree programs.
Academic year 2022-2023
All rates subject to change
Tuition and Fees below are for one semester - Fall charges are posted and eBills are generated in mid-July with a due date of mid-August. Spring eBills are generated in early January with a due date of mid-January 15. Please note fees are subject to change per SUNY Board of Trustee approval.
Resident Rates
N.Y. State Resident Undergraduate Degree - All rates subject to change
| | | | | | | | | | | | | |
| --- | --- | --- | --- | --- | --- | --- | --- | --- | --- | --- | --- | --- |
| Credit Hours | 1 | 2 | 3 | 4 | 5 | 6 | 7 | 8 | 9 | 10 | 11 | 12 + |
| Tuition | 295.00 | 590.00 | 885.00 | 1180.00 | 1475.00 | 1770.00 | 2065.00 | 2360.00 | 2655.00 | 2950.00 | 3245.00 | 3535.00 |
| Fees | 70.40 | 140.80 | 211.20 | 281.60 | 352.00 | 422.40 | 492.80 | 563.20 | 633.60 | 704.00 | 774.40 | 848.50 |
| TOTAL | 365.40 | 730.80 | 1096.20 | 1461.60 | 1827.00 | 2192.40 | 2557.80 | 2923.20 | 3288.60 | 3654.00 | 4019.40 | 4383.50 |
N.Y. State Resident Graduate Degree - All rates subject to change
| | | | | | | | | | | | | |
| --- | --- | --- | --- | --- | --- | --- | --- | --- | --- | --- | --- | --- |
| Credit Hours | 1 | 2 | 3 | 4 | 5 | 6 | 7 | 8 | 9 | 10 | 11 | 12 + |
| Tuition | 471.00 | 942.00 | 1413.00 | 1884.00 | 2355.00 | 2826.00 | 3297.00 | 3768.00 | 4239.00 | 4710.00 | 5181.00 | 5655.00 |
| Fees | 70.40 | 140.80 | 211.20 | 281.60 | 352.00 | 422.40 | 492.80 | 563.20 | 633.60 | 704.00 | 774.40 | 848.50 |
| TOTAL | 541.40 | 1082.80 | 1624.20 | 2165.60 | 2707.00 | 3248.40 | 3789.80 | 4331.20 | 4872.60 | 5414.00 | 5955.40 | 6503.50 |
Non-Residency Rates
N.Y. State Non-Resident Undergraduate Degree - All rates subject to change
| | | | | | | | | | | | | |
| --- | --- | --- | --- | --- | --- | --- | --- | --- | --- | --- | --- | --- |
| Credit Hours | 1 | 2 | 3 | 4 | 5 | 6 | 7 | 8 | 9 | 10 | 11 | 12 + |
| Tuition | 708.00 | 1416.00 | 2124.00 | 2832.00 | 3540.00 | 4248.00 | 4956.00 | 5664.00 | 6372.00 | 7080.00 | 7788.00 | 8490.00 |
| Fees | 70.40 | 140.80 | 211.20 | 281.60 | 352.00 | 422.40 | 492.80 | 563.20 | 633.60 | 704.00 | 774.40 | 848.50 |
| TOTAL | 778.40 | 1556.80 | 2335.20 | 3113.60 | 3892.00 | 4670.40 | 5448.80 | 6227.20 | 7005.60 | 7784.00 | 8562.40 | 9338.50 |
N.Y. State Non-Resident Graduate Degree - All rates subject to change
| | | | | | | | | | | | | |
| --- | --- | --- | --- | --- | --- | --- | --- | --- | --- | --- | --- | --- |
| Credit Hours | 1 | 2 | 3 | 4 | 5 | 6 | 7 | 8 | 9 | 10 | 11 | 12 + |
| Tuition | 963.00 | 1926.00 | 2889.00 | 3852.00 | 4815.00 | 5778.00 | 6741.00 | 7704.00 | 8667.00 | 9630.00 | 10593.00 | 11550.00 |
| Fees | 70.40 | 140.80 | 211.20 | 281.60 | 352.00 | 422.40 | 492.80 | 563.20 | 633.60 | 704.00 | 774.40 | 848.50 |
Non-Resident in Fully Online Program - All rates subject to change
| | | | | | | | | | | | | |
| --- | --- | --- | --- | --- | --- | --- | --- | --- | --- | --- | --- | --- |
| Credit Hours | 1 | 2 | 3 | 4 | 5 | 6 | 7 | 8 | 9 | 10 | 11 | 12 + |
| Tuition | 565.00 | 1130.00 | 1695.00 | 2260.00 | 2825.00 | 3390.00 | 3955.00 | 4520.00 | 5085.00 | 5650.00 | 6215.00 | 6785.00 |
| Fees | 70.40 | 140.80 | 211.20 | 281.60 | 352.00 | 422.40 | 492.80 | 563.20 | 633.60 | 704.00 | 774.40 | 848.50 |