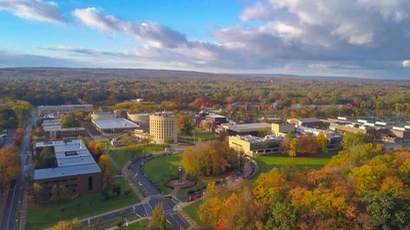 Billing Procedures
Billing Procedures
The State University of New York at Fredonia does not send paper billing statements; however, students can print out their official statement through their secure eBill link. Visit our eBill and ePayments page for more information about the enhanced electronic services accessed through 'Your Connection', TouchNet and your Email. More details about semester billing follow.
Parents: Your student must sign you up as an 'Authorized User' so you will receive email notifications and have access 24/7 to view the eBills, choose from the payment plan options and pay online. There are no paper bills mailed unless your student prints one out and mails it to you! Authorized users access using TouchNet links.
Students: You are responsible for your student account and eBill. If you share that responsibility, sign up your bill payers as 'Authorized Users'. All you need is the email address and each will receive a personal password from TouchNet. When your eBill is posted you and your authorized users will receive email embedded with the link to access the secure TouchNet site. Students access services using 'Your Connection' eBill links.
Academic year FALL and SPRING
Students who have selected courses during early registration or attend orientation for the Fall or Spring semesters will be assessed charges by the university approximately 5 weeks prior to the start of the semester. This means you will see what your charges are by viewing your account summary. Your actual eBill will be posted around that same time. Students selecting courses after early registration will be assessed immediately upon registering and those eBills will be posted during the first week of classes.

Your account information will be posted online and you can access it 24/7 by logging in to 'Your Connection.' You will not receive a paper bill to pay your account balance so be sure to check your email@fredonia.edu on a regular basis for notice that your eBill has been posted. New eBills are posted monthly around the 20th day and due dates always fall on the 15th day of the following month. Your account should be paid prior to the due date on your eBill to avoid late payment fees. Failure to view your eBill does not make you eligible to appeal your Late Payment fees. You may want to grant access to anyone who pays your bills on your behalf. Through 'Your Connection', choose the link for View eBill/Make Payment to take advantage of the electronic services provided at your secure TouchNet site. By signing up your parents or other bill payers as authorized users, they will also receive email when your eBill is posted and have access to online payments and payment plans. They will only have access to the billing information you authorize.

Students may choose to print out a copy of the eBill to mail home. All account charges and payments can be viewed using the eBill link to the secure TouchNet site. Online payments can be made 24/7. If mailing a check for payment, be sure to write your Fredonia ID on your check and mail it with a copy of your eBill to the Student Accounts Office.

Your term account will include one semester's charges based upon the invoicing information we have received from the Registrar's Office regarding credit-bearing courses, Residence Life regarding room rental and the Faculty Student Association reflecting your meal plan and campus debit account choices. Any changes to your meal plan or debit card account should be made using the enrollment forms on the FSA web site. Your Financial Aid and Registration information can also be viewed using 'Your Connection'.

You may use authorized aid to defer your payment until the funds arrive. Your aid will be authorized after you have completed all requirements, including master promissory notes and entrance interviews. If you were selected for verification, the requested documents must be submitted to and evaluated by the Financial Aid Office prior to authorization.

If you do not have any or not enough authorized financial aid to cover your bill in full, your balance should still be paid by the due date. Bills are due by the 15th of the month. Payments received after the 15th are considered late and will be assessed an additional LatePayment/Administrative Fee of up to $50. If you choose to wait for your aid to be approved before you pay your bill, you will be assessed the LatePayment/Administrative Fee if your aid is not authorized by the bill due date of the 15th.

Whether you use personal savings, financial aid funds, bank loans or personal loans from friends or family, it is your legal obligation and responsibility to see that your account is paid in full. The account is in your name and it is your sole responsibility to pass your eBills on to the bill payer. You can register authorized users that will receive your eBill information directly by following the instructions: sign on to 'Your Connection', follow the links to View eBills/Make Payments and once on your TouchNet site, choose the Authorized Users tab. Payment Plan options are only available through the online services.

Changes to your schedule may affect your financial aid eligibility. Make sure you know the implications of falling below the full-time status of 12 credit hours.

IMPORTANT REMINDER: To cancel registration liability, a student must contact the Office of New Student and Transition Services at 716-673-4969 prior to the start of the semester and complete the Withdrawal/Non-Returning form. A student that does not follow the prescribed method for canceling their registration may incur partial liability.
IMPORTANT: Courses will be dropped if not secured by payment. Students are required to pay by the respective deadlines.  If registering after payment due date, immediate payment is required.  Payment can be made on-line, by mail or in-person, for both Summer and J-Term courses. Read your fredonia.edu student email daily for important messages.

Students may be eligible to receive a deferment for federal financial aid.  For more information on requirements to receive federal financial aid in the summer, please visit the Financial Aid Office website.

Please call our office with any questions regarding how to secure your schedule.