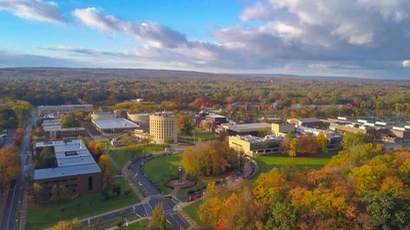 Student Accounts
News
eBills are generated monthly. Billing deadlines are the 15th of each month. Late fees are assessed monthly. Spring 2024 eBills will be generated in early January 2024.
Holds for non-payment are placed on student's accounts prior to course registration for the next term. Holds prevent actions such as registration. Holds for Fall 2023 non-payment are on student's accounts..
1098-T forms are viewable via Your Connection.
You can view your eBill OnDemand to see the most updated information by clicking the button "View eBill OnDemand".
Sign up for E-Refunds! All refund checks will be mailed to the permanent home address. Refund checks are no longer available for pick up in the Student Accounts Office. Refund checks are typically sent in late September to students.
eBill is the official method of sending student account billing statements to Fredonia students. Fredonia does not send out paper billing statements. Your eBill is electronically sent to your Fredonia e-mail address so please check this account regularly.
If someone else such as a parent/guardian, need access to your eBill, sign them up as an "Authorized User". For step-by-step instructions, please visit www.fredonia.edu/about/offices/student-accounts/epayments
Sign up to receive text alerts when your eBill is ready! For more information and step-by-step instructions, please visit www.fredonia.edu/about/offices/student-accounts/epayments
To pay your bill, click on the button below:

Pay Bill - Students Pay Bill - Authorized Users
The Student Accounts Office is in charge of the collection and disbursement of funds associated with billing for students attending the State University of New York at Fredonia. Our office staff is dedicated to helping you pay your Fredonia bill by providing courteous service and several payment options. Please call or e-mail us any time with your questions.
Your Official Email Address: An official email@fredonia.edu address is assigned by Fredonia and it is the student's responsibility to access it daily for time-critical communications from university offices. For more information go to the Using FREDmail page. Visit the Tracker pages and E-mail FAQs for answers to commonly asked questions. If you choose to use a different email address, be sure to forward your Fredonia email and always check your spam folder for messages.
Attention ALL Fredonia Students!
As a registered student, you must confirm your participation in the fall/spring semesters by completing the Student Attendance Verification survey via Your Connection beginning the week before classes start.