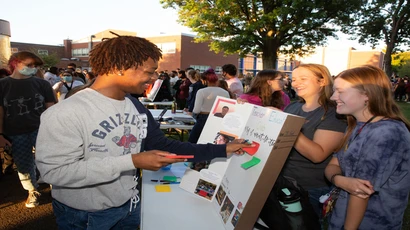 Student Association (SA)
The Student Association (SA) supports student groups on the SUNY Fredonia campus.
Student Association Officers
Mission Statement
The mission of the Student Association is to promote the general welfare of the students of SUNY Fredonia, enhance student life on campus, and represent the interests of the student body as Fredonia's student government.
Central to this effort is the following:
Distributing the funds generated from the Student Activity Fee;
Enhancing the campus community intellectually, socially and culturally through the funding and development of student organizations;
Providing important services for students not otherwise maintained by the university;
Representing students to the administration and all other external agencies when necessary;
Defending students from unfair policies both on and off-campus;
Providing students with an open forum for discussion of all topics.