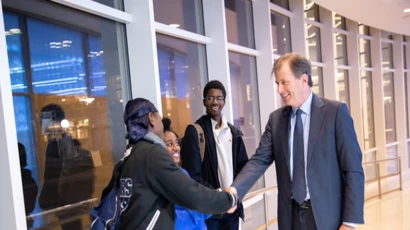 Writers @ Work
Fredonia's Alumni Writers-in-Residence Series
Writers @ Work brings Fredonia alumni with a variety of educational backgrounds, careers, and accomplishments back to campus for a series of events. Over a two- or three-day period, writers-in-residence may give craft talks, speak on a panel, lead workshops, critique student writing, participate in Q&A forums, visit classes, or meet student groups. Students, faculty, and community members are provided with opportunities to interact with and learn from each writer's unique skill set and experiences.
Mission Statement:
Writers @ Work is an alumni writers-in-residence series featuring both well-established and emerging writers, editors, and publishers in a range of professional and creative genres. The series seeks to connect Fredonia's alumni, students, faculty, and community members with a focus on the diverse ways writing and the humanities make a difference in the world.
Goals:
The Writers @ Work series serves the following goals:
to broaden students' awareness of the value of writing to professional success;
to showcase the myriad of ways writing and the humanities make a difference in the world;
to help foster relationships between our alumni and students;
to tell Fredonia's story in new ways; and
to celebrate our alumni's achievements and learn from their experiences while engaging with community members.
Sponsors and Partners:
The series is sponsored by the Carnahan Jackson Humanities Fund of the Fredonia College Foundation, Faculty Student Association and the Fredonia Alumni Association. The series is organized by the following offices: Admissions, Alumni Affairs, Career Development Office, Fredonia College Foundation and the Fredonia Honors Program, as well as representatives from the departments of Communication, English and History and the Music Industry program.
Writers @ Work Upcoming Events