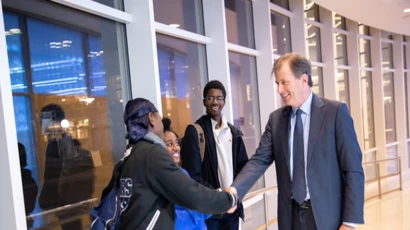 Writer @ Work: Sean Kirst, '81
English Alumnus, Class of 1981
Author, Journalist, and Professional Writer
According to Sean Kirst (English, '81), "writing isn't just a professional tool. It's a life tool that helps you in business and relationships." A public speaker, author, and award-winning journalist, Sean uses the power of strong writing to make transformative contributions in his community. In fact, you can see how he has used storytelling to transform Upstate New York landscapes by watching his TedX talk, "At the lighthouse: why I tell stories." But before launching his successful and poignant career, Sean cultivated his journalist talents writing for Fredonia's own campus newspaper, The Leader, as well as The Observer in Dunkirk.
Though Sean began his Fredonia journey as "a teenager scared to leave home," he found that his real-world experiences while he was here combined with his English coursework helped him "develop a crisp and distinctive [writing] style." In fact, Sean believes Fredonia "elevated [his] whole notion of writing" and "help[ed] him find strength" to go out into the world. "My life changed at Fredonia," he says. The English department gave him confidence in his writing, helping him to find his voice and realize he could use it to change lives. Indeed, after graduation he wrote for The Niagara Gazette in Niagara Falls and Rochester's City Newspaper. Then, in 1991, he wrote his first sports column for The Post-Standard. Five years later he transitioned to working in news, at both a regional and national level. Through all these roles, Sean's work has always been guided by the firm belief that "writing opens doors that would otherwise be shut. It's life changing."
This real possibility for change has also fueled his career as a columnist; Sean has dedicated much of his career to passionately advocating for positive change in Upstate New York. Just one example includes his writings about the trash problem along Syracuse's interstates. "Every gateway to the city was coated with trash," he notes. "I started writing about it, asking why...and there was a flood of reaction." Today, thanks largely to Sean's columns, the pollution receives high-profile civic attention. He's often a first-hand witness to how "writing, at its best...captures something in the air and gives it substance."
After a twenty-seven year long career at The Post-Standard, Sean is currently pursuing independent writing opportunities. To date he has published a collection of baseball essays and co-authored Moonfixer: The Basketball Journey of Earl Lloyd. Throughout his career as a columnist, he won numerous awards including a U.S. Department of Justice Award for sensitivity to victims of violent crime (1998), the Ernie Pyle Award for human interest writing (2009), and the New York State Associated Press Association first place award for column writing (2014).
It's also worth noting that not only did Fredonia influence Sean's professional life, but also his personal one. He still values the interpersonal relationships developed both in and out of the classroom. His professors, whom he calls "extraordinary" and "just eye-opening," became mentors and even friends. He reflects that "Fenton Hall didn't feel like going to class; it felt like going home." Additionally, Sean met his wife Nora (Sociology and Social Work, '82) at Fredonia. Throughout their academic careers—and beyond—Sean and Nora have spurred each other on to personal and professional happiness.
We're honored and thrilled to welcome Sean back to Fredonia from April 7–9 as our second alumni writer-in-residence. Check the Writers @ Work website for more details and a schedule of events.
Watch Sean's TEDxSyracuseUniversity Speech: "At the lighthouse: why I tell stories"