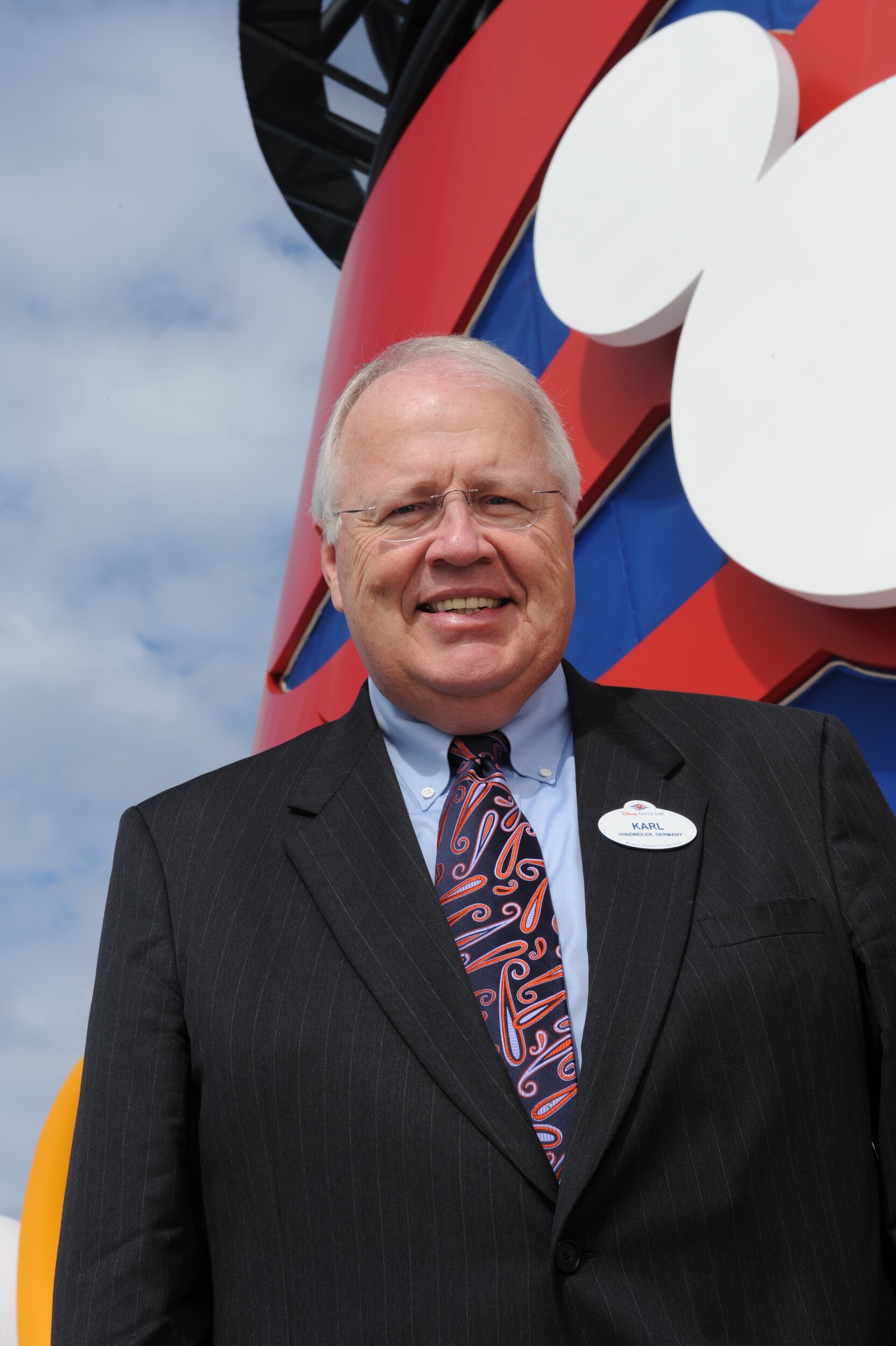 Karl is a 22-year veteran of The Walt Disney Company with deep expertise in building organizational culture, CX, operations, strategic planning, international business and start-up ventures. As President of Disney Cruise Line and New Vacation Operations, he was responsible for driving the growth of Disney's vacation portfolio beyond its theme parks. These unique, award-winning and brand-building businesses set Disney apart in the vacation marketplace. 
He achieved strong business results by building world-class teams who together, consistently exceeded expectations. He  is recognized as a leader who nurtures, develops and retains top talent.  He continues to serve as a mentor to many.  Karl is a highly visible and engaging leader who is known for always doing what is best and right, thereby building trust with cast members, guests and shareholders. 
In 2004, Karl was appointed President and COO of Disneyland Resort Paris and six months later, became Chairman and CEO. His responsibilities for this €1.4B resort include 15,000 cast members, two theme parks, seven hotels, a golf course, a night-time entertainment complex and residential/commercial development.  During his tenure in Paris, he directed three complex financial restructurings that contributed to the successful re-launch of the business in 2008. Before his assignment in France, Karl served as President, Disney Cruise Line, Senior Vice President of Walt Disney World Operations, Vice President of Epcot and several other roles. Prior to joining Disney, he served as Vice President of Theme Parks and Restaurants at Knott's Berry Farm and before, enjoyed eighteen success filled years with Sky Chefs, then a subsidiary of American Airlines and now known as LSG Sky Chefs.
In his most recent role with Disney, Karl was responsible for Disney Cruise Line; Disney Vacation Club; Adventures by Disney; Aulani, a Disney Resort & Spa, in Hawaii; The Disney Institute; Facility Operations Services; and the Golden Oak development at the Walt Disney World Resort. He guided the massive expansion of Disney Cruise Line in 2011 and 2012 and championed its further expansion by committing to three new ships, the first of which was launched in July, 2022. Karl led the strategic re-orientation of the Disney Institute, a leadership development business serving the people development needs of many companies. Additionally, he again assumed responsibility for Disneyland Resort Paris in 2014, guiding the resort through a sensitive risk period, launched strategic expansion plans and ultimately took this French, publicly held resort, private in late 2017.  
In 2018 Karl joined McKinsey & Company as a Senior Advisor. He advises the Saudi Public Investment Fund and is on the High Council of Neom.  He is currently a Board Director of CRUISE SAUDI, Radisson Hotel Group and the Pro Football Hall of Fame Village Resort.  His board focus is on compensation, nominating and governance matters.
Karl earned his bachelor's degree in Business Administration from the State University of New York at Fredonia. He is a member of the Fredonia Foundation Board and in 2005, was awarded the University's Distinguished Alumni Award. Over the years, Karl has been deeply committed to helping communities and people in need, supporting Special Olympics Florida, Boys & Girls Clubs and the United Way, among others. At Disney, he was a member of the Walt Disney Parks and Resorts Executive Committee, served as Chairman of the Walt Disney Parks and Resorts Diversity and Inclusion Council and, the world-wide Environmental Council. During his last ten years with Disney, Karl was a member of the CLIA (Cruise Lines International Association) Global Executive Committee, a board member of the Florida-Caribbean Cruise Association, Chairman of the Magical Cruise Company Management Board (UK based, Disney Cruise Line) and a Director of the Euro Disney Supervisory Board. 
Karl is a caring, thoughtful and influential executive with the skills, track record and passion to solve the complex challenges of today's organizations. He brings new perspectives, innovative thinking and creative solutions to the forefront, as he strives to build long-term shareholder value. Karl and his wife Wendy live in Windermere, Florida.