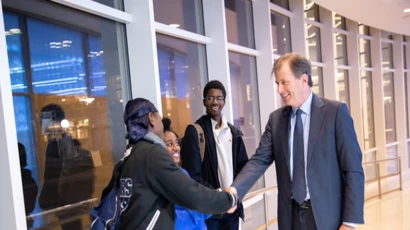 James B. Foley, '79
On Thursday, November 8, through Saturday, November 10, 2018, former U.S. Ambassador James B. Foley was in residence at Fredonia giving a series of free public events entitled "Peace Through Speech: Dialogues Around Sustainable Justice." His visit is organized by Writers @ Work in collaboration with Fredonia Convocation, the Department of Politics and International Affairs, the American Democracy Project and the Fredonia Democracy Initiative.
With over thirty years of service with the U.S. Department of State and various overseas diplomatic initiatives, including posts as the U.S. Ambassador to both the Republic of Haiti and the Republic of Croatia, as well as Senior Coordinator, Iraqi Refugee Issues, Foley brings a wealth of knowledge and experience in the art of international negotiation and mediation. Students looking towards a future in international affairs and members of the community interested in gaining a new perspective on U.S. foreign policy found Ambassador Foley's information to be invaluable.
James B. Foley (English major, French and Political Science minors, '79) served for over 30 years in a broad range of senior leadership and executive management positions as a U.S. diplomat overseas and with the Department of State in Washington, DC. These have included posts as U.S. Ambassador to Croatia (2009-2012), U.S. Ambassador to Haiti (2003-2005), State Department Deputy Spokesman (1997-2000), Iraqi Refugee Coordinator (2007-2009), and Commandant (Acting) of the National War College (2012-2014).
Ambassador Foley has worked closely with five Secretaries of State and conducted negotiations with heads of government and multilateral organizations around the world. Major achievements include successful mediation of border disputes and other issues to enable Croatia's accession to the European Union; open-ended negotiations with Haiti's political factions that helped lead the country from chaos to elections and restoration of constitutional rule; successful negotiations with the government of Syria and neighboring countries to bring assistance to Iraqi refugees and facilitate their resettlement in the United States; and launching of the Brown Forum, an annual conference of business and government leaders from the United States and the countries of Southeastern Europe to promote mutual trade and investment and business climate reforms.
Ambassador Foley has been a member of the Foreign Service since 1983. He served overseas tours in Manila (1984-1986) and Algiers (1986-1988) and as political advisor and speechwriter to former Secretary of State Lawrence Eagleburger (1989-1993). He was the Deputy Director of the Private Office of the NATO Secretary General in Brussels (1993-1996) and also served as U.S. Deputy Permanent Representative to the UN and other international organizations in Geneva (2000-2003).
Ambassador Foley is a graduate of the State University of New York at Fredonia (B.A. in English, 1979), the Institut d'Etudes Politiques in Paris (C.E.P in International Relations, 1980), and the Fletcher School of Law and Diplomacy (M.A.L.D. in International Relations and Security Studies, 1984).
Sources
U.S. Department of State. 19 September 2008. U.S. Department of State Archive, 2001-2009.state.gov/r/pa/ei/biog/93954.htm.
Foley, James B. LinkedIn.