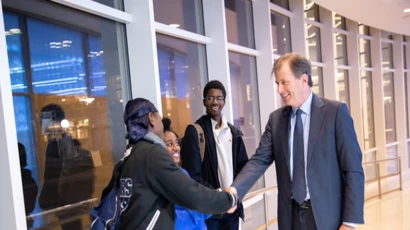 Past Events - Writers @ Work
Writers @ Work:
An Alumni Writers-in-Residence Series
Panel Discussion: Creating a Compassionate Well with Empathy in Action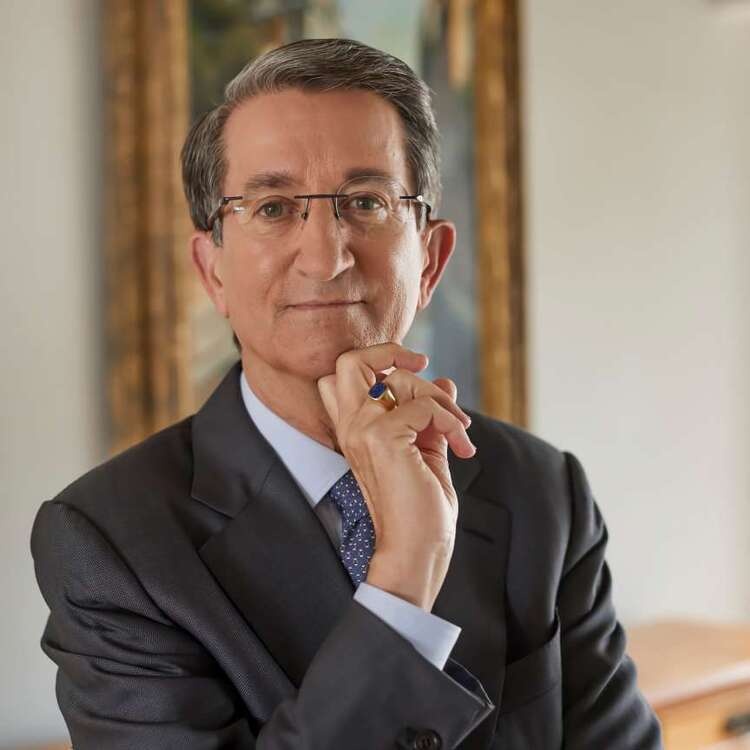 Followed by a reception and book signing of the lead panelist's book, "The Double Bottom Line: How Compassionate Leaders Captivate Hearts and Deliver Results," the panel will bring together a variety of leaders to share their insights on how compassion plays a role in leadership skills.
Lead Panelist:
Donato Tramuto, author, global health activist, and philanthropist
Guest Panelists: 
The Honorable Doug Essek, Mayor of the Village of Fredonia;
The Honorable Wilfred Rosas, Mayor of the City of Dunkirk;
Mike Tramuta, Life Coach
Stephen H. Kolison, Jr., Ph.D., President of SUNY at Fredonia
(Moderator) Paula Peters, Associate Professor and University Faculty Senator
Tramuto is widely recognized for his commitment to social change and transformational leadership in healthcare innovation. He has received numerous awards for his commitment to social justice including the prestigious Robert F. Kennedy Ripple of Hope award in 2014 and the RFK Embracing His Legacy award in 2017.  Tramuto is also the Founder and Chairman of The TramutoPorter Foundation and Health eVillages, which advances young people's rights to education and healthcare access and combats human rights violations. He is the author of two books, including his most recent book, "The Double Bottom Line: How Compassionate Leaders Captivate Hearts and Deliver Results." Tramuto has received Honorary Doctorate Degrees from UMass at Lowell, Lasell University, Thomas Jefferson University, St. Joseph's College, and Regis College. 
SPONSORS:
Faculty Student Association ◆ Carnahan Jackson Humanities Fund of the Fredonia College Foundation ◆  Campus Life  ◆ Student Association  ◆ Steinberg Endowment  ◆ Office of the President  
SERIES PARTNERS:  
Alumni Affairs ◆ Career Development Office ◆ English Department ◆ Fredonia Honors Program ◆ School of Business  
ADDITIONAL RESIDENCY PARTNERS:  
Campus Life  ◆ Fredonia Honors Program  ◆ Office of the President ◆ Student Association Recognized Groups
From Superfoods to Superheroes: Alumni Jakera Cooper Willis and Jordan Willis
April 20–23, 2022 – Jakera Cooper Willis (Psychology, '15) and Jordan Willis (Visual Arts and New Media, '14)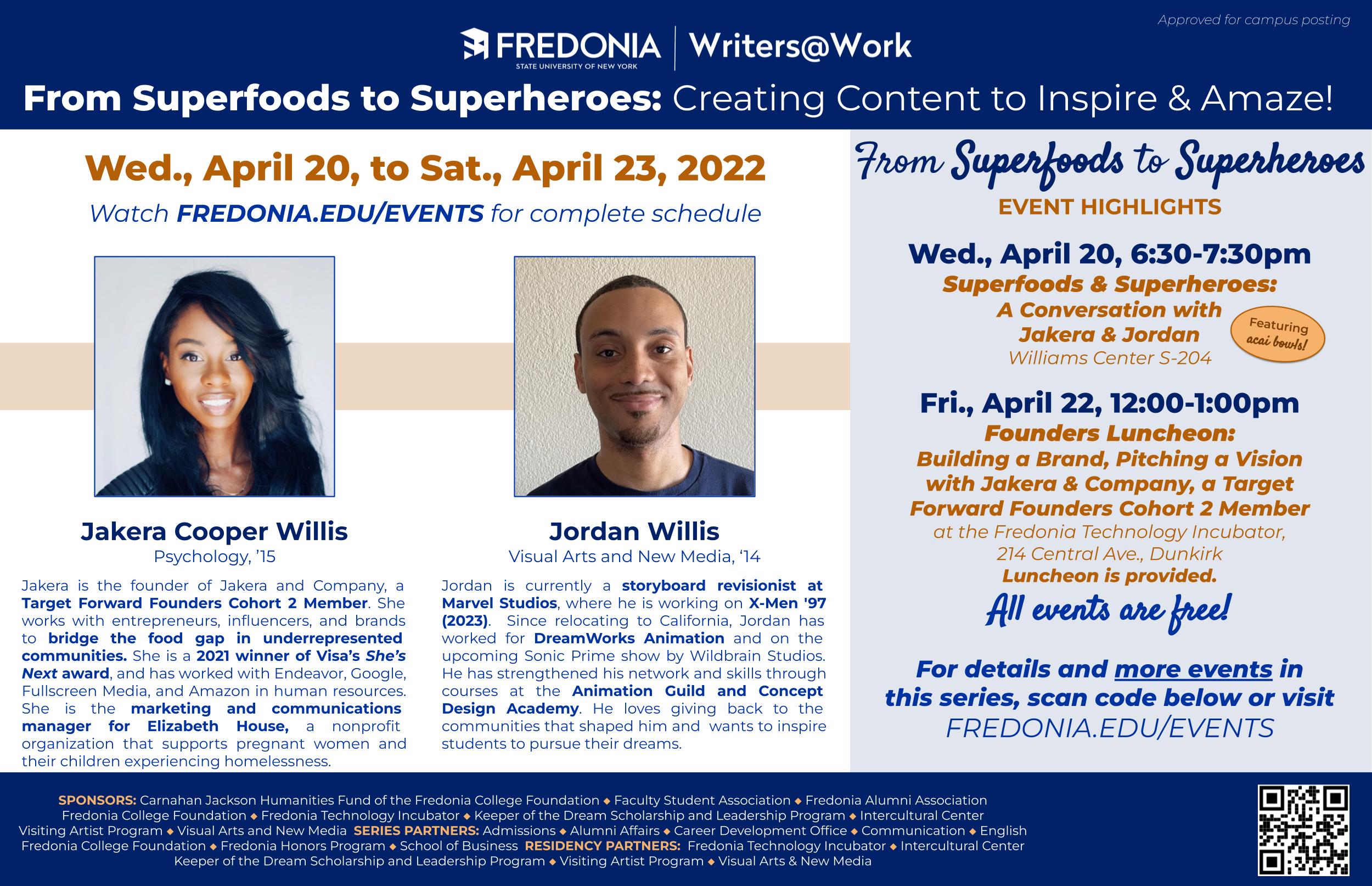 FEBRUARY 7th-8th, 2022: My Radiant Journey: Service Through Science — A Chemist's Perspective 
Featuring Dr. Lori Ana Valentín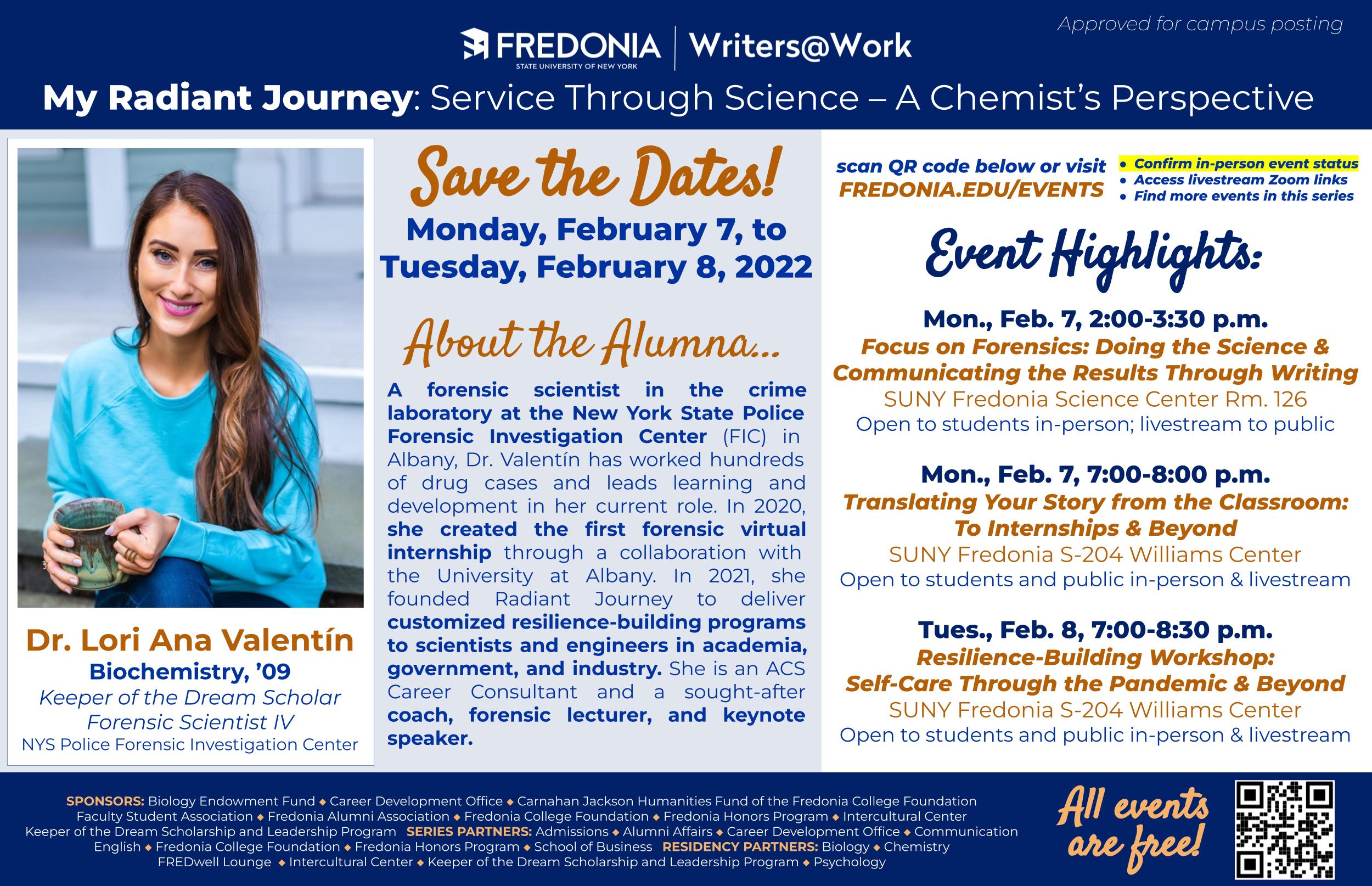 OCTOBER 14-16, 2021: Finding the Truth: Careers with the FBI
Featuring Deneen Hernandez and Lisa Mapes Matsumoto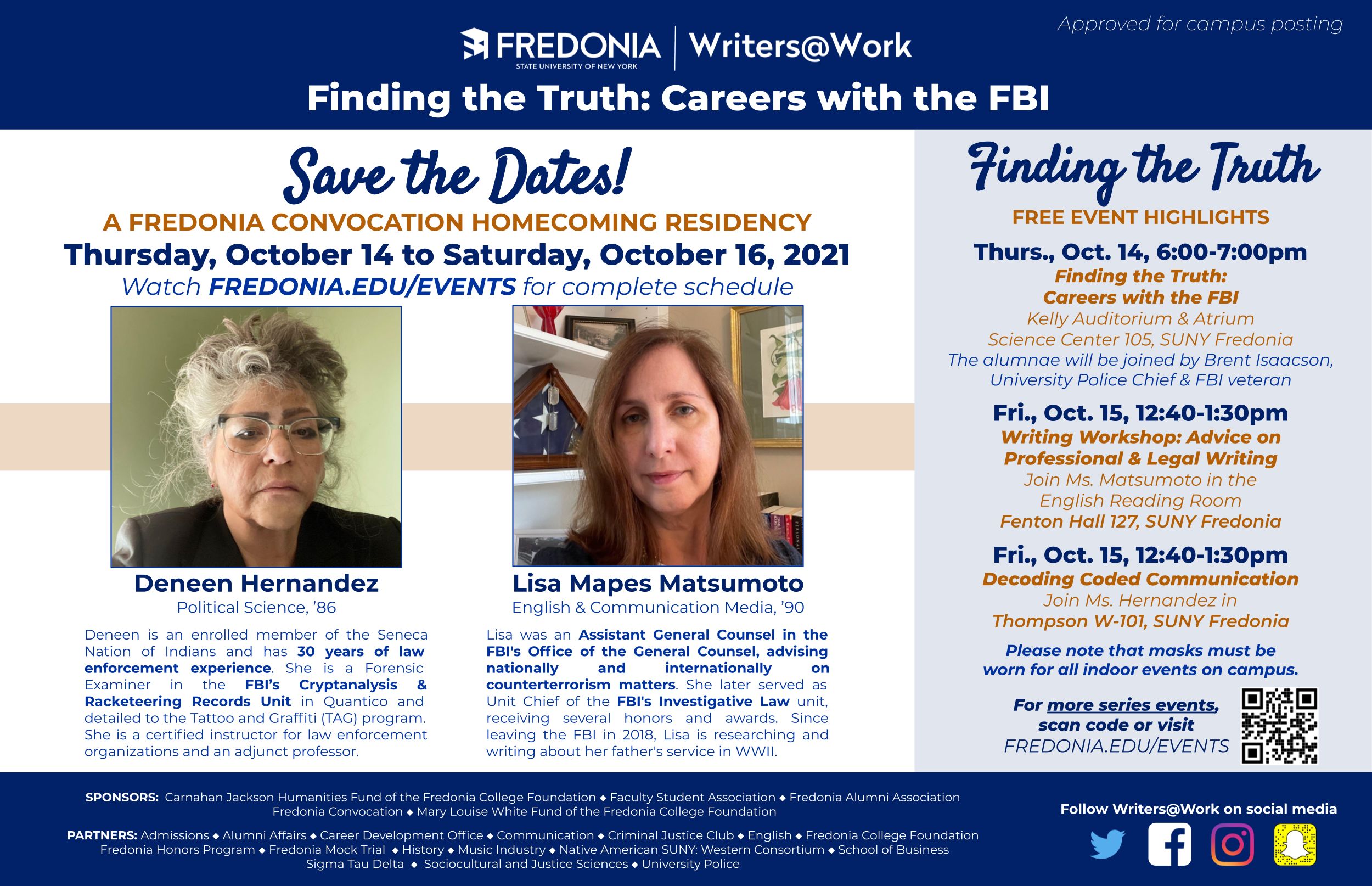 APRIL 8-10, 2021: Be the Change: Young Alumni Changemakers
Featuring Zachary Beaudoin, Justin Cunningham, and Jakera Cooper-Willis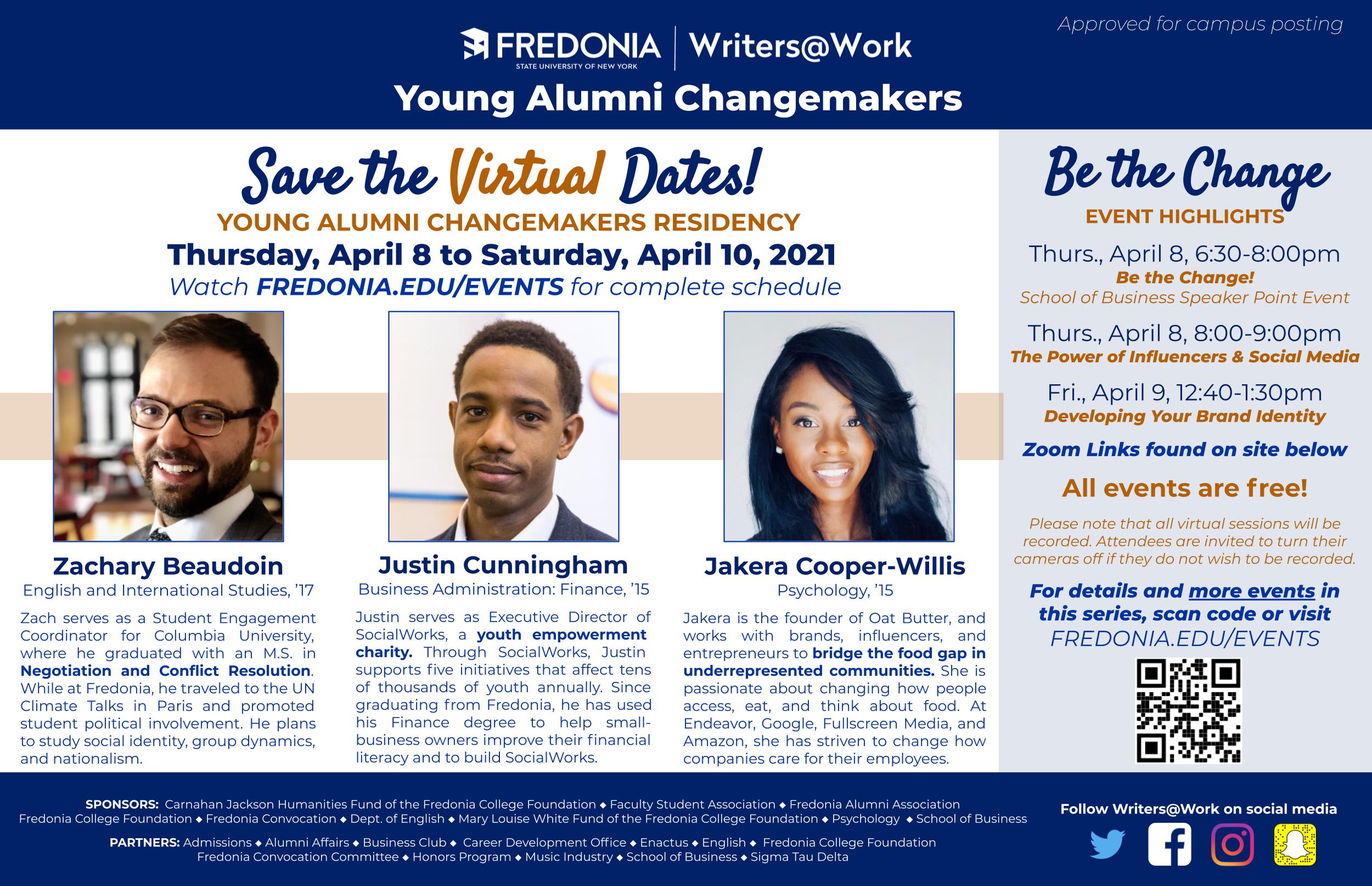 MARCH 4-6, 2020: Be the Change: Shaping Success in the Workplace and Finding Your Passion
Featuring Josh Schneider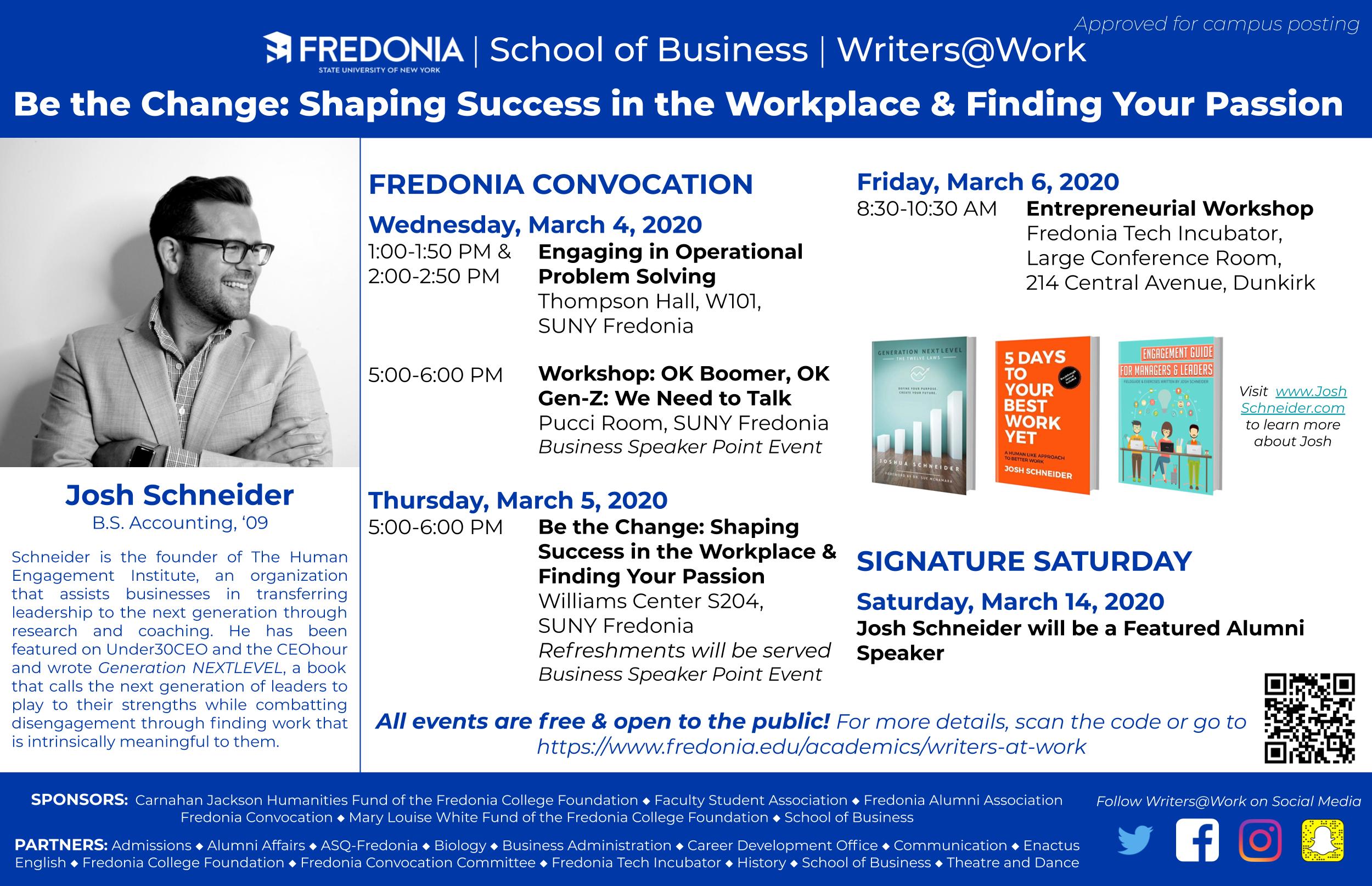 NOVEMBER 7-8, 2019: GRAMMYS Spotlight: Alumni on Writing Your Way in the Music World
Featuring Anthony Cassuccio, Kent Knappenberger, and Nannette Knappenberger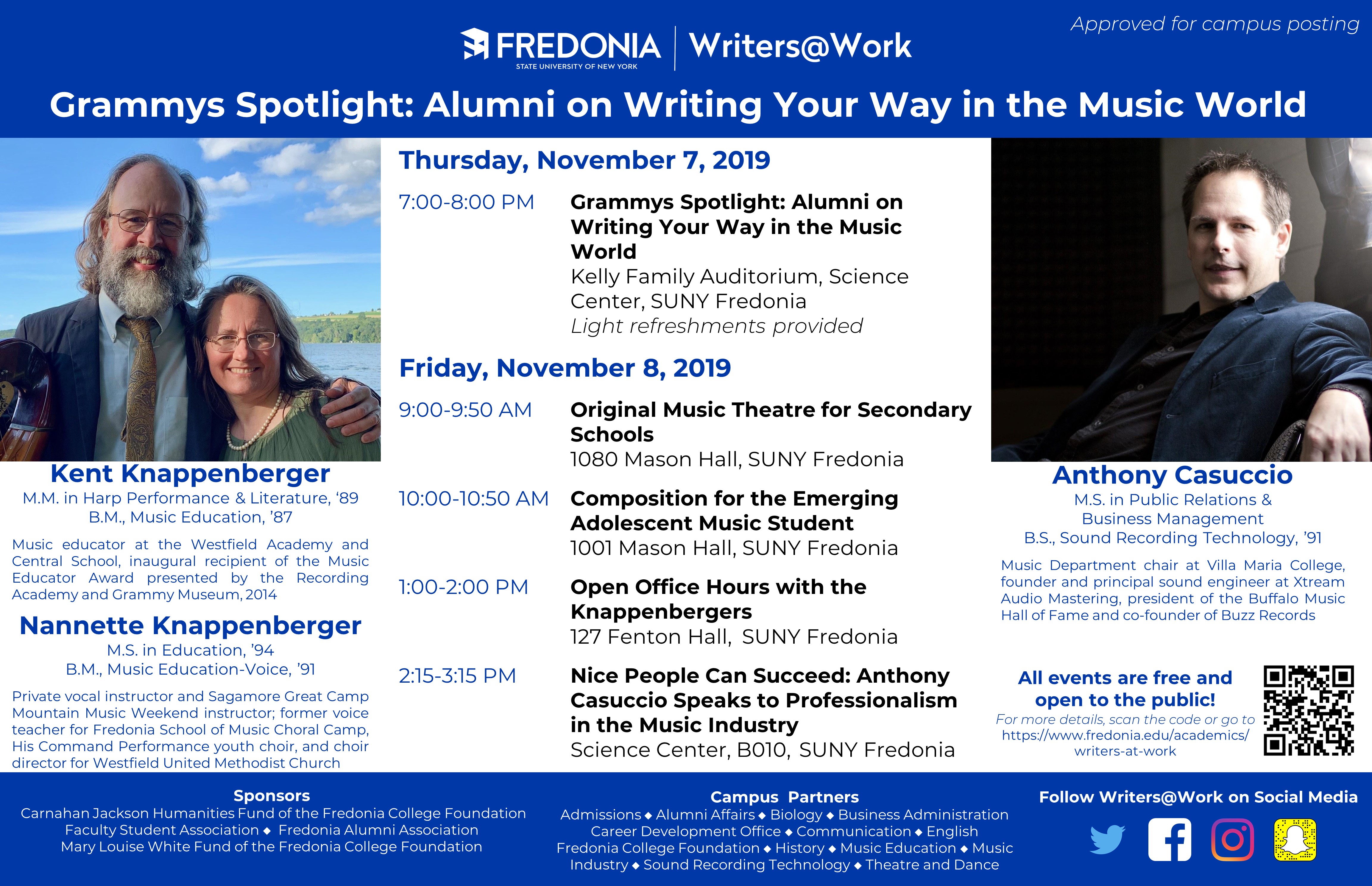 SEPTEMBER 19-21, 2019: ALUMNI AT WORK: CAREER TIPS AND COMMUNITY ENGAGEMENT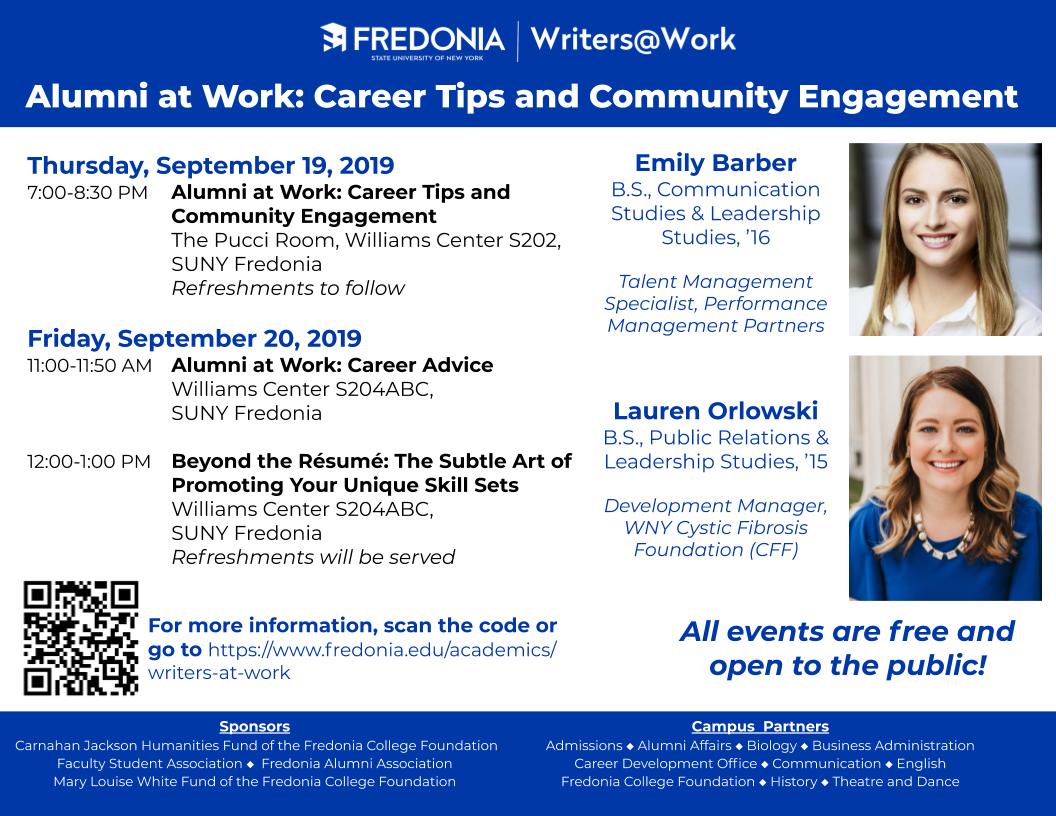 APRIL 4-6, 2019: YOUNG ALUMNI SHARE TIPS ON ACHIEVING SUCCESS FOUR YEARS OUT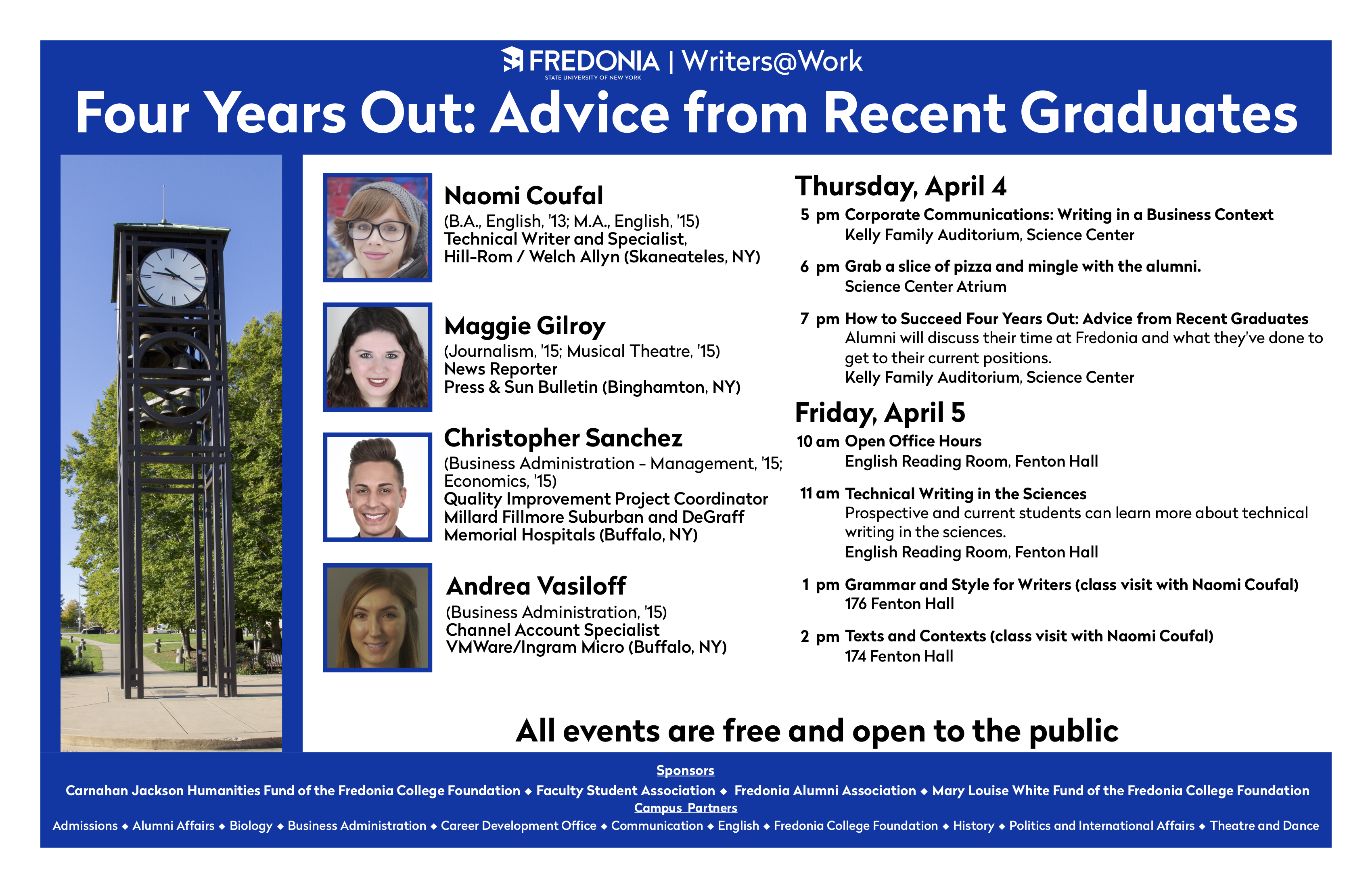 Los Angeles Times Journalist and Alumnus Scott Martelle (Political Science, 1984) to Discuss the Role of a Free Press in the Trump Era (March 24-26, 2019)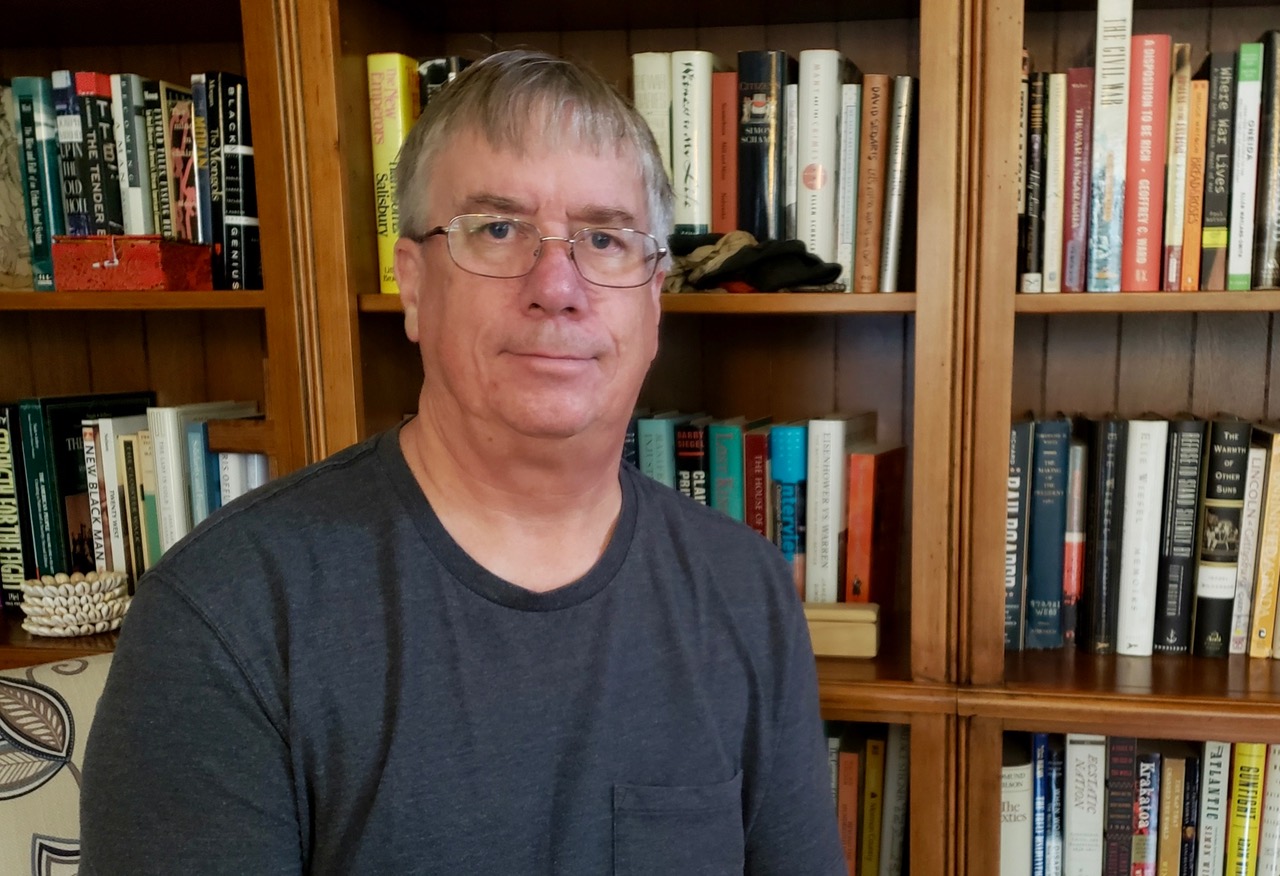 On March 24-26, the State University of New York at Fredonia welcomes back alumnus and Los Angeles Times journalist Scott Martelle (Political Science, 1984) for "Skipping through Chaos: Journalism in the Trump Era," a three-day residency highlighting the role and importance of an aggressive press, especially in the Trump era, as well as the art of writing books of history through a journalistic prism for a general audience. These events are cosponsored by the Writers@Work Alumni-in-Residence Series and the Department of History.
Martelle, who is an editorial writer for the Los Angeles Times, has written about capital punishment, climate change, immigration, gun policy, and some labor issues. Before becoming an editorial writer, he spent more than three decades in newsrooms with assignments ranging from local features to three presidential campaigns to post-war Kosovo. Martelle is also the author of six history books, including William Walker's Wars: How One Man's Private American Army Tried to Conquer Mexico, Nicaragua, and Honduras (Chicago Review Press, 2018).
A 1984 graduate in Political Science from the State University of New York at Fredonia, Martelle was the editor-in-chief of The Leader. Martelle was already working as a journalist during his teens for the Wellsville Daily Reporter. After college, he worked as a journalist in Jamestown and Rochester then Detroit, Michigan, before moving to California in 1997 to write for the Los Angeles Times.
All events listed below are free and open to the public.
On Sunday, March 24, at 4:00 pm in the Williams Center room S204ABCD, Martelle will engage in an open dialogue entitled "An Enemy of the People" about the role and importance of an aggressive press, especially in the Trump era. Martelle, who will be introduced by Sean Kirst (English, 1981) and joined by Elmer Ploetz, Associate Professor of Journalism, will take questions from the audience.  
On Monday, March 25, there will be a student-writing workshop in McEwen 106 (Story Lab) from 3:00-4:20 pm where Martelle will discuss the craft of writing and different techniques to rely on in hard news stories, features (long- and short-form), and opinion pieces.
On Tuesday, March 26, from 8:30 to 9:20 am in Fenton 127, campus and community members can join Martelle for a light breakfast as he reads the day's headlines and opines on them.  
Martelle will also offer two open-office hours, giving campus and community members the opportunity to speak with him in a smaller setting, on Monday, March 25, from 12:00-1:00 pm in Thompson E329 as well as Tuesday, March 26, from 2:00-3:00 pm in Fenton 127. Students will have a chance to speak with Martelle one-on-one, and are welcome to bring current projects for feedback.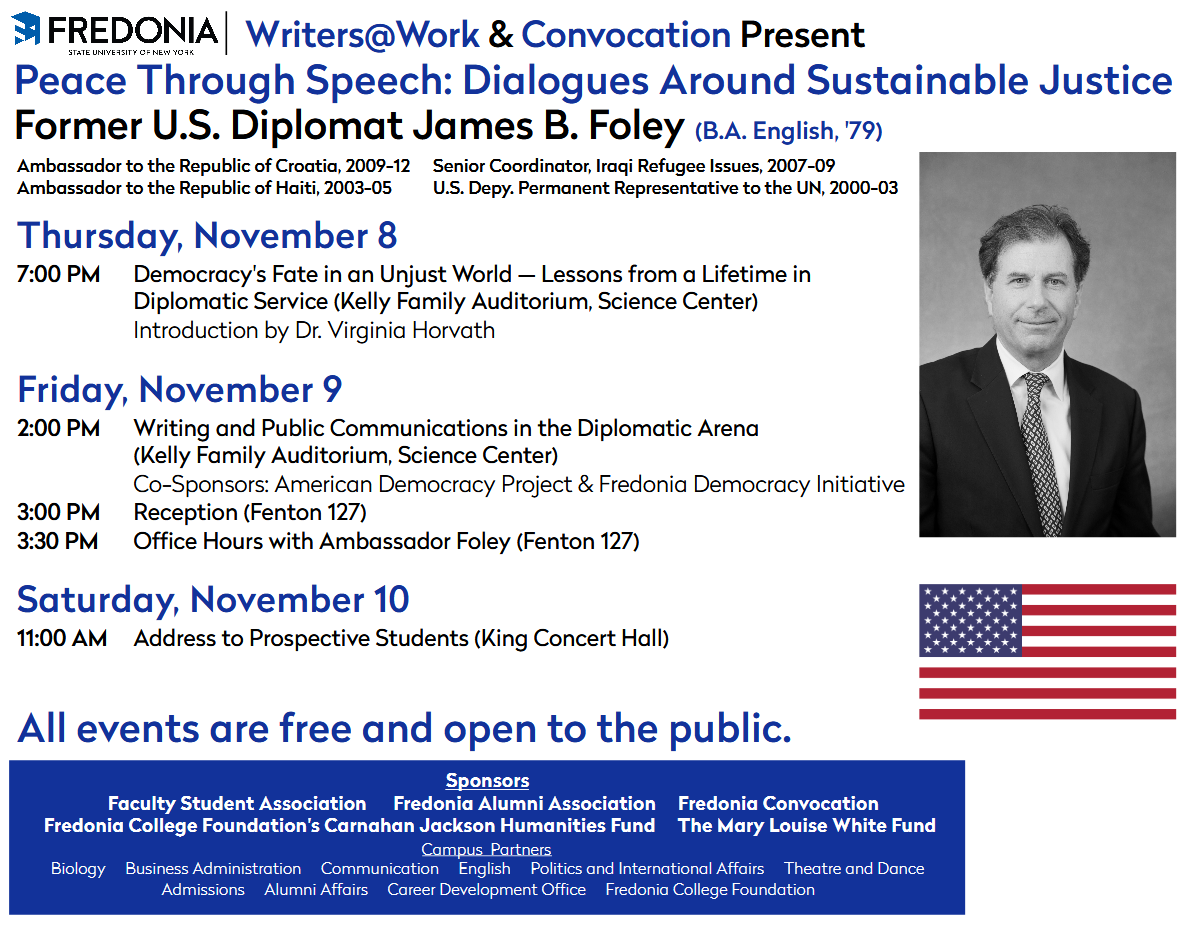 On Thursday, November 8, through Saturday, November 10, 2018, former U.S. Ambassador James B. Foley was in residence at Fredonia giving a series of free public events entitled "Peace Through Speech: Dialogues Around Sustainable Justice." His visit is organized by Writers @ Work in collaboration with Fredonia Convocation, the Department of Politics and International Affairs, the American Democracy Project and the Fredonia Democracy Initiative.
With over thirty years of service with the U.S. Department of State and various overseas diplomatic initiatives, including posts as the U.S. Ambassador to both the Republic of Haiti and the Republic of Croatia, as well as Senior Coordinator, Iraqi Refugee Issues, Foley brings a wealth of knowledge and experience in the art of international negotiation and mediation. Students looking towards a future in international affairs and members of the community interested in gaining a new perspective on U.S. foreign policy found Ambassador Foley's information to be invaluable.
September 20-22, 2018: Working for Nonprofits

Heather McKeever, '00
Communication: Media Management

Rich Ryan, '04
Communication: Public Relations

Carol Pulver, '90
Computer Science and Mathematics
Thursday, September 20
7:00–8:00 p.m.: "Advancing the Common Good: Working for Nonprofits" (Panel Discussion with Rich Ryan and Heather McKeever)
Refreshments will be served. Location: Fenton Hall 105
Friday, September 21
9:00 a.m.–12:00 noon:  Mini-Intensives on Nonprofit Writing.
These free workshops are open to students only. Location: Williams Center S204ABC
9:00–10:00 a.m.:  Heather McKeever, Writing for Nonprofits: From the Desk of the Executive Director"
Explore the art of persuasive writing, how to tell a story, and make "the ask." McKeever will also address the importance of stewardship and cultivation and building relationships through personal notes, as well as the simple act of saying thank you to build lasting donor support. 
10:00–11:00 a.m.: 
The 37,000 square-foot museum delivers an interactive exhibit experience for visitors through more than 75 exhibits and archival pieces, as well as innovative programming to cultivate future writers, directors, and performers. Ryan will focus on utilizing comedy writing – either his own or from others – to make the case for financial support of the National Comedy Center.
11:00 a.m.–12:00 p.m. Carol Pulver, "The Art of Writing SOPs [standard operating procedures]"
Learn about the great need for technical writers with this competency. Pulver will discuss the significance of each section of Frontier Science's SOP template, guidance in completing the template, as well as the interesting issues that had to be resolved in order to finalize the template. A brief overview of clinical trials and the importance of SOPs in conducting research, along with explaining why SOPs are essential to software development and validation, will also be included.
12:00–1:00 p.m. Appearance on High Noon Friday (WDVL, 89.5 FM; WCVF, 88.9 FM)
Ryan and McKeever will be interviewed on the campus student radio station.
Second Annual "Four Years Out"
April 5-7, 2018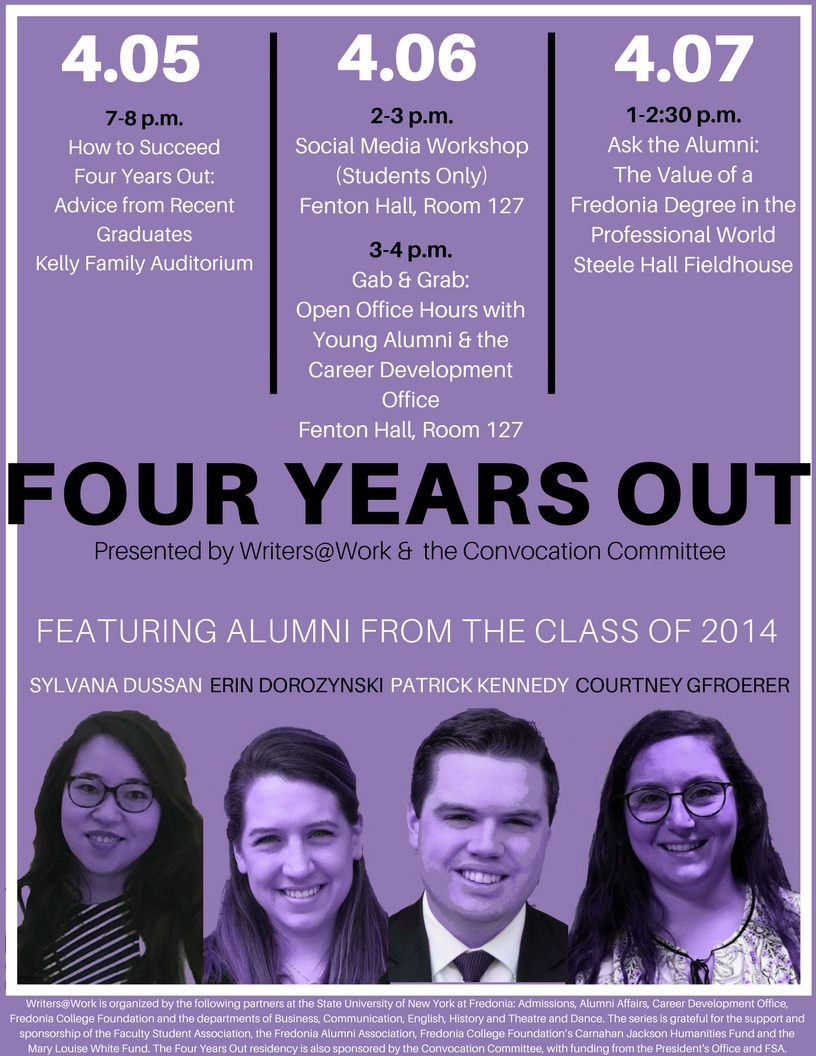 Four successful alumni from the Class of 2014 will return to Fredonia to discuss their post-graduation paths and share tips about professional writing, especially social media, at the second annual Four Years Out residency, from Thursday through Saturday, April 5 to 7, as part of Writers@Work: An Alumni Writers-in-Residence Series in collaboration with the Convocation Committee.
Over three days packed with talks, class visits, a hands-on workshop and informal conversation, Erin Dorozynski, management development program coordinator at GEICO in Buffalo; Sylvana Dussan, social media coordinator at the National Governors Association in Washington, D.C.; Courtney Gfroerer, coordinator of public relations, marketing and communication projects at Elderwood Administrative Services, Buffalo; and Patrick Kennedy, communications director for New York State Assembly Member Monica Wallace (D-Lancaster), will share their post-graduation journeys.
Each will explore how their own experiences, both in and beyond classrooms at Fredonia, prepared them for success in their respective fields. Special emphasis will be given to the strategic use of social media – and the importance of professional writing more generally – in a variety of corporate and public sector occupations.
This year's alumni contingent reflects the broadest range of majors and careers in the history of the Writers@Work series, which has brought 15 alumni writers to campus since 2016.
All events listed below are free and open to the public.
Schedule of Events:
Thursday, April 5, from 7–8 p.m.
How to Succeed Four Years Out: Advice from Recent Alumni
In this public talk, Alumni will discuss their post-graduation paths and take questions from the audience. Emphasis will be given to writing for social media and other print and online spaces.
Location: Science Center, Room 105 (Kelly Family Auditorium)
Friday, April 6, from 2–3 p.m.
Social Media Workshop: How to Craft a Successful Social Media Strategy
In this students-only writing workshop, alumni will discuss the role of social media in their professions and share tips for crafting a successful social media strategy. Students interested in writing for other media are encouraged to attend as well and pose questions during the Q & A.
Location: Fenton Hall, Room 127 (English Reading Room)
Friday, April 6, from 3–4 p.m.
Gab & Grab: Open Office Hours with Young Alumni and the Career Development Office
(Cosponsored by the Career Development Office)
In this event cosponsored by the Career Development Office (CDO), grab a slice of pizza and have an informal conversation with these young alumni and with the CDO about how to land your first job out.
Location: Fenton Hall, Room 127 (English Reading Room)
Saturday, April 7, from 1–2:30 p.m.
Ask the Alumni: The Value of a Fredonia Degree in the Professional World
Prospective students and their families can ask these young alumni about their experiences at Fredonia and the value of a Fredonia degree in the professional world.
Location: Steele Hall Fieldhouse
March 22 - 24, 2018
featuring
Sarah T. Schwab, NYC-based playwright and filmmaker
and 
Brian Long, NYC-based film and theater producer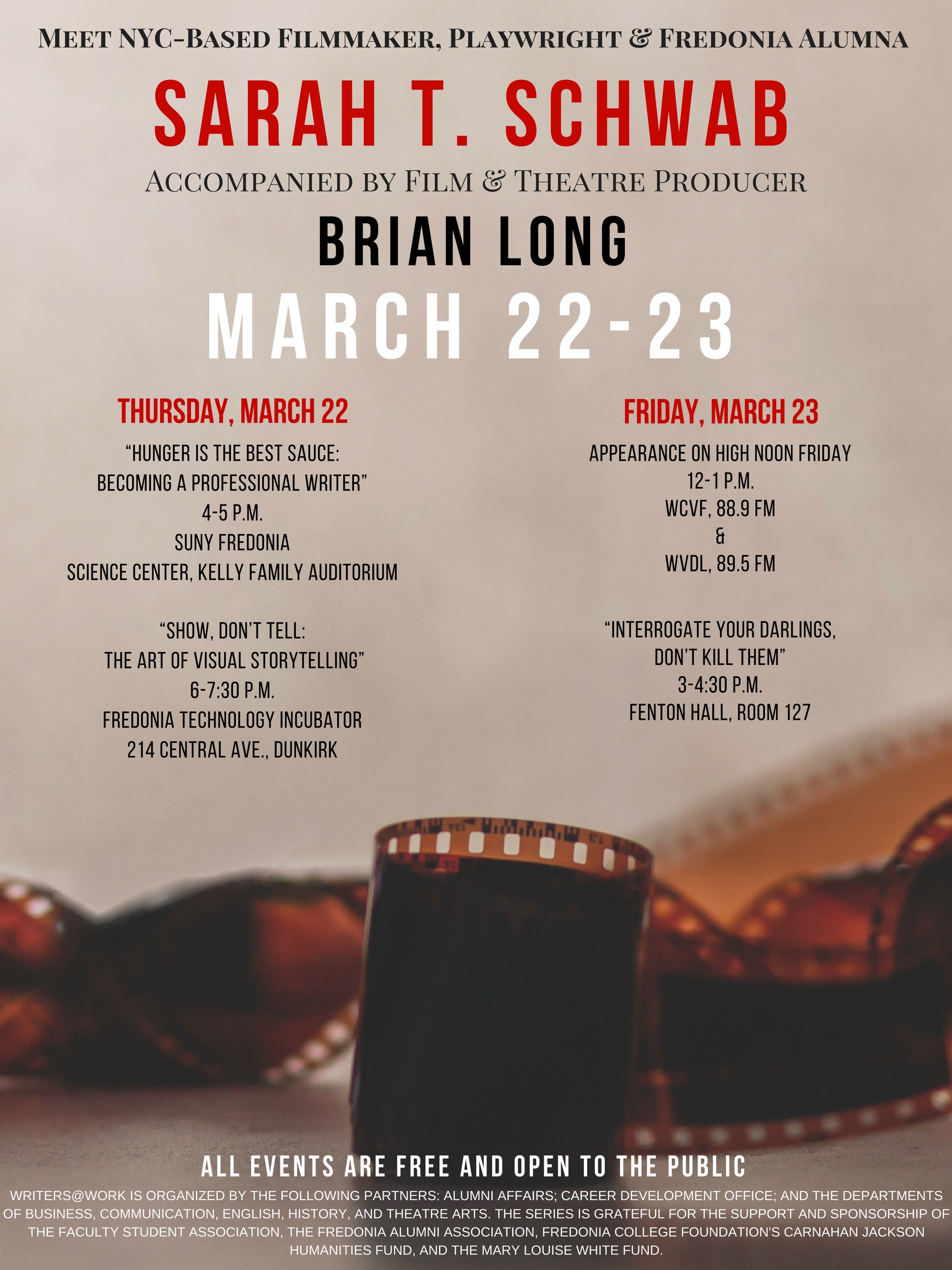 November 9 - 13, 2017
featuring
Wendy Corsi Staub, New York Times-bestselling author
and
Lucia Macro, a HarperCollins executive editor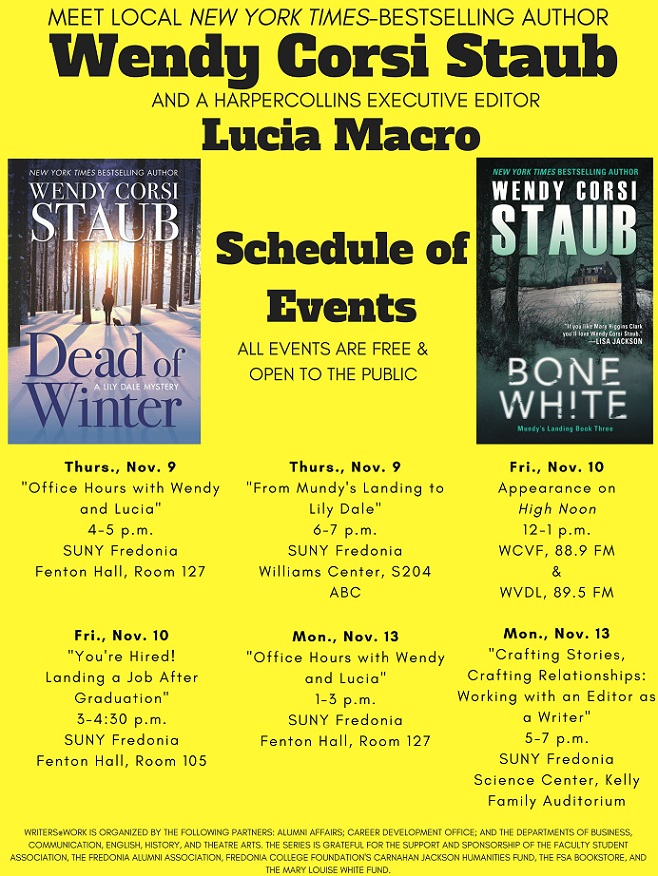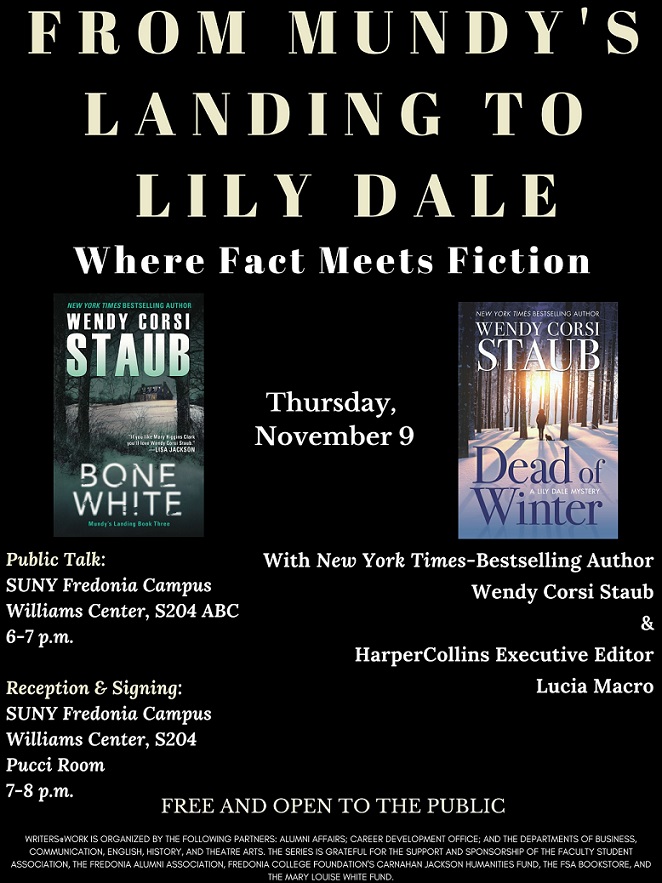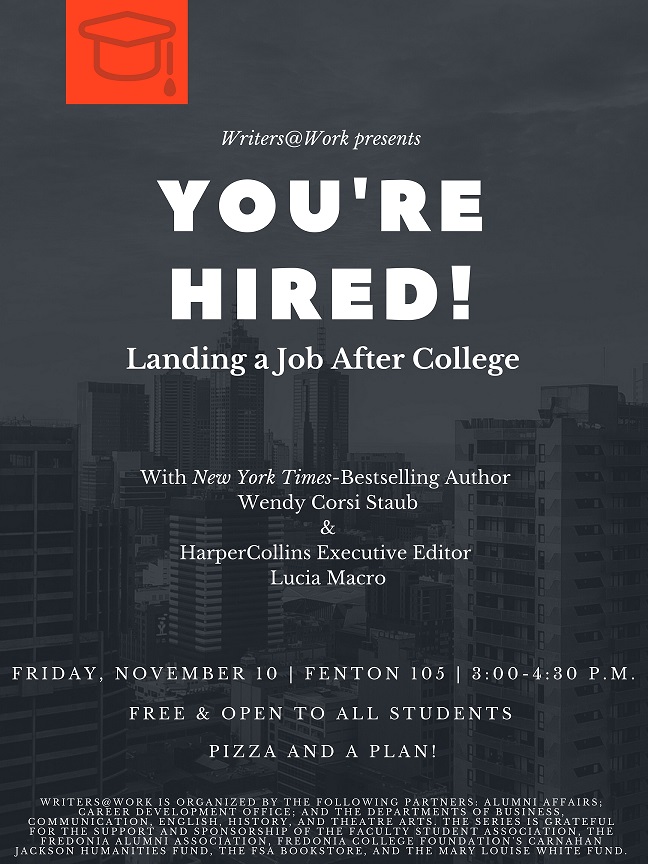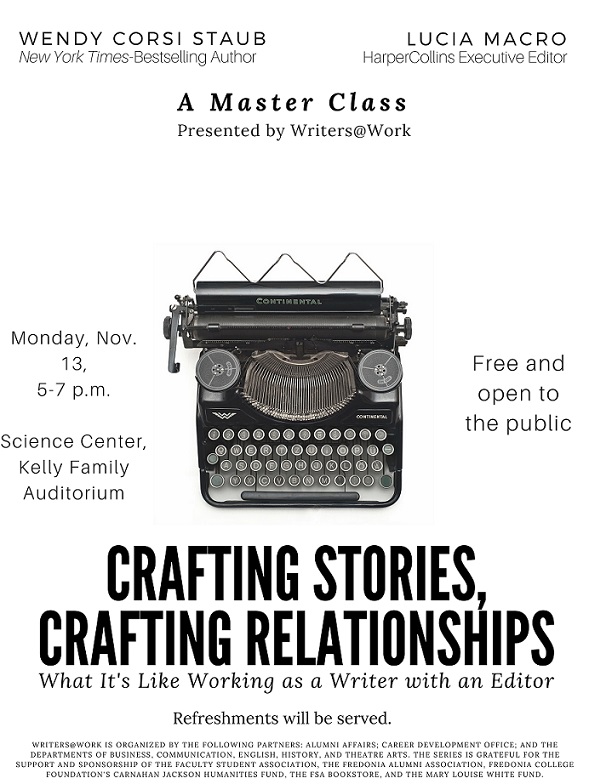 ---
October 12 - 14, 2017
featuring
Jim Ranney, Communications Director for NYS Senator Patrick Gallivan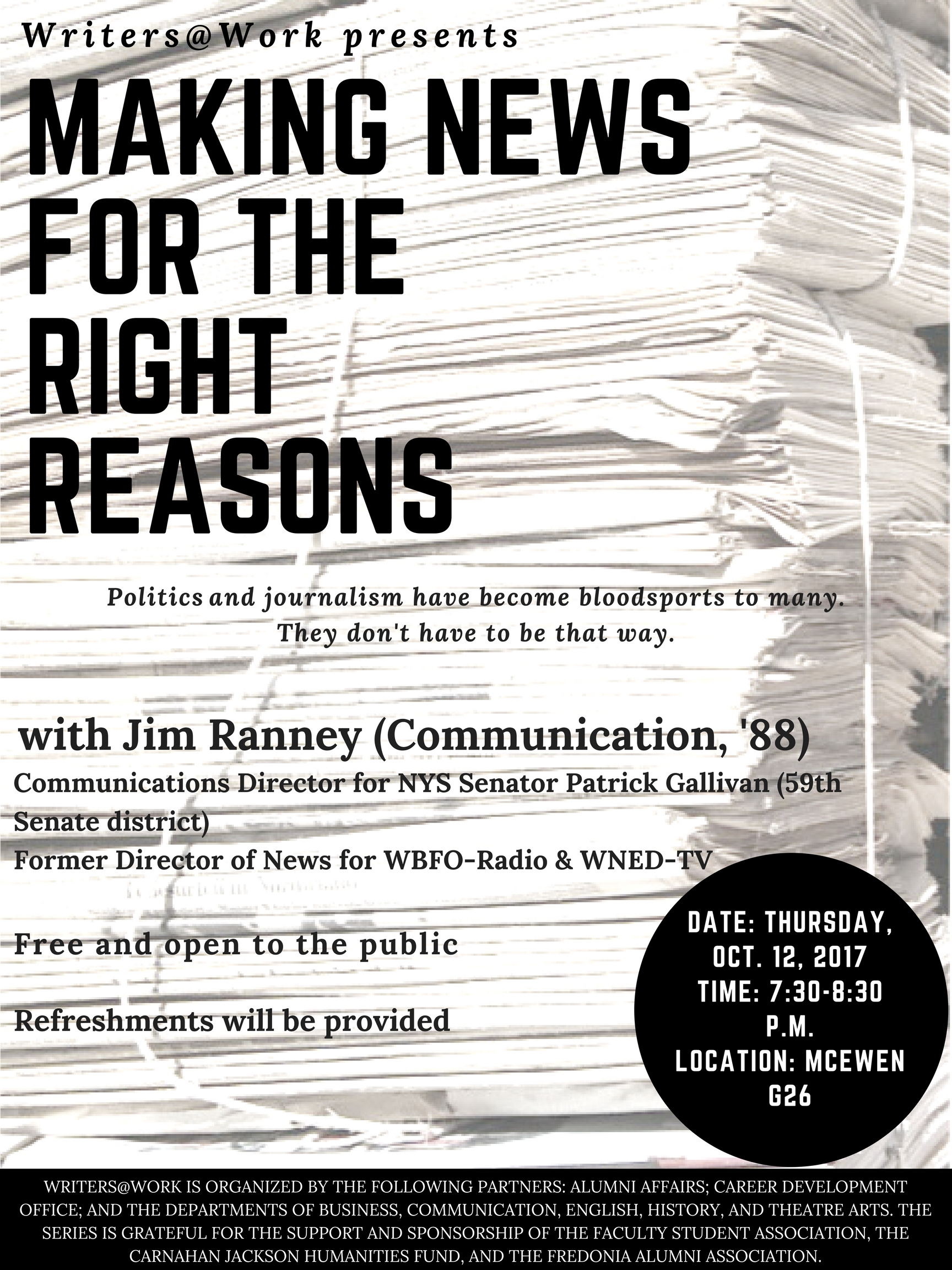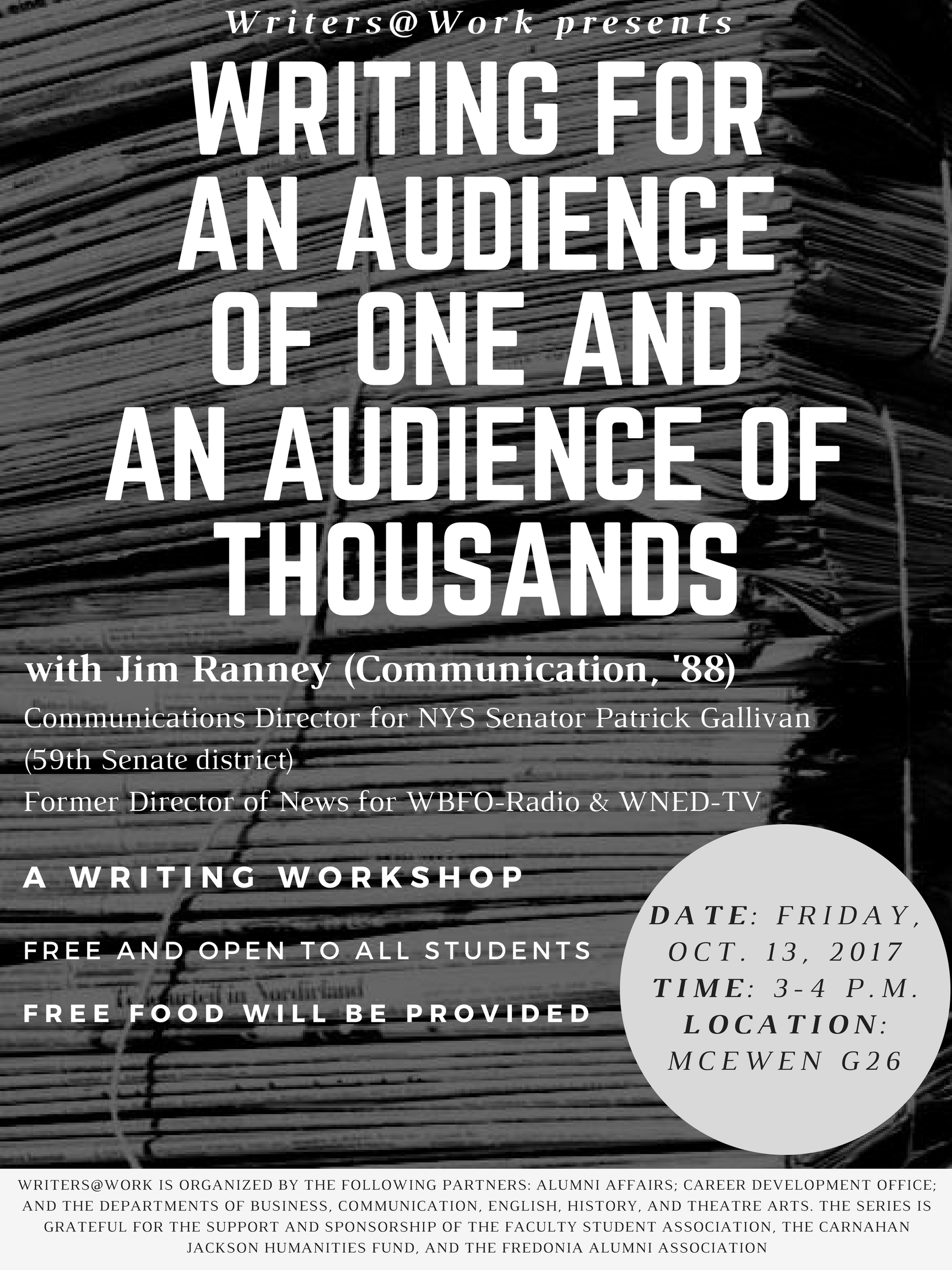 ---
April 7 - 8, 2017
Class of 2013 Young Alumni
featuring
Keah Brown, Christina Stock, Ethan Powers, and Kelley Lord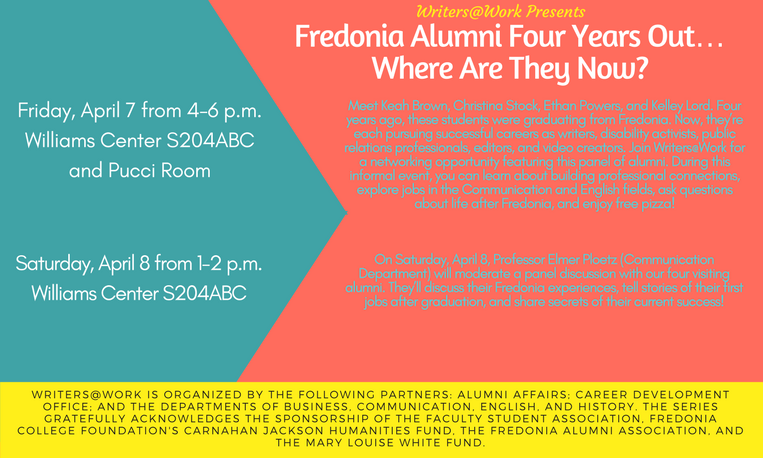 ---
February 19 - 20, 2017
featuring
Mark Anthony Neal, Duke University Professor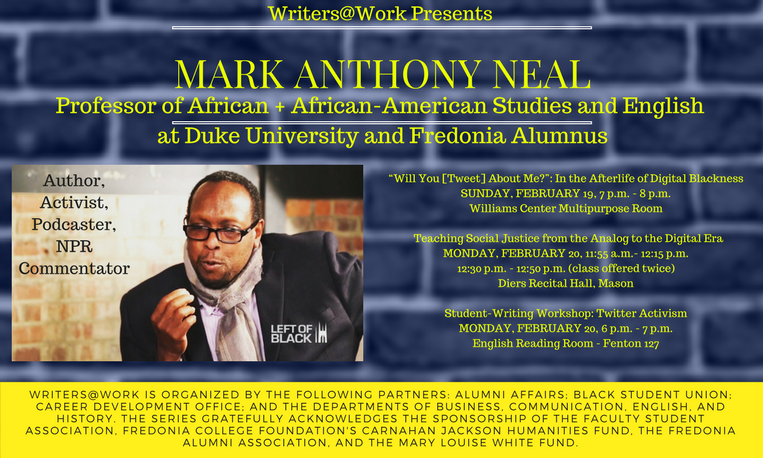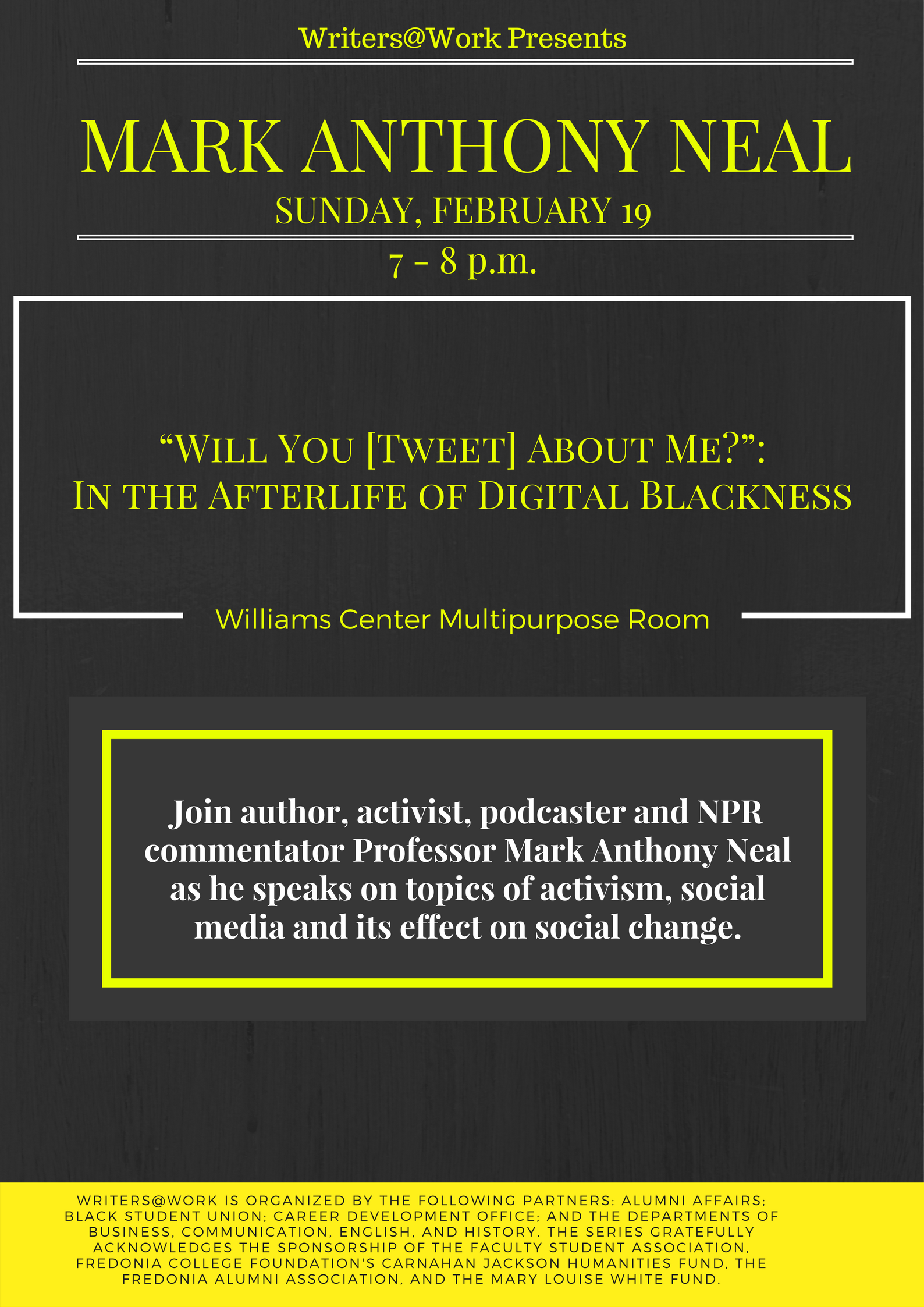 ---
November 3 - 5, 2016
featuring
Phil Zimmer, Local Historian and Author
Thursday, November 3
Writing History for a Public Audience and Specialty Magazines
Knowing who our audience is when we write is extremely important. The audience we are writing for can shape our choice of subject, the questions we ask about that subject, and the story we ultimately tell. The papers and essays we write for our classes are almost always intended for an academic audience, for those who have degrees in History or who are pursuing degrees in History. How is writing History for a general audience different from writing for an academic audience? This workshop will explore techniques and strategies for writing for a general audience, using Phil Zimmer's unique PHD (Personalize - Humanize - Dramatize) approach.
English Reading Room | 4 - 5:30 PM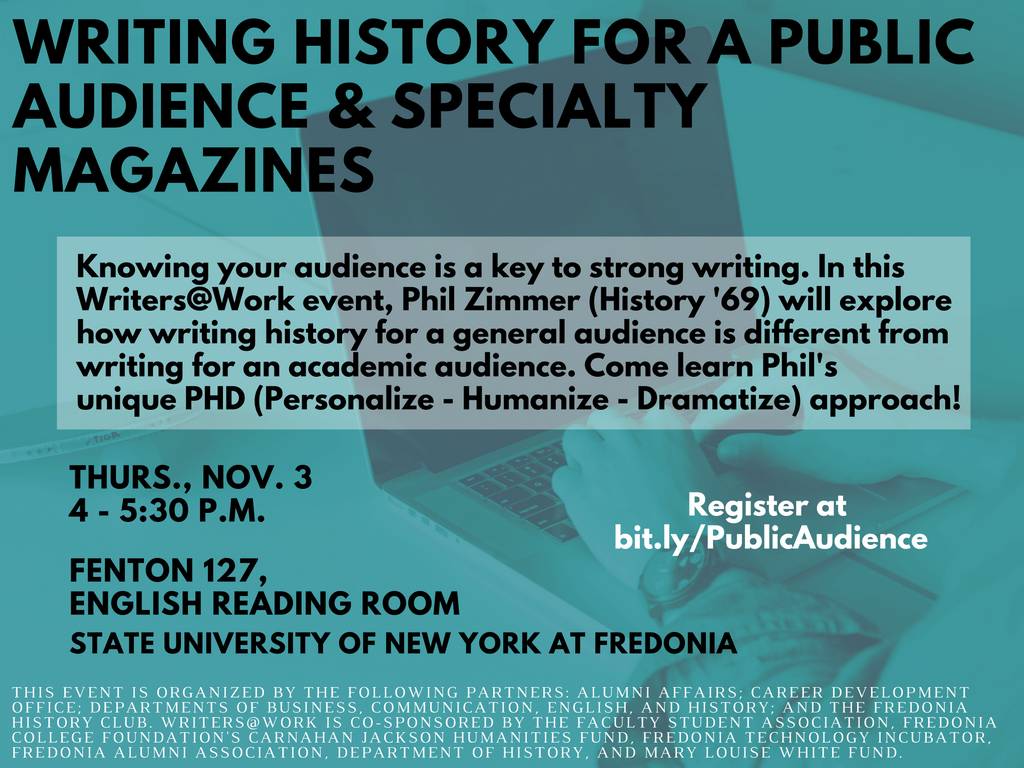 Friday, November 4
Working with Editors | Student writing workshop
Topics at this workshop will include: "how to pitch a story idea to an editor, the use of gentle persistence, how to get a busy editor to respond to a query, and ways of identifying his/her specific writing style preferences. Methods for stretching a writers comfort zone would be included as well."
Fenton Reading Room | 3 - 4:30 PM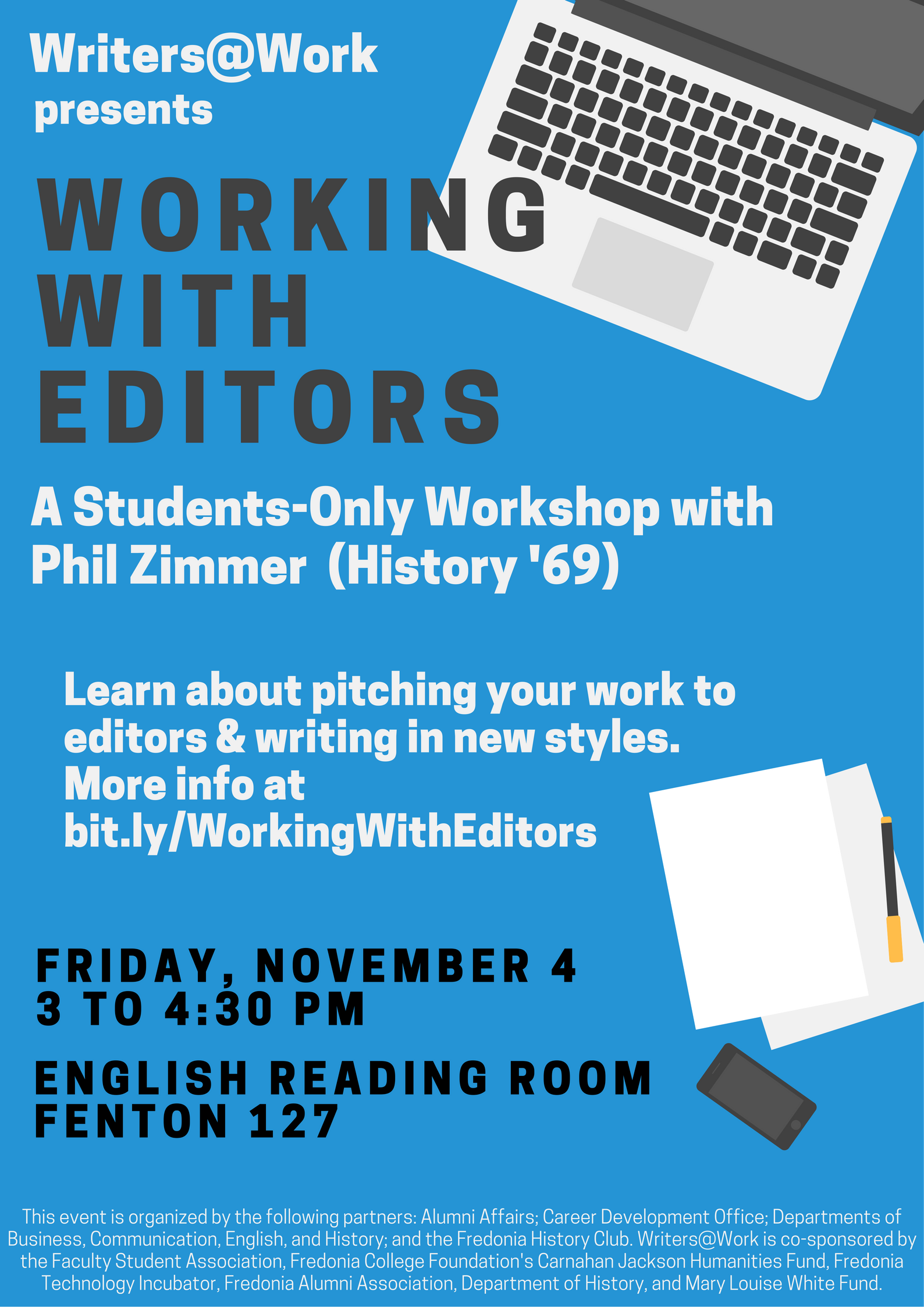 Saturday, November 5
Veterans Panel Moderated by Phil Zimmer and Greg Peterson
Fredonia Technology Incubator | 11 AM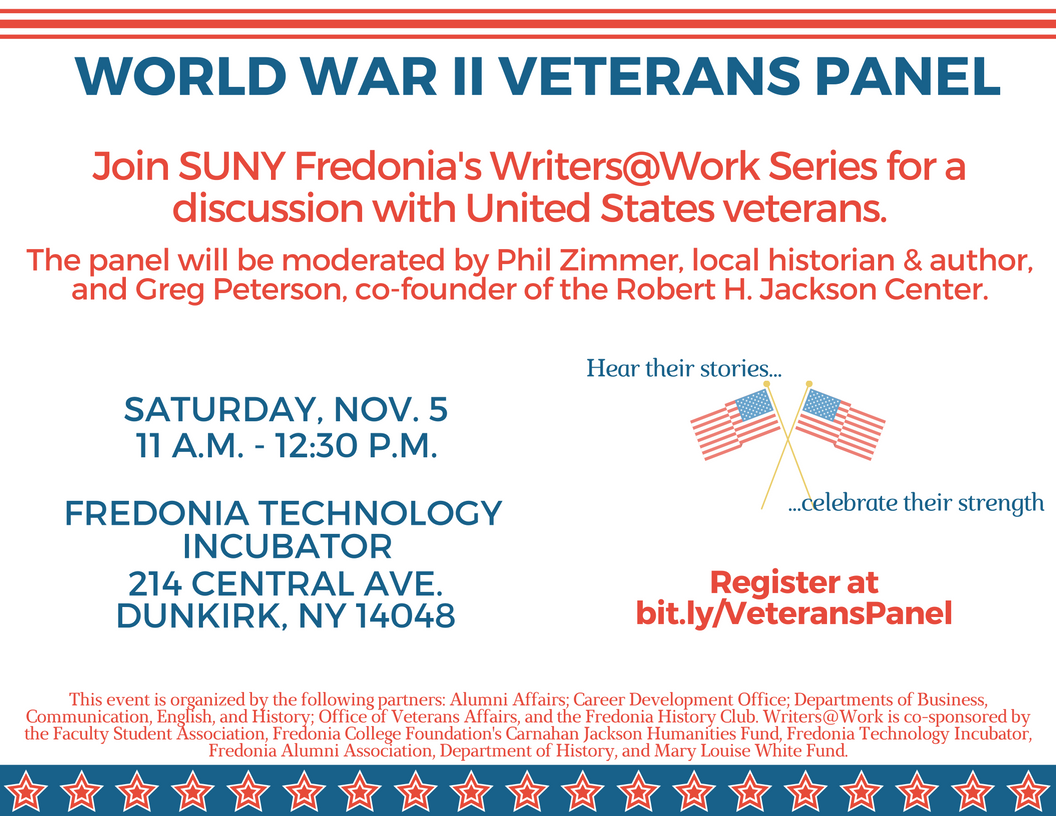 ---
October 10, 2016
featuring
Gina Browning, Director of Public Relations at SPCA Serving Erie Country

Monday, October 10
3 PM- #WeDon'tTalkAnymore (So Let's Write Better)
A writing workshop open to all students.
Williams Center S204AB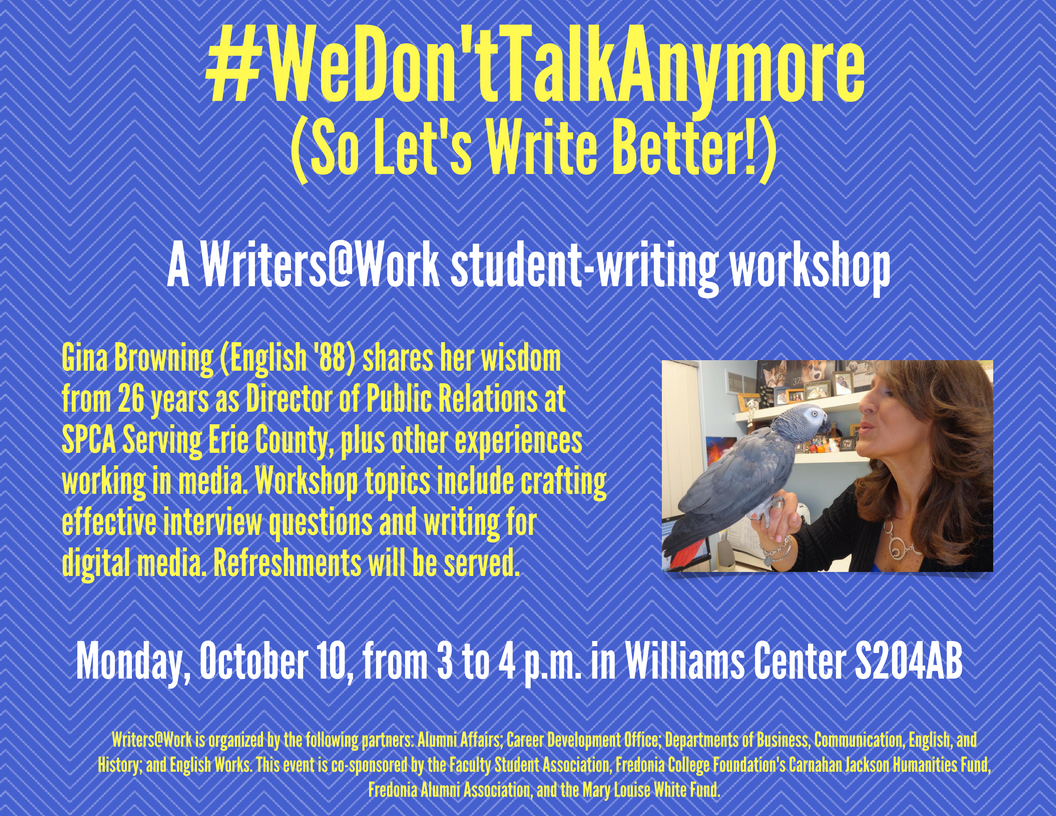 7 PM I'm Not that Great Out Loud... But, Boy, Can I Write!
A public talk on where writing can take you.
Kelly Auditorium | Science Center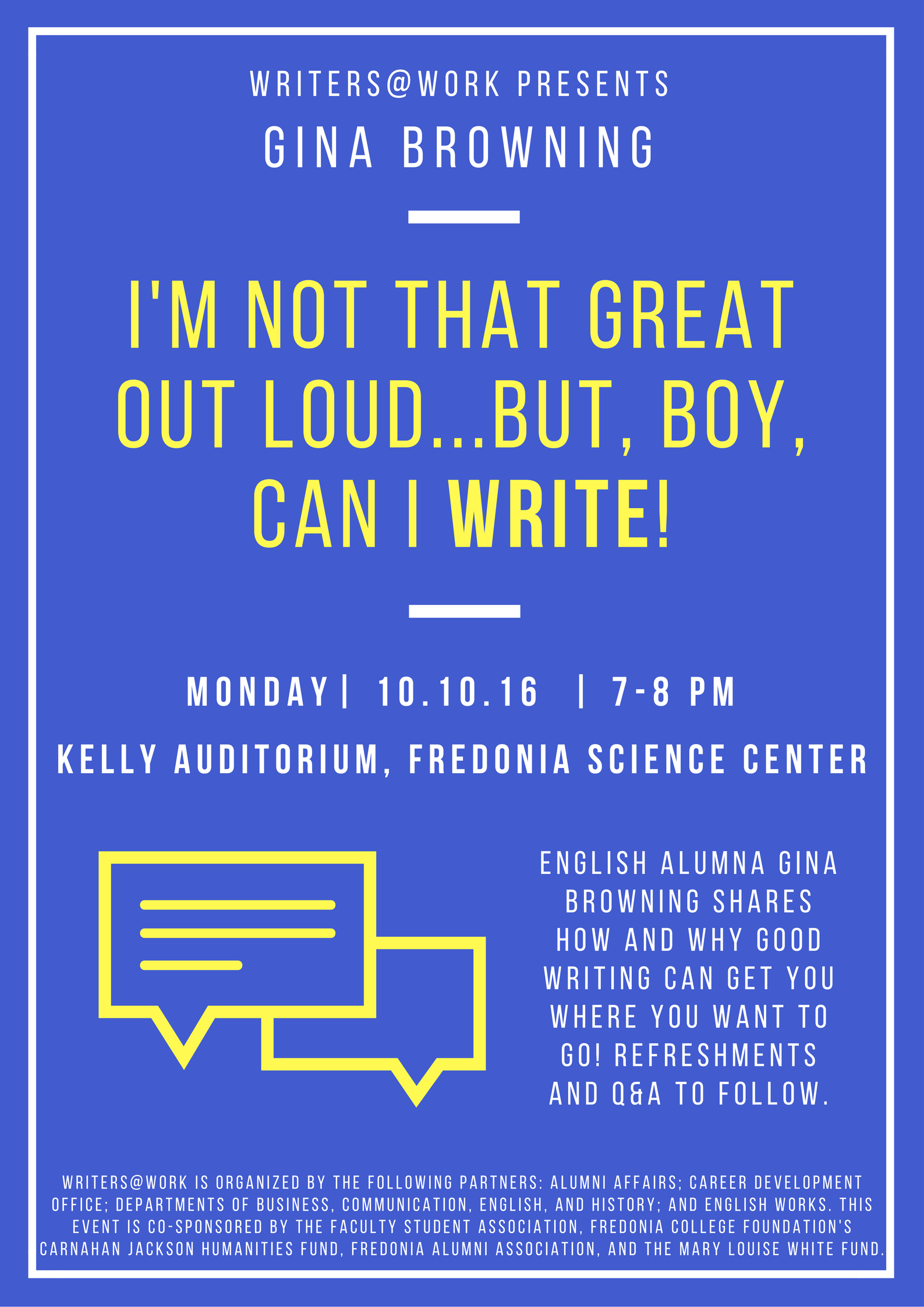 ---
April 7 - 9, 2016 
featuring
Sean Kirst, Author & Journalist

Thursday, April 7
7 - 8:30 p.m. : "A Story Becomes a Story Becomes A Story'
Join Sean Kirst to hear how a Dunkirk childhood and the State University of New York at Fredonia education led to a career as a storyteller, columnist, and author. Q&A after.
Refreshments provided.
Location: Jewett Hall 101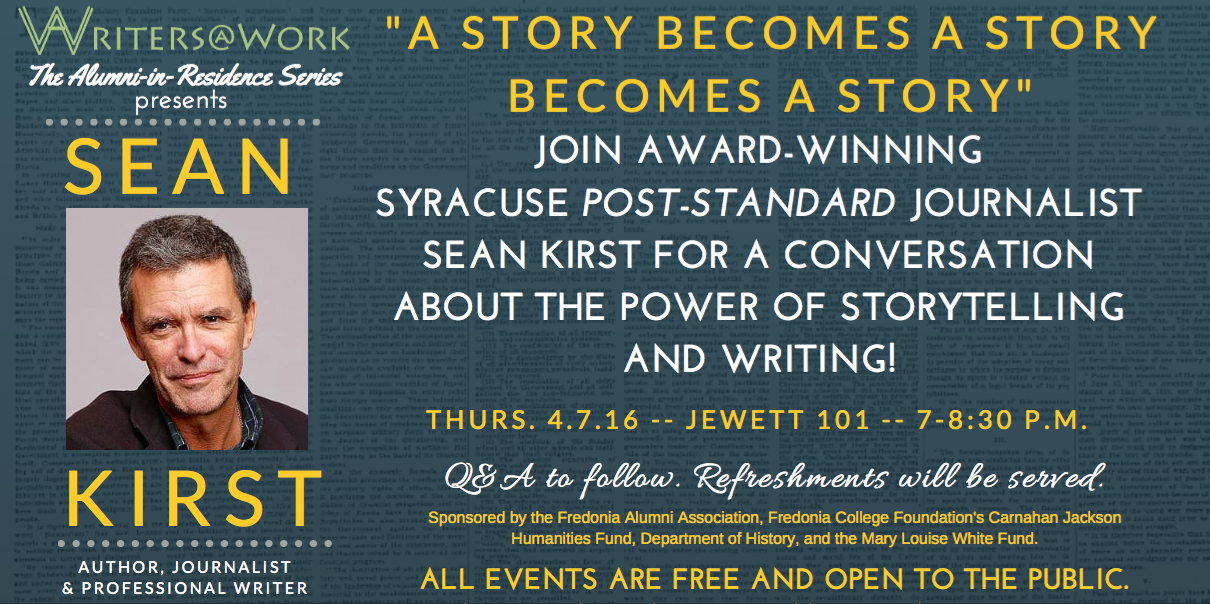 Friday, April 8
3 - 4:30 p.m. : "Seeing the Stories Around You"
Writing workshop.
Location: Williams Center G103B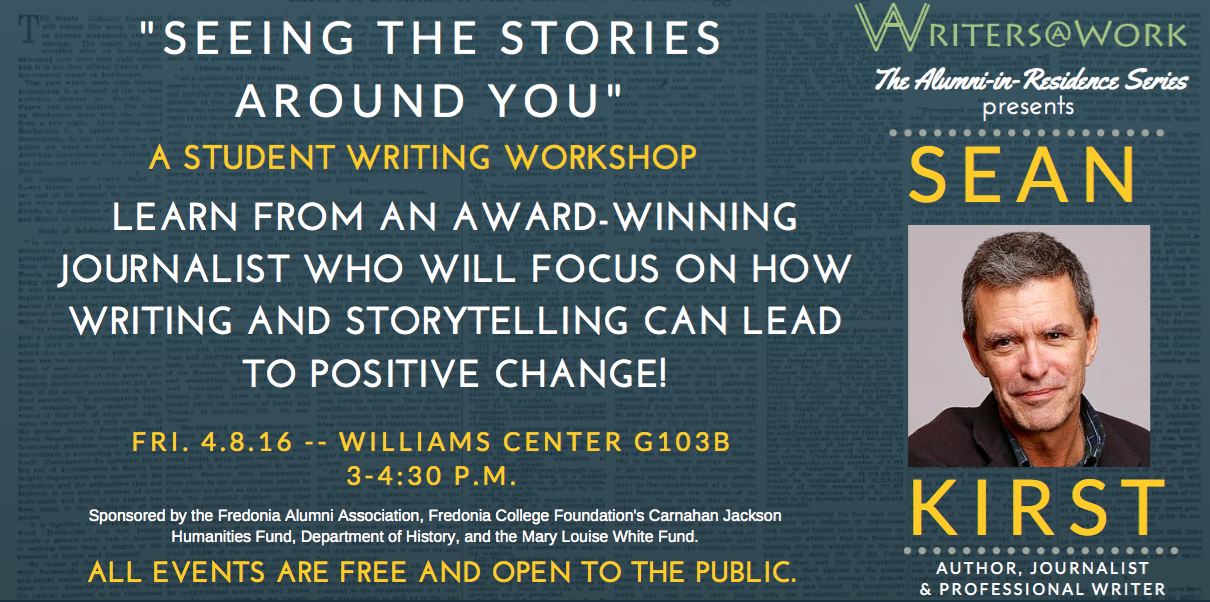 Saturday, April 9
2 - 3 p.m. : "Local History: How Dunkirk/Fredonia Changed Mark Twain's Life" with Q&A after.
Refreshments served.
Location: Fenton 105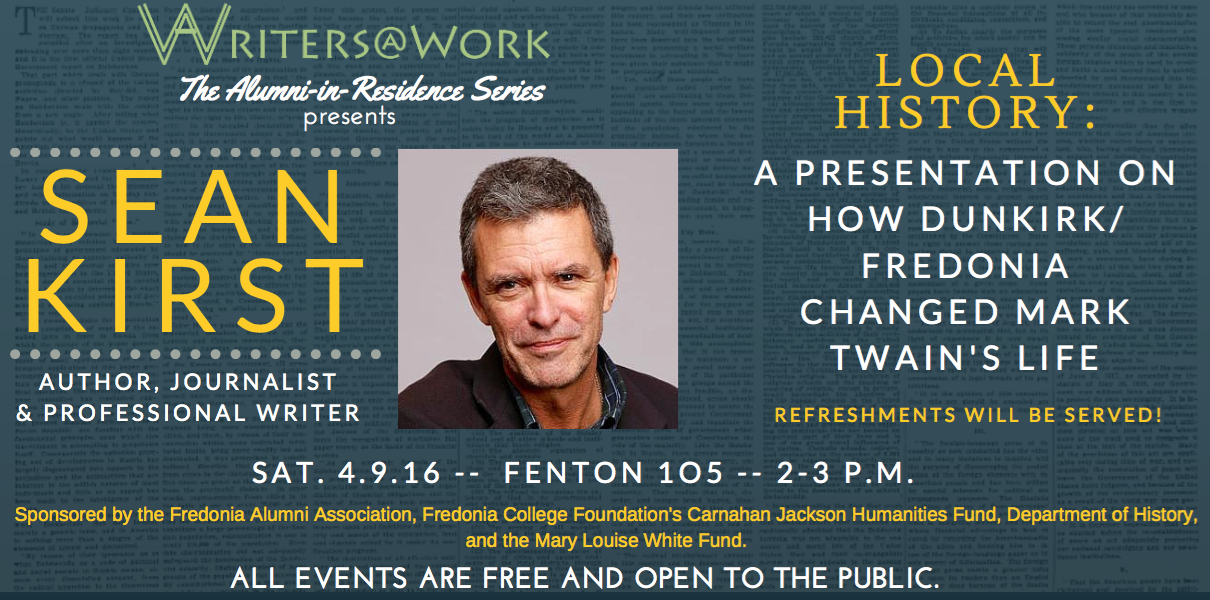 Read a short interview with Sean Kirst on pages 6-7 on the April 2009 English department newsletter.
Watch Sean's TedXSyracuseUniversity Speech: "At the lighthouse: why I tell stories"
---
February 3 - 5, 2016
featuring
Randy Cronk, Founder of greatwriting, LLC