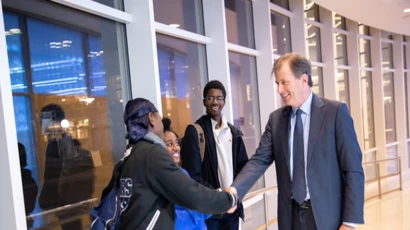 Naomi Coufal, '13, '15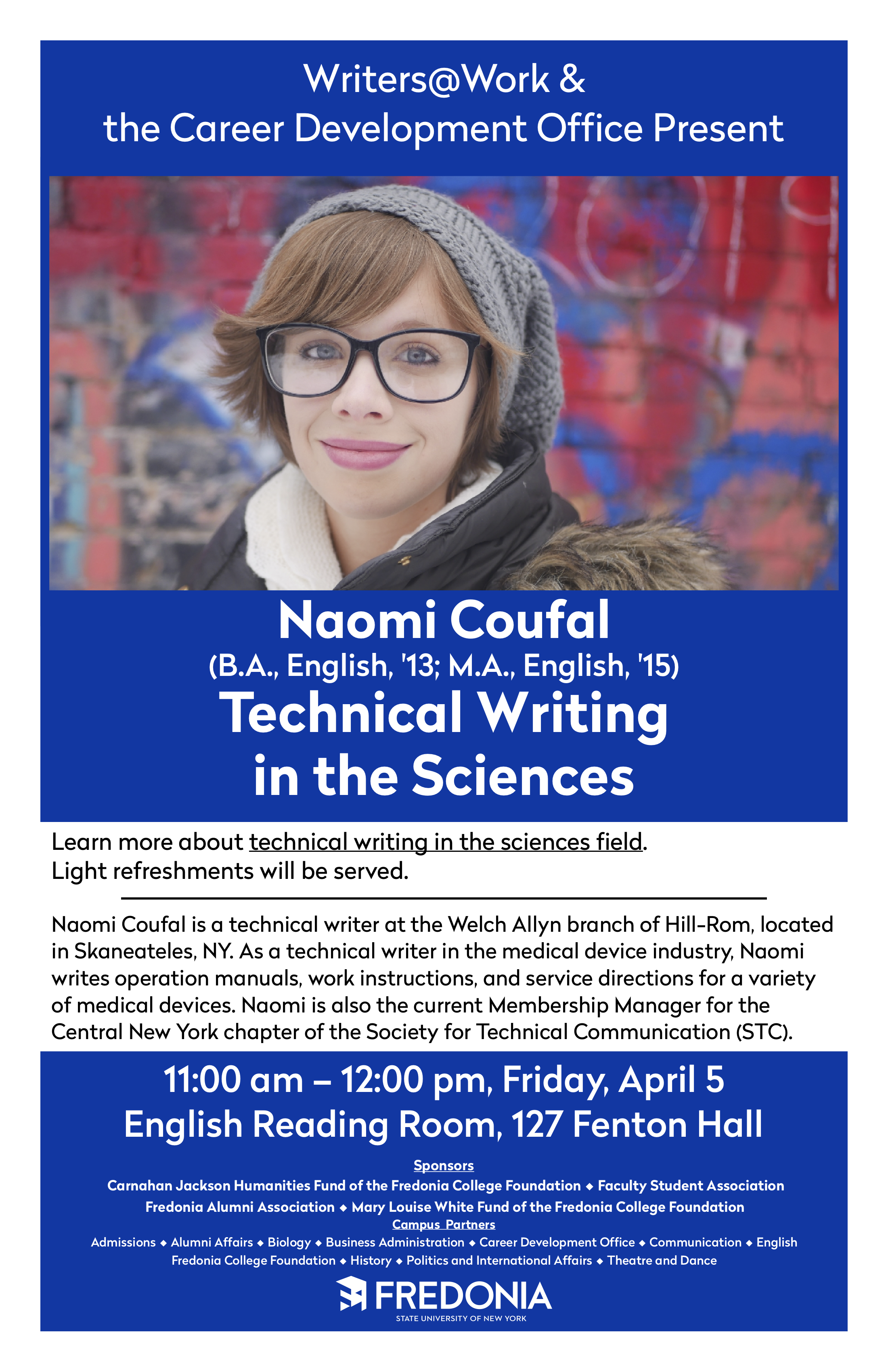 by English Department Intern Jessica Serrano
From April 4th to 6th, 2019, the State University of New York at Fredonia welcomes back alumna Naomi Coufal (B.A. English, 2013, M.A. English, 2015), a technical writer at the Welch Allyn branch of Hill-Rom, for Fredonia's third annual Writers @ Work Four Years Out residency. Coufal will be one of four alumni from the Class of 2015 who will host writing workshops (including hosting one on technical writing in the sciences) and class visits (including visits to two English classes, with a focus on technical writing and copywriting in one and her research and writing experiences in the other), and participate in two panel discussions (one on corporate communications and the other on how to achieve success as a new college graduate).
Coufal will share her post-graduation experiences with current and prospective students and share how her time at Fredonia prepared her for success in her field. For example, despite initially assuming, as many do, that setbacks are negatives, Coufal soon learned to see them as opportunities. "My largest setback occurred when I lost my very first writing job—the position as a copywriter. It was through a staffing agency, and often these types of positions are not permanent. However, I did not know this fact then, so it certainly felt like a major setback at the time." What she realized, though, was that "The end of one job can be the beginning of a career that is even more promising than your original trajectory."
As a technical writer in the medical device industry, Coufal writes operation manuals, work instructions, and service directions for a variety of medical devices. She highly values her role in the field of technical writing as an opportunity to do what she loves—write, edit, and research—while helping healthcare providers and service technicians better understand and use the equipment that is available to them. She is also the current Membership Manager for the Central New York chapter of the Society for Technical Communication (STC), and she highly recommends STC as a great resource for anyone interested in pursuing a career in technical communication.
Coufal's education at Fredonia taught her how to adjust her writing for various assignments, audiences, and contexts, which has been extremely helpful in every writing job that she's had since graduation. Her Master's degree also helped her to make a stronger case for her ability to work as a technical writer.
Coufal mentioned that Dr. Simon, the chair of the English department, who advised her thesis, was "very encouraging and supportive. He was definitely a large factor in my completion of my Master's degree. I decided to get my Master's degree because I very much enjoy college-level academic work, and, since Fredonia offered me a teaching assistant position, I was able to complete the program without paying tuition."
As a freshman, Coufal "planned to teach English at a high school level, and I don't think I even knew technical writing existed as a career. While I think teaching is a fantastic career, my current position is a much better fit for me, so I am glad that I learned about technical writing and was able to enter the field."
After working for two years for a small medical device company, she was contacted through on LinkedIn by a recruiter from a much larger medical device company, Hill-Rom, which invited her to apply for a technical writing position that had opened in a recently added division in Skaneateles, NY. After interviewing with them, and waiting for a few months, she was offered the job. She describes this as a "turning point" because it allowed her to gain experience with technical writing in a more traditional context than the one she had experienced at the smaller company.
Fredonia influenced not only Coufal's professional life, but also her personal life. One of her classmates at Fredonia, whom she met through graduate school, is one of her best friends to this day, even though they live several states away from each other.
Coufal lists writing as one of her "main passions in life, before college and after." Writing, for her, can be "creative, analytical, and opinion centered—as much of it was at Fredonia, or it can be concise, direct, minimal, and practical—as it tends to be in the field of technical writing." Naomi enjoys the diversity of writing and its endless possibilities.
Coufal looks forward to seeing the faculty again when she arrives for Writers @ Work.