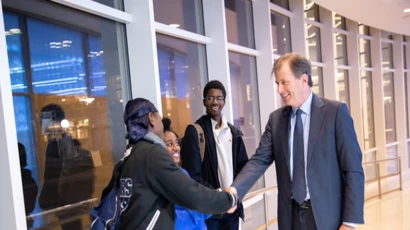 Scott Martelle
On March 24-26, 2019, the State University of New York at Fredonia welcomes back alumnus and Los Angeles Times journalist Scott Martelle (Political Science, 1984) for "Skipping through Chaos: Journalism in the Trump Era," a three-day residency highlighting the role and importance of an aggressive press, especially in the Trump era, as well as the art of writing books of history through a journalistic prism for a general audience.
Martelle, who is an editorial writer for the Los Angeles Times, has written about capital punishment, climate change, immigration, gun policy, and labor issues. Before becoming an editorial writer, he spent more than three decades in newsrooms with assignments ranging from local features to three presidential campaigns to post-war Kosovo. Martelle is also the author of six history books, including William Walker's Wars: How One Man's Private American Army Tried to Conquer Mexico, Nicaragua, and Honduras (Chicago Review Press, 2018).
A 1984 graduate in Political Science from Fredonia, Martelle was the editor-in-chief of The Leader. Martelle was already working as a journalist during his teens for the Wellsville Daily Reporter. After college, he worked as a journalist in Jamestown and Rochester then Detroit, Michigan, before moving to California in 1997 to write for the Los Angeles Times.